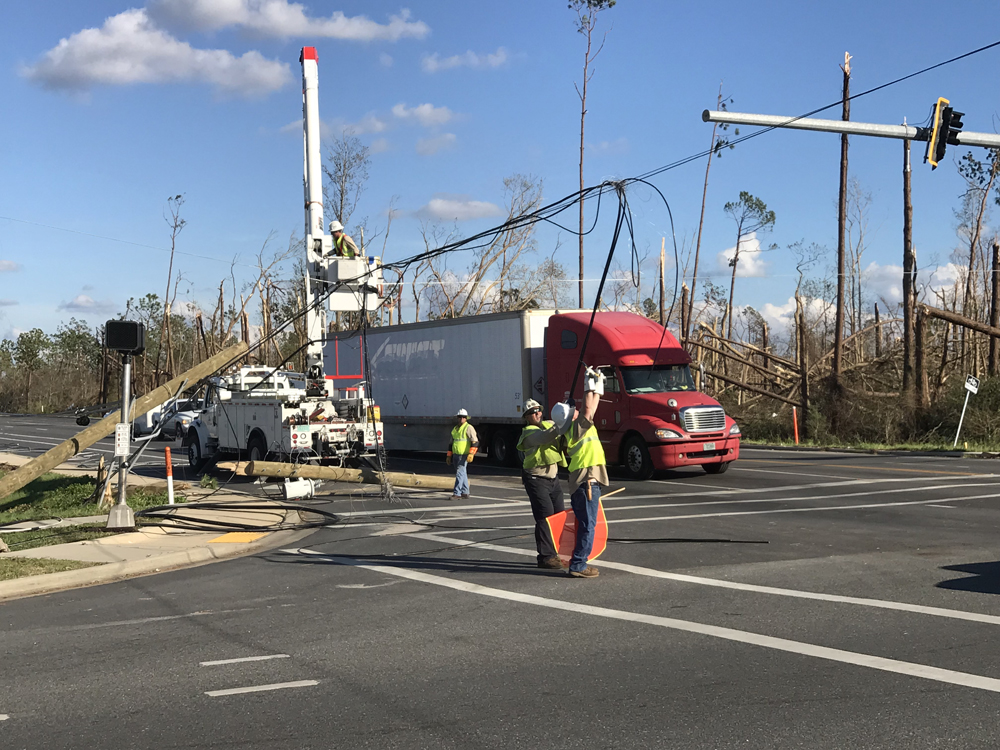 Panhandle utility company Gulf Power announced Thursday night that it has started making progress in its power restoration and rebuilding process in Panama City, one of the areas hardest hit by Hurricane Michael.
The company has restored power to more than 32,000 customers overall — an increase of 7,000 from its Thursday afternoon update — and more than 4,000 of those customers reside in Panama City. There are still nearly 97,000 customers without power in Bay County, where Panama City is located.
Those efforts were helped along by more than 3,000 storm personnel from across the country who have arrived in Panama City in the wake of the storm, augmenting the company's 1,187 employees and 330 contractors.
"This was an unprecedented storm, and our customers will see an unprecedented response from Gulf Power," said Gulf Power spokesperson Jeff Rogers. "The destruction we've seen so far to this community and our electrical system is devastating — we're seeing damage across our system, including distribution lines, transmission lines, and substations.
"Gulf Power has a strong history of restoring power — both at home and away assisting other energy providers," Rogers continued. "We have the resources we need for crews to begin repairs and we have great partnerships with state and local officials — as well as other energy providers — to help us get access to some of the hardest hit areas."
As the company has warned in past updates, Gulf Power said it would take weeks and require much of its infrastructure to be rebuilt before power is fully restored to all customers — and that process can only get fully underway when the roads are cleared.
"We're heartbroken for our customers and our teammates who live in and near the Panama City area," Rogers said. "This is the type of storm that changes lives — so aside from restoring power to our customers quickly and safely, our focus in the coming days and weeks will also be to help restore hope to these communities and help give them a sense of normalcy as soon as possible."
In the meantime, crews have inspected 38 out of 45 substations in the Panama City area and have begun inspecting distribution lines — which carry electricity from substations to customers — and started replacing poles, lines, transformers, and more.
Once roads are clear, larger bucket trucks will be able to make it to repair sites that Gulf Power has been able to identify through the use of drones.
Gulf Power also said all customers in Escambia, Santa Rosa, and Okaloosa counties are back online. It also said all of its Walton County customers would have power again by the end of Thursday night.
Customers can monitor progress in their areas through the company's Facebook, Twitter, and Instagram accounts as well as its outage map.
As of 8 p.m. Thursday, a total of 109,287 Gulf Power customers were without power. In addition to the widespread outages in Bay County, 6,252 are without power in Washington County; 2,520 without power in Holmes County; and 1,344 without power in Jackson County.