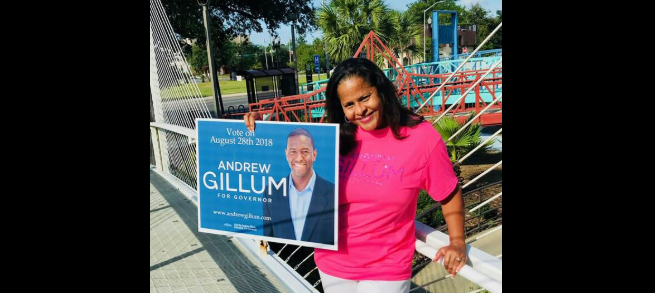 A Jacksonville fundraiser for the gubernatorial campaign of Democrat Andrew Gillum is slated for Thursday evening, allowing Duval donors to help "bring it home."
For those on a budget, no worries: The cover charge for the event, which starts at 6 p.m. at WJCT, is a mere $75 — hardly George Soros or Tom Steyer money, in other words.
"For a small donation of $75, there will be music, beer and wine, local cuisine from 8 local chefs, and a guest speaker. 100 percent of the proceeds go to the Gillum campaign," the event notice asserts.
That guest speaker knows the candidate very well: Gillum's paternal aunt, Patricia Gillum Sams.
Gillum Sams has managed the diversity program at Jacksonville's local utility JEA since 2011. In that role, she is "in-house consultant and strategic partner to management and a diversity change agent for an organization of 2,000+ employees."
Meanwhile, Andrew Gillum himself will be in Jacksonville Friday morning for his grandmother's funeral.
As the Miami Herald reported this week, Elizabeth Gillum died Sunday at Jacksonville's Mayo Clinic.