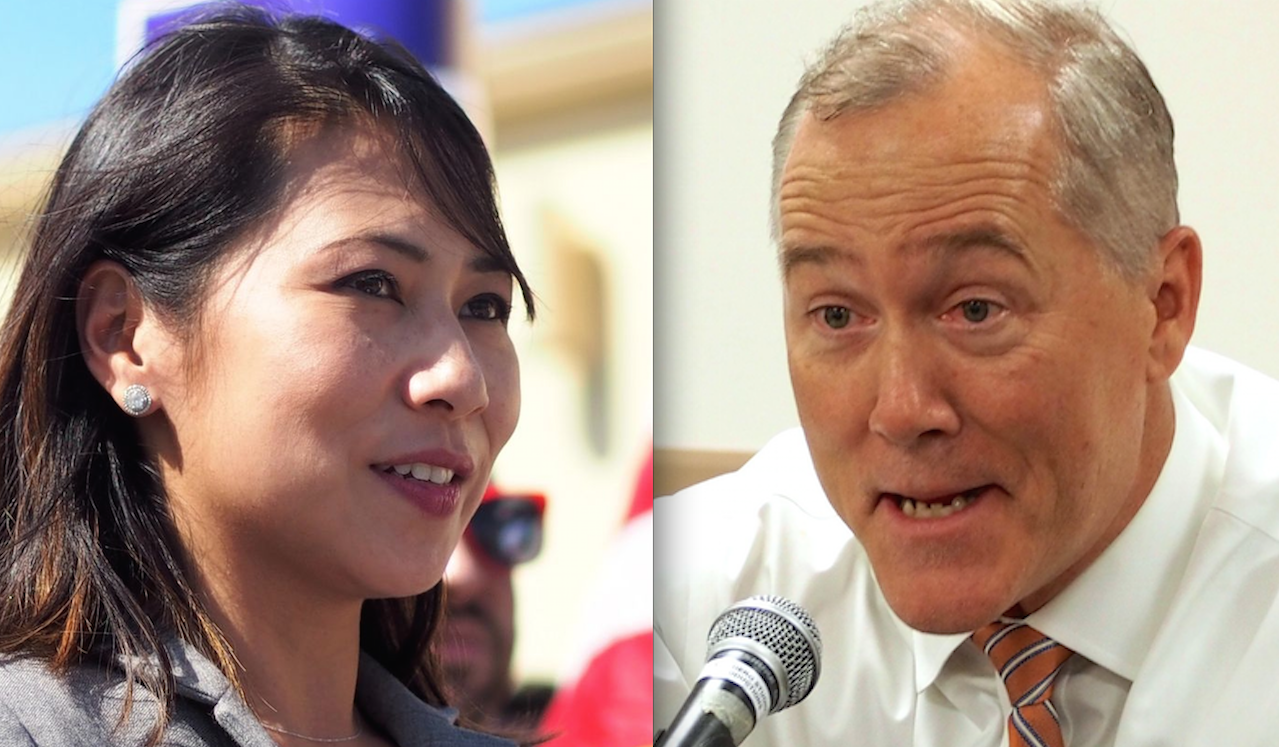 Outside money is barely trickling into Central Florida's congressional races, and national parties aren't showing any inclination to help state Rep. Mike Miller's bid to unseat Democratic U.S. Rep. Stephanie Murphy — or to help her keep it.
Four other contests are also seeing no signs of national party interest.
The Florida 7th Congressional District race was one of the most hotly contested in the country for the national parties and their political action committee surrogates in the last election. They poured nearly $8 million into the 2016 contest when Murphy stunned 12-term Republican U.S. Rep. John Mica in the district Republicans once considered safe for them.
This year Miller vowed to take it back, but so far, at least through Oct. 1 in Federal Election Commission reports on independent expenditures from outside groups, he's going it pretty much alone. And now the district has a slight Democratic lean in voter registration, so it's no longer easy for Republicans.
If independent expenditure investments from outside groups, particularly the parties' congressional committee political action committees, indicate which seats the national parties fear they might lose or think they might steal in the Nov. 6 election, then none in Central Florida are qualifying.
A group supporting Miller called Central Florida Solutions last week bought $20,000 worth of digital advertising. Meanwhile, the bipartisan moderate politics group No Labels Action has spent $113,000 on digital and mail advertising for Murphy. Democratic groups don't yet see any reason to spend in CD 7, and national Republican groups haven't done so either. No national party money has shown up in the race.
Through this time in 2016, national Democratic groups already had poured their first $1 million into the CD 7 race. By the time it was over, Democratic groups such as the Democratic Congressional Campaign Committee had spent more than $6 million to aid Murphy, and Republican groups such as the National Republican Congressional Committee had spent nearly $2 million to help Mica.
Yet that contest is at least drawing a little outside money from groups that believe they could have some impact.
In Florida's 8th Congressional District, where Republican U.S. Rep. Bill Posey faces a Democrat, Sanjay Patel; in Florida's 9th Congressional District, where Democratic U.S. Rep. Darren Soto is facing Republican Wayne Liebnitzky; and in Florida's 11th Congressional District, where Republican U.S. Rep. Dan Webster faces Democrat Dana Cottrell, no outside groups have spent a dime through Oct. 1.
The most interest might yet come in Florida's 6th Congressional District, where Democrat Nancy Soderberg and Republican Michael Waltz are battling for the open seat that Republican Ron DeSantis left to run for Governor. It's a district Republicans have dominated and where they still have a four-point lead in voter registration. But Soderberg is putting up a strong effort to flip it. Some outside money has begun to trickle in to help Waltz.
As with Murphy's benefactor, Waltz's supporter is a bipartisan group, the With Honor Fund, which backs veterans of either party seeking office. In late September that group spent $143,000 on digital advertising to support Waltz, the retired U.S. Army Green Beret lieutenant colonel who served several tours in Afghanistan. Earlier, With Honor Fund spent more than $700,000 to help Waltz win the highly contested primary against two other Republicans.