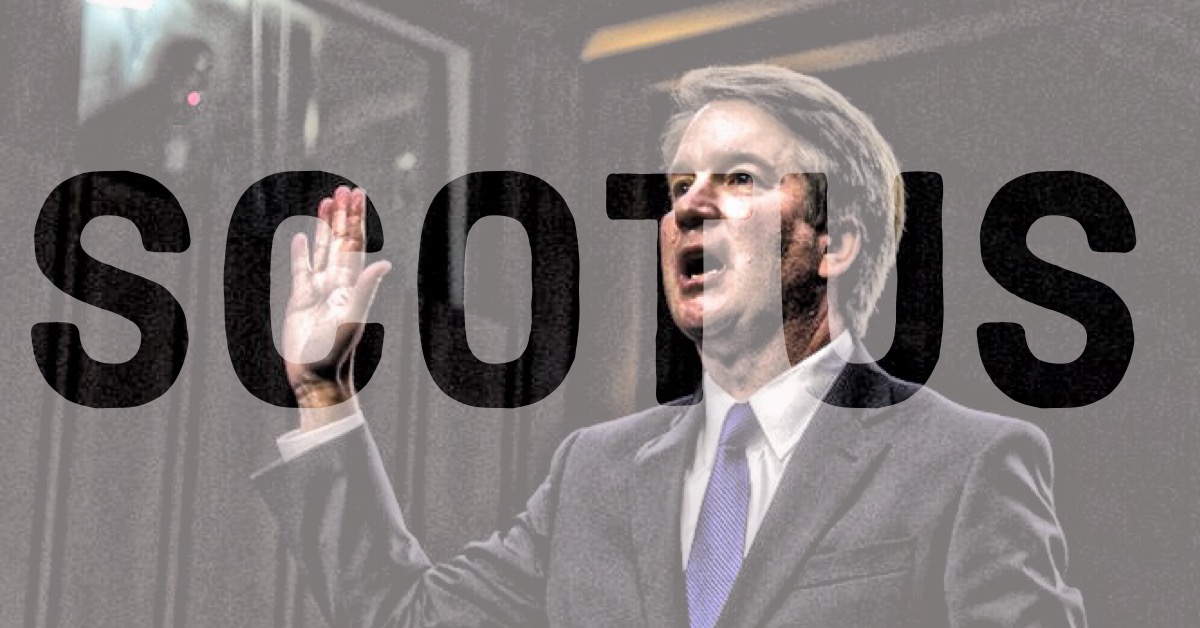 The U.S. Senate on Saturday officially confirmed Brett Kavanaugh to a seat on the Supreme Court. The 50-48 vote reflected the divided nature of confirmation hearings, which involved accusations of sexual assault dating back to Kavanaugh's youth.
Reactions from Florida leaders to news of the confirmation also showed the controversial nature of the nomination, and perhaps some indication of how the news will influence midterm elections.
Here is a sampling of state and national reactions:
President Donald Trump: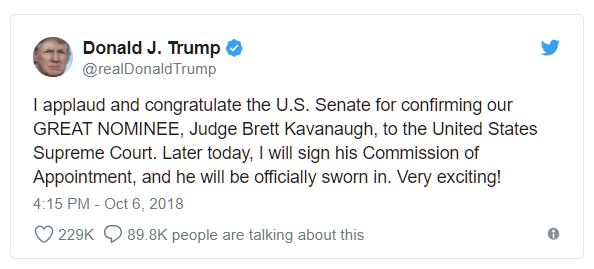 U.S. Sen. Marco Rubio: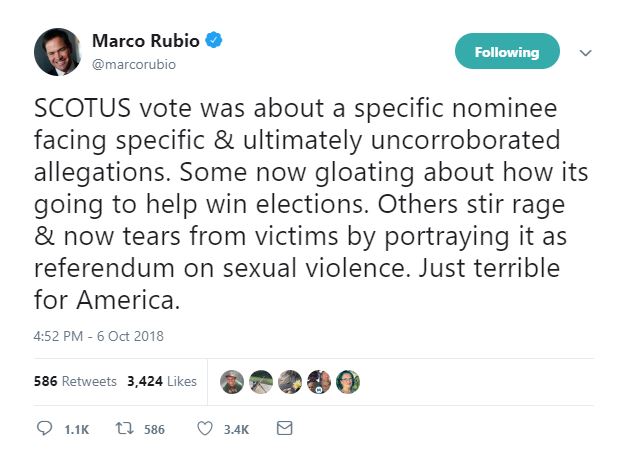 "After weeks of being forced to endure the complete circus that Washington has become, I am glad to finally see Judge Brett Kavanaugh confirmed to the U.S. Supreme Court. I know that Judge Kavanaugh will continue to faithfully uphold our Constitution and fairly interpret our laws.
"Witnessing career politicians in Washington make a complete mockery of the Supreme Court confirmation process has made it even more clear that we MUST have term limits for Congress. Any politician who has been in office so long that they would allow partisan politics to take precedence over the U.S. Supreme Court does not deserve to represent American families … and Senator Nelson is a perfect example of this. He said he would vote against the nominee before Kavanaugh was even announced, he failed to meet with Kavanaugh despite months of opportunities, and he allowed Democratic Party boss Chuck Schumer to control his vote all the way through.
"Considering that Senator Nelson's entire campaign is funded by Democrat leaders like Schumer, this is hardly a surprise — but it is absolutely shameful. This embarrassing charade is exactly why I am fighting to bring change to D.C., and why I will continue to work every single day to make Washington work for families, not for the career politicians."
Tallahassee Mayor Andrew Gillum, Democratic gubernatorial nominee:
"Today is a dark day for the Senate and a tough day for our country. The women who have come forward in the last few weeks, the people who have been making phone calls, making their voices heard in the halls of the Capitol and across the country — I hear you and I stand with you.
"Judge Kavanaugh will be a critical vote on the most divisive and contentious issues of our time and as Florida's Governor, I will use my platform and do everything in my power to protect Floridians' access to health care and protect women's rights and freedoms.
"I am disappointed, but we cannot give up and I will continue to fight for each and every Floridian.
Nikki Fried, Democratic Agriculture Commissioner candidate:
"Yesterday's Senate confirmation of Brett Kavanaugh to the Supreme Court serves as a reminder that we need to empower women with a seat at the table."
State Rep. Sean Shaw, Democratic Attorney General candidate:
"Brett Kavanaugh and I agree on one thing: his nomination process has been disgraceful. He repeatedly lied to the Judiciary Committee and polluted his confirmation hearings with a flurry of conspiracy-minded partisan accusations.
"He dodged questions about his character by pointing to his academic pedigree and showed a temperament that should be disqualifying for any potential Supreme Court Justice.
"At every opportunity, Brett Kavanaugh has made clear that he thinks the rules don't apply to him. No American is above the rule of law, not even Donald Trump or Brett Kavanaugh. Members of the highest Court should be beyond reproach. #BelieveSurvivors"
Democratic U.S. Rep. Lois Frankel: 
"This is a sad, dark day for our nation. Despite multiple disturbing allegations of sexual misconduct and assault including the credible testimony of Dr. Christine Blasey Ford, Republicans, after a phony investigation, confirmed Judge Brett Kavanaugh's nomination to the Supreme Court.
"This sends a horrible message to survivors of sexual violence that their experiences and voices don't matter. But that's not all. Republicans have confirmed someone who proved himself unfit for the highest court in the land by raging partisan conspiratorial accusations at Democrats during his hearing and even threatening payback.
"With all this said, the ultimate insult to the American people is that Republicans are sending to the United States Supreme Court a man who was nominated by Donald Trump to overturn Roe v. Wade and protect the president from criminal investigation.
"Judge Kavanaugh's extreme views threaten to roll back decades of hard-fought freedoms and will affect the lives of our sons and daughters for generations."
Democratic U.S. Rep. Debbie Wasserman Schultz:
"This process was flawed from the start. In his first rushed hearings, Judge Kavanaugh was not always forthright in his testimony, and the vast majority of documents that could have shed light on his record were withheld from Senators. Since then, his lack of credibility and suitability for the bench became increasingly evident.
"Confronted by credible allegations of sexual assault, he repeatedly obfuscated or lied about his past behavior, and revealed himself to be the unabashed partisan that so many had feared him to be.
"Clearly, his temperament throughout was erratic and should have served as an immediate disqualifier for this consequential, lifetime position. Elections certainly have consequences.
"So does voting to place an accused sexual assault perpetrator on our highest court. Millions of women, assault survivors and men of conscience will not soon forget the injustice that today's vote represents."
Incoming Florida House Minority Leader Kionne McGhee:
"This November, we have an opportunity to be the conscience of this country when the courts will not. State legislatures across the country can serve as a check against attacks on voting rights, women's rights, health care, and the environment. It's important now more than ever to elect state leaders who will stand up for the values we hold so dear.
"Hope is not lost. It's up to us to defend progress at the ballot box. This November, let's make a change."
Anna Eskamani, Florida House District 47 candidate:
"The confirmation of Brett Kavanaugh to the Supreme Court of the United States is painful to grasp.
"As someone who has personally experienced sexual assault and harassment, words cannot describe the disappointment I hold for Senators who voted in his favor. His appointment only elevates the importance of local races, as state governments are the firewall to extreme national leaders and agendas.
"There is power to find in pain, and our campaign remains committed to building a community that is free of control and abuse, while simultaneously challenging federal policies that hurt everyday Floridians."
Florida Democratic Party Chair Terrie Rizzo:
"With the confirmation of Brett Kavanaugh today — women's reproductive rights, gun control, LGBTQ rights, and our environment will be reshaped for generations to come.
"The rights we fought so hard for are at risk with this Supreme Court.
"Elections have consequences, and this is a huge example of that.
"This will only further motivate Florida Democrats to keep Rick Scott out of the U.S. Senate and to re-elect Senator Bill Nelson."
Former Republican U.S. Rep. Allen West:
Congratulations to #JusticeKavanaugh for his perseverance, and resolve under fire. https://t.co/AZfrkxRpFL #tcot #SCOTUS #KavanaughConfirmed #NovemberIsComing

— Allen West (@AllenWest) October 6, 2018
This post will be updated through the day.