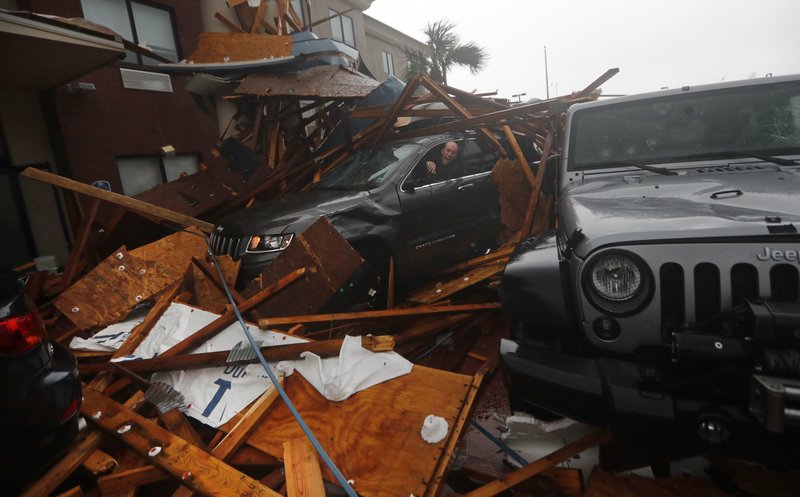 The latest on Hurricane Michael:
2:00 a.m. – An official with an emergency management agency says Tropical Storm Michael is responsible for a child's death in Georgia.
News outlets report Seminole County Emergency Management Agency Director Travis Brooks says someone called 911 as the storm passed through the area and reported the death. WMAZ-TV quotes Brooks as saying a tree fell onto a home Wednesday afternoon and killed an 11-year-old girl. Authorities have not released her identity.
Brooks says responding crews reached the home after nightfall due to clear downed power lines, poles and trees.
Early Thursday, the eye of Michael was about 25 miles (40 kilometers) east of Macon in central Georgia. The storm had top sustained winds of 60 mph (96 kph) and was moving to the northeast at 20 mph (32 kph).
The National Hurricane Center says the core of Michael will move across central and eastern Georgia Thursday morning, and then over southern and central South Carolina later in the day.
___
12:00 a.m. – Hurricane Michael's battering waves swamped streets and docks and shrieking winds splintered trees and rooftops. The most powerful hurricane on record to hit Florida's Panhandle left widespread destruction and wasn't finished Thursday as it crossed Georgia toward the Carolinas, a region still reeling from epic flooding in Hurricane Florence.
Authorities say at least one person died, a man hit by a falling tree on a Panhandle home.
The supercharged storm crashed ashore Wednesday afternoon amid beach resorts and coastal communities, a Category 4 monster packing 155 mph (250 kph) winds. Downgraded to a tropical storm over south Georgia, it was weakening by the hour. But it's still menacing the Southeast with heavy rains, winds and a threat of spinoff tornadoes.
___
4:20 p.m. – A Red Cross official says it's possible that as many as 320,000 people on Florida's Gulf Coast did not evacuate and are likely riding out the storm.
Evacuation orders were sent by state and local officials to about 325,000 people. Emergency managers say they don't know how many left the area, but there were about 6,000 people in 80 shelters in five states, including nearly 1,200 who are still in shelters following Hurricane Florence.
Michael went from a tropical storm to a projected Category 3 hurricane in around six hours and could have caught thousands off guard.
Brad Kieserman is the Vice President of Operations and Logistics for the American Red Cross. He says the storm "intensified extremely quickly and didn't give anyone enough time to do much."
___
3:30 p.m. – The director of the National Hurricane Center says Michael is going to keep its strength even as it moves into Alabama and Georgia.
By 3 p.m. EDT, Michael still had top sustained winds of 150 mph (240 kph) as its core moved over Florida's Panhandle.
Michael made landfall near Mexico Beach, Florida, earlier Wednesday afternoon with 155 mph (250 kph) winds.
Hurricane center director Ken Graham says that when a storm comes ashore with winds that strong, "it's going to stay a hurricane for a while."
Michael's large size means its winds will continue pushing storm surge inland as well. The hurricane center said a National Ocean Service water level station in Apalachicola has reported storm surge of nearly 8 feet (2.5 meters) above ground.
___
2:45 p.m. – The National Hurricane Center says Michael is making landfall near Mexico Beach, Florida, as a catastrophic Category 4 Hurricane, pushing a deadly storm surge and whipping the coast with 155 mph (250 kph) winds.
Forecasters mark landfall as the place and time when the center of the eye strikes land. Minutes earlier, Michael's eyewall came ashore between Panama City and St. Vincent Island, and the hurricane center warned everyone inside the relative calm of the eye not to venture outside.
Hurricane-force winds extended outward up to 45 miles (75 km) from the center.
Those winds were tearing some buildings apart in Panama City Beach. One beachfront structure under construction could be seen collapsing, and metal roofing material flew sideways across parking lots amid sheets of rain.
___
1 p.m. — The National Hurricane Center reports that Hurricane Michael's eye will make landfall on the Florida Panhandle imminently and reminds everyone in the landfall area to remain in place despite the "relative calm" while the storm's eye is overhead.
The storm is currently about 15 miles west southwest of Mexico Beach and about 20 miles south of Panama City and is moving to the north northeast at a speed of 14 mph. Maximum sustained winds remain at 150 mph, keeping Michael within the 131 to 155 mph range of a Category 4 Hurricane.
The Center said the Gulf County Emergency Operations Center in Port St. Joe has reported gusts of 106 mph while another station in St. Andrew Bay has reported sustained winds of 62 mph with gusts reaching 77 mph. The Apalachicola airport has reported sustained winds of 63 mph with a gust of 89 mph.
Additionally, the National Ocean Service water level station at Apalachicola recently reported over 6.5 feet of inundation above ground level.
___
11 a.m. — The National Hurricane Center reports Hurricane Michael continues to grow in strength and now has maximum sustained winds of 150 mph. The storm continues its northeast trajectory at 14 mph.
Winds may arrive near land at 2pm, with the worst storm surge expected later today and this evening between Tyndall Air Force Base and Keaton Beach, where 9- to 14-foot inundation is possible.
The highest risk of catastrophic wind damage will be between Apalachicola and Panama City, but life threatening winds can be expected well inland into Alabama and Southern Georgia.
The National Weather Service advises life-threatening flash flooding can occur throughout the Panhandle and Big Bend.
___
9:30 a.m. — FEMA Director Brock Long says his agency has nearly 3,000 people in the field ready to assist with Hurricane Michael.
He says teams and aircraft are ready to support any search and rescue missions in Florida or elsewhere, and that staging areas with commodities needed after storms have been set up in Atlanta and at Maxwell Air Force Base in Alabama.
He also says the Federal Emergency Management Agency is working "hand-in-hand" with Gov. Rick Scott. He praised Florida's use on Tuesday evening of the wireless emergency alert system to let residents know that the storm was getting stronger.
As for the many people who ignored orders to evacuate, Long said Wednesday that people "who stick around and experience storm surge unfortunately don't usually live to tell about it."
___
9:25 a.m. —National Hurricane Center Director Ken Graham is warning that a Category 4 hurricane will bring catastrophic damage to Florida's Panhandle.
Graham says Michael's top winds of 145 mph (230 kph) are powerful enough to peel off roofs and cause the "complete destruction of houses."
Stretches of the coast could see storm surge of at least 6 feet (2 meters), with waters rising in some places up to 14 feet (4 meters) above the ground. Graham wants people to think about how tall they are, and just how high that water can be.
Michael is powerful enough to remain a hurricane well inland as it travels over Georgia on Thursday. Graham says falling trees will pull down utility lines, leaving some areas without power for weeks, and hazardous conditions will persist long after the storm blows through.
He says the aftermath of a hurricane is "not the time to start learning to use that chainsaw."
___
8 a.m. — Hurricane Michael is strengthening as it races over the Gulf of Mexico approaching a landfall along Florida's Panhandle.
Forecasters say deadly storm surge, catastrophic wind damage, and heavy rainfall are imminent.
The National Hurricane Center in Miami says the Category 4 storm has maximum sustained winds of 145 mph (230 kph) and is moving at 13 mph (20 kph).
At 8 a.m., Michael was centered about 90 miles (145 kilometers) southwest of Panama City, with tropical storm force winds already lashing the coast.
The hurricane center says Michael will be the first Category 4 hurricane to make landfall on the Florida Panhandle.
Michael roared nearer to the Florida Panhandle as a still-growing Category 4 hurricane Wednesday, lashing wind and rain and pushing a storm surge onto white-sand beaches and coastal communities hours before making landfall.
The unexpected brute quickly sprang from a weekend tropical depression and grew swiftly into what could be one of the Panhandle's worst hurricanes in memory, with destructive wind, up to a foot (30 centimeters) of rain and a life-threatening storm surge of up to 13 feet (4 meters).
___
7:45 a.m. — Gov. Rick Scott is warning people in the path of massive Hurricane Michael that it's too late to evacuate.
In a tweet on Wednesday morning, Scott said "If you chose to state in an evacuation zone, you must SEEK REFUGE IMMEDIATELY."
Hurricane Michael grew into a Category 4 storm overnight and officials at the National Hurricane Center in Miami say a storm that strong has never hit the Florida Panhandle.
Meanwhile the Bay County Sheriff's Office warned residents that a "shelter-in-place" order has been issued, and urged everyone to stay off the roads. Sheriff's officials say deputies will continue to respond to calls for now, but that will change as the storm approaches the coastline.
___
Previous coverage — At 5 a.m., an Air Force Reserve Hurricane Hunter crew reported top sustained winds up to near 140 mph (225 kph) with higher gusts. Michael's eye was about 140 miles (225 kilometers) from Panama City and 130 miles (209 kilometers) from Apalachicola, but moving relatively fast at 13 mph (21 kph). Tropical-storm force winds extending 185 miles (295 kilometers) from the center were already lashing the coast.
Florida officials said roughly 375,000 people up and down the Gulf Coast had been urged or ordered to evacuate, including all non-essential personnel at Tyndall Air Force Base east of Panama City. The home to the 325th Fighter Wing and some 600 military families appeared squarely targeted for the worst of the storm's fury, and declared "HURCON 1" status, ordering everyone inland.
Evacuations spanned 22 counties from the Florida Panhandle into north central Florida. But civilians don't have to follow orders, and authorities feared many failed to heed their calls to get out of the way as the hard-charging storm intensified over 84-degree Gulf of Mexico water.
"I guess it's the worst-case scenario. I don't think anyone would have experienced this in the Panhandle," meteorologist Ryan Maue of weathermodels.com told The Associated Press. "This is going to have structure-damaging winds along the coast and hurricane force winds inland."
Maue and other meteorologists watched in real time as a new government satellite showed the hurricane's eye tightening, surrounded by lightning that lit it up "like a Christmas tree."
University of Georgia's Marshall Shepherd, a former president of the American Meteorological Society, called it a "life-altering event," writing on Facebook that he watched the storm's growth on satellite images with a growing pit in his stomach.
Sheriff A.J. Smith in Franklin County, near the vulnerable coast, sent his deputies door to door urging people to evacuate.
"We have done everything we can as far as getting the word out," Smith said. "Hopefully more people will leave."
On the exposed coast of Florida's Big Bend, most of the waterfront homes stood vacant in Keaton Beach, which could get some of the highest water — seas up 9 feet (2.75 meters) above ground level.
"I know it's going to cover everything around here," said Robert Sadousky, who at 77 has stayed through more than four decades of storms.
The retired mill worker took a last look at the canal behind his home, built on tall stilts overlooking the Gulf. He pulled two small boat docks from the water, packed his pickup and picked some beans from his garden before getting out — like hundreds of thousands elsewhere.