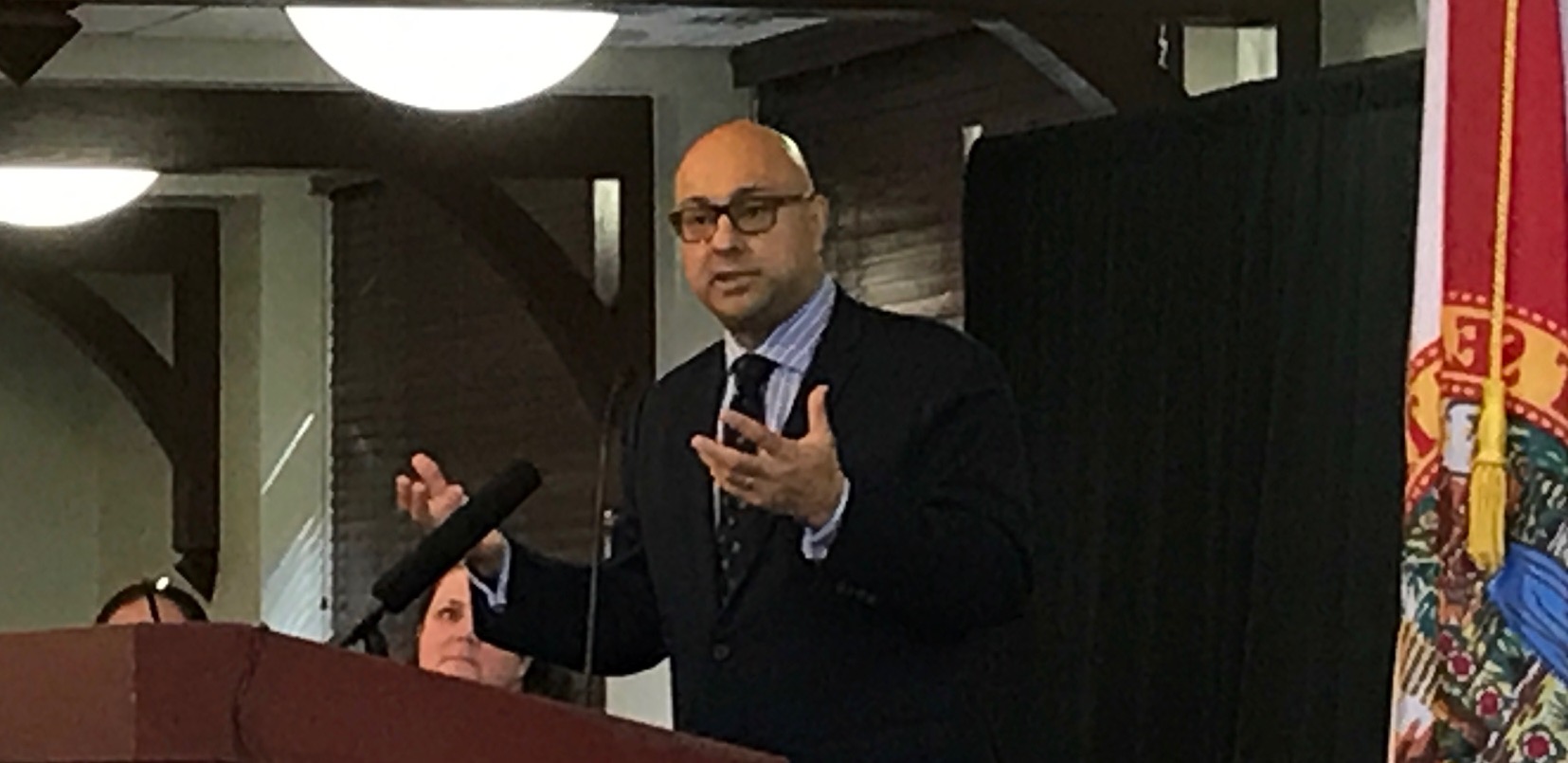 Newsman Ali Velshi defended his profession against complaints of bias against President Donald Trump Monday, but conceded that continually having to call out the president's "lies" can give rise to the appearance of anti-Trump sentiment.
Velshi, a veteran business and foreign correspondent and anchorman for MSNBC, told members of the Economic Club of Florida that Trump routinely misrepresents the facts in intentional defiance of the truth.
News organizations talk to the administration all the time, and fact check the president on the air and in print. Administration officials are aware of actual facts, Velshi said. And yet the president persists in his version of things.
"That rally in Mississippi the other day? There were 63 straight lies. This guy lies with a velocity we've never seen before. Is that a bias against President Trump to point out times when the president of the United States lies?" Velshi said.
"I don't know. It shouldn't be. Right? It should just be my work. But if there was anybody else I was covering who lied that often, it would create a bias — it would create an impression just so you know the likelihood of what he says next will probably be a lie."
That's different than the pattern under Barack Obama, whose aides sought to spin news in favor of administration policy.
"The White House was mad at us for doing that then, too. Is that a bias? No. That's what we do. When journalists tell you that somebody who you are there to hold to account isn't telling the truth, that's what we do."
Velshi was reacting to a question from a member of his Tallahassee luncheon audience about negative news coverage of Donald Trump. One recent study found that Trump coverage on ABC, CBS, and NBC ran 91 percent negative.
"Do you think there could be some improvement where the media come in and start delivering a little more unbiased news?" the questioner asked.
Velshi differentiated between untruth and bias in the news.
"News bias has been around forever. Newspapers were never objective. They were owned by partisans," Velshi said.
But "I don't know what bias against President Trump means," he continued.
"At some point media organizations like mine and The New York Times decided that there are some things that are lies. And the reason we know they're lies is because President Trump says them, we then correct it, we indicate what the real truth is — that the United States does not have a trade deficit with Canada — we lay it out there," he said.
There remains a legitimate question, Velshi conceded: "At what point does my being a fact checker turn into bias. I'm going to leave and consider that."
Velshi urged people to seek out diverse voices in the news media, and especially social media. He confessed to an early — now discarded — enthusiasm for the democratizing possibilities of social media.
"I'm probably now toward the other side, where I think it's fundamentally dangerous by design. I'm beginning to think that Facebook actually thought this through and realized that bad stuff was more profitable than good stuff," he said.
"I don't think they thought through that this was going to possibly affect voter turnout and affect elections and things like that."
What we can do about it, he wasn't sure — except to "triangulate your sources of news."
That means consulting multiple news sources representing a cross-section of the political spectrum. And distinguishing between news organizations that observe standards of fairness and responsibility — and those that don't.
He mentioned Alex Jones as an example of the latter.
People get ensconced in their echo chambers and "end up believing stories that aren't true. And that ended up with a guy going into a pizza parlor in D.C. to shoot up people who were running a pedophilia ring that didn't have a basement — that apparently was where the pedophilia ring was being held," Velshi said.
"He could have killed somebody. If the guy had just found another couple of sources of news, he might have said, 'That's weird.' Like the Washington Post would have ignored that?" he continued.
"If things seem stupid, check them."
He recommended reading a variety of political outlets.
"That's the beauty of living in America. We don't have to live in these enclaves. We don't have to live with people who are only our faith or whatever our political persuasion."
Regarding the business climate, Velshi was asked about agitation to boost the minimum wage. Amazon didn't raise its minimum wage to $15 per hour out of altruism, but because it had to, he said — up from about $13 for top wage earners, or about $30,000 per year.
That — and similar hikes by Wal-Mart and Target — "were brought on mostly by market conditions, because they were not able to attract enough workers. And, in some part, by the pressure brought on by progressive movements."
But support for higher wages extends beyond progressives, he said. In 2016, voters in four red states that voted in minimum wage hikes.
Additionally, Amazon understands that its planned second headquarters will "suck up all the labor in that market, and it alone will raise wages," he said.
"The point is not just to match wages of your competitors, but to go back to Henry Ford's thinking: Sometimes this is horrible work that people have to do. You kind of need to make it worth it for them to not keep moving (to another job). Because churn is expensive."