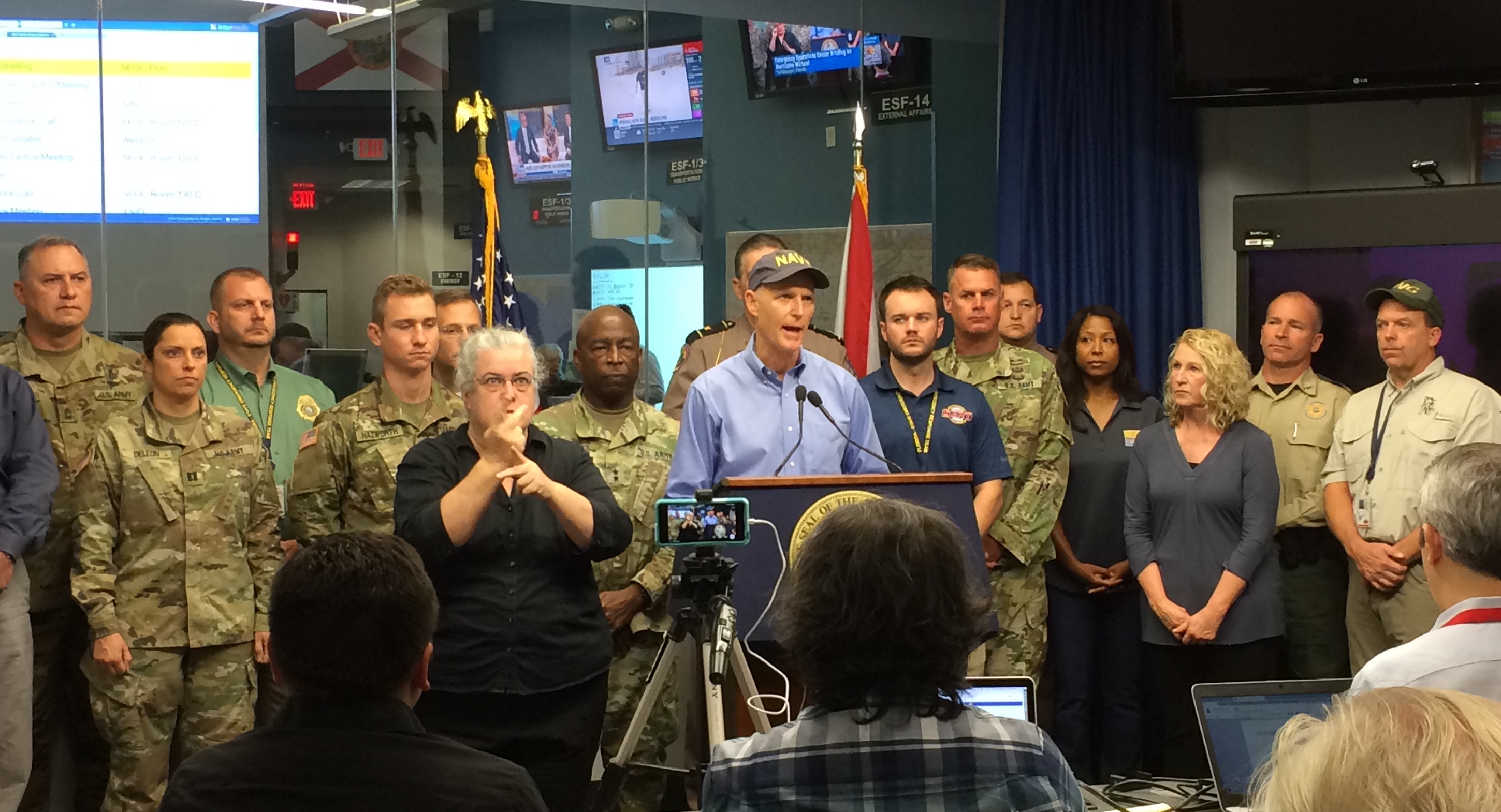 Hurricane Michael, now a category 2 storm, is going to be "devastating" for north Florida, Gov. Rick Scott said Tuesday at the state's Emergency Operations Center in Tallahassee.
"It's going to be historic," he said at an 8 a.m. press briefing, mentioning that the first effects will begin in about 12 hours.
The "massive storm … could bring devastation" to the Florida Panhandle, with 110 mph winds expected in coastal communities, and 75 mph winds in Tallahassee.
It's on track to be the "most destructive storm" to rake the Panhandle and Big Bend region in years, he added.
Its effects aren't limited to north Florida, Scott said: With the storm pushing huge amounts of water through the Gulf, even the Tampa Bay area could see "life threatening storm surge."
And north Florida will get the brunt: 8 to 12 feet of storm surge, which "easily could go over the roofs of houses," Scott said.
For those in Michael's path, Scott had a singular message: Get out. Now.
"We can rebuild your house," he said. "We can't replace your life."
After the storm, all eyes will be on power restoration. After Hurricane Hermine, which hit Tallahassee two years ago, the city utility declined outside offers of help because of coordination and safety concerns.
That's become a campaign issue of Republican gubernatorial candidate Ron DeSantis against Tallahassee Mayor Andrew Gillum, the Democratic candidate for Governor. The mayor and others have denied that he had anything to do with turning away assistance.
On Tuesday, Scott said he had already called utilities in and out of the state to ensure everyone is "talking to each other."
State officials "will do whatever it takes" to protect tourists and residents, Scott said. "Floridians take care of each other … this storm can kill you … but there are so many people ready to help you."
After the briefing, the governor spoke with workers inside the EOC command center: "I hope and pray it's not as bad as the weather says it will be."