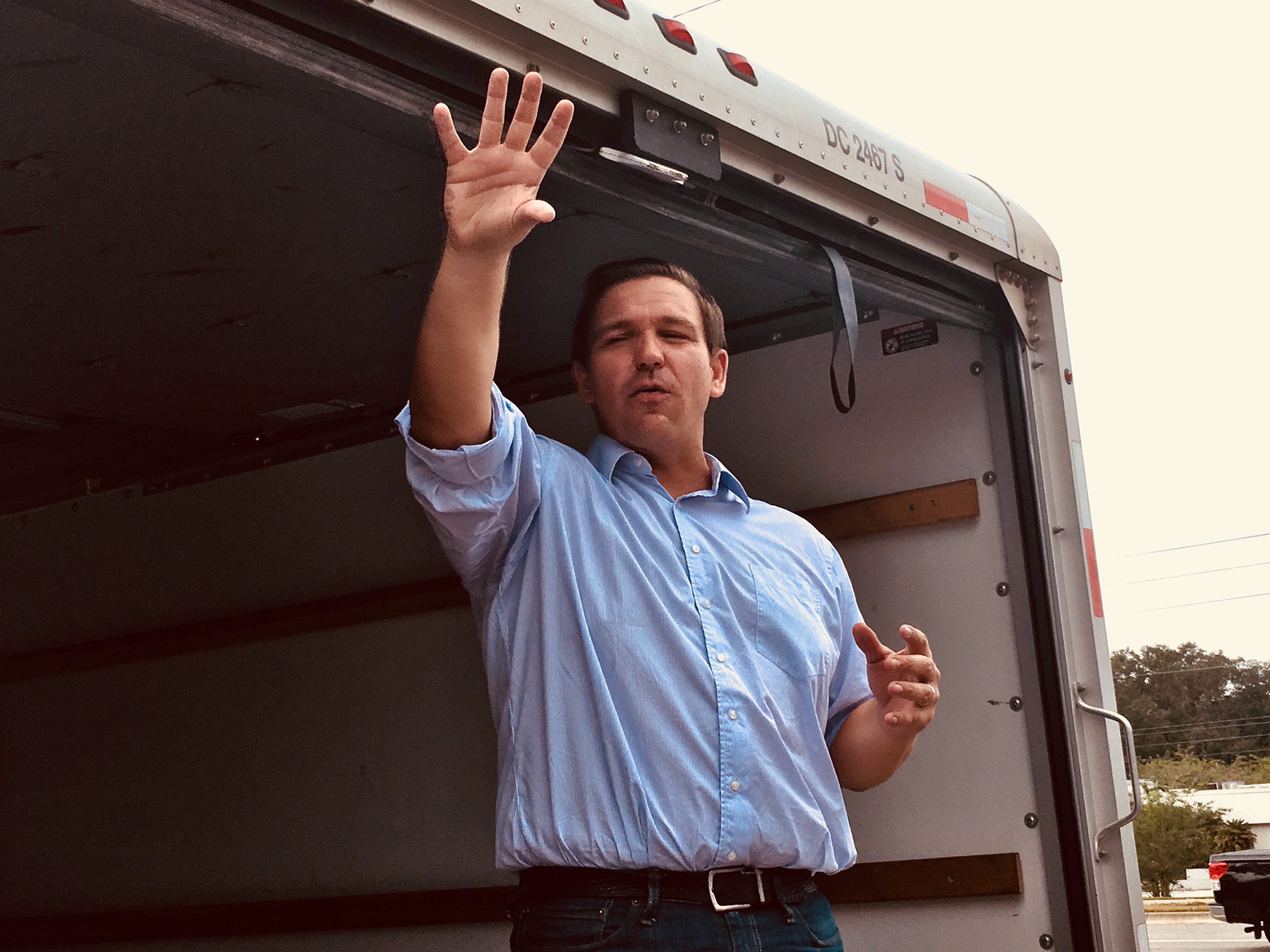 As Category 4 Hurricane Michael prepared to slam the Panhandle and the Big Bend, Republican gubernatorial nominee Ron DeSantis implored Jacksonville supporters to offer tangible help.
DeSantis deviated from the usual format of what he called a "rah-rah campaign rally" and turned his Wednesday morning campaign stop into a plea for hurricane relief. Dozens of supporters who showed up complied, helping to load staple items into a 15-foot U-Haul with a "Florida Strong" placard affixed to the side.
The truck was a third full by the time the efforts were complete.
The supplies, said DeSantis, would go "wherever makes sense after the storm."
Diapers were on the ask list, said DeSantis, a lesson learned since his wife, Casey, and he had a daughter after Hurricane Matthew lashed his district.
"We didn't have Madison yet," DeSantis quipped. "Diapers and the formula and all that … very important for people with young children."
DeSantis noted that just a week ago, no one expected a storm. Especially in recent days, it's "grown in ferocity."
The candidate also noted that he has talked to Gov. Rick Scott, who is "on top of this … concerned about the storm surge."
"A 12-foot storm surge, that's just life-threatening, no two ways about it," DeSantis said.
DeSantis was not interested in discussing his campaign's ads that pillory his general election opponent, Andrew Gillum, for botched response during Hurricane Hermine. Nor did he want to discuss the future of the campaign under its new manager, Jacksonville's own Susie Wiles.
"There will be time for us to deal with that," DeSantis said.
DeSantis, who was once stationed at Naval Station Mayport, used what could be described as Adam Putnam style messaging at the event, extolling veterans both as a class and contributors to the state and the region, and discussing his own work in Congress helping veterans with post-traumatic stress.
"Not everyone is called upon to make the ultimate sacrifice," DeSantis said of the costs of war. "You're basically writing a check to the United States of America up to and including your life."