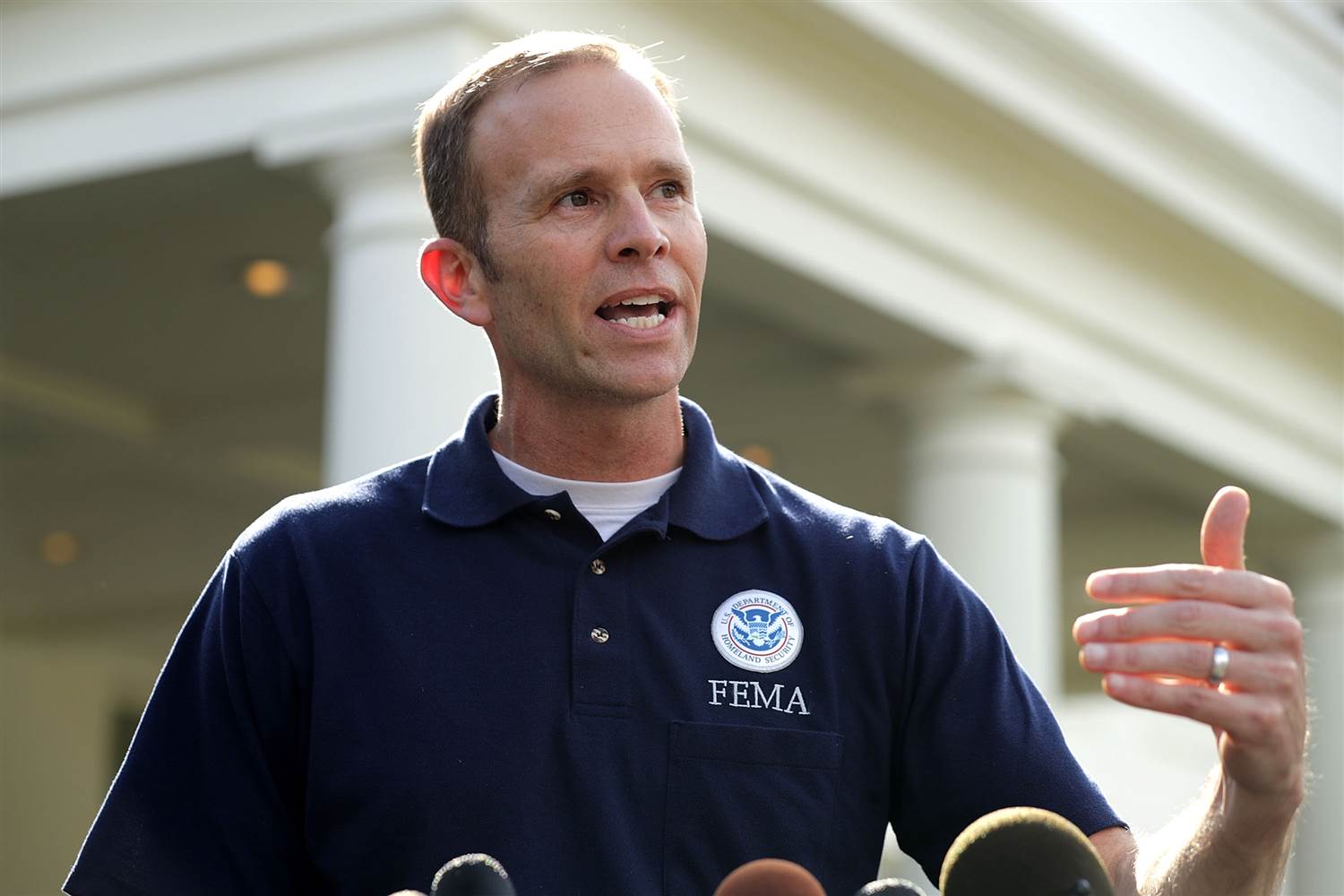 Sea ports and airports in the path of Hurricane Michael have closed, volitile facilities like chemical plants are being monitored, Naitonal Guard troops military equipment are mobilizing, and federal authorities are calling on people in affected areas to stay off the roads.
Federal Emergency Management Agency Administrator Brock Long Wednesday morning urged people in the path of Hurricane Michael to now stay indoors until advised by local officials that it is safe to be outside, and to, by all means, stay off the roads, beaches and waterways, clearing those for first responders.
And he didn't mince words for people in Michael's path who ignored evacuation orders, as the category 4 storm moves toward the area of Panama City on Florida's Panhandle.
"If you've stayed behind or didn't prepare for this event you're not only putting your own life in danger, but you may be putting other lives in danger," Long stated in a FEMA briefing Wednesday morning. "This is not only going to be a massive hit to the Florida Panhandle and the coast, but is going to maintain hurricane force winds through the state of Georgia, as well as dump additional rainfall though the Carolinas."
According to a news advisoiry from FEMA Wednesday morning:
– Tallahassee International Airport, Pensacola International Airport, and Destin Walton Beach Airport are closed. The sea ports of Panama City, Cedar Key and Pensacola are closed. The Port of Mobile, Ala., is open with restrictions.
– The U.S. Department of Defense's Northern Command is posturing forces, after Gov. Rick Scott activated 2,500 Florida National Guard troops.
– The Department of Defense also is preparing ground transportation and up to 240 high-water capable vehicles to move people and cargo in affected areas, and preparing to provide a minimum of 21 helicopters, swift water boats and rescue personnel for flooded areas.
– Federal health agencies are deploying a variety of public health professionals and resources.
– Florida has 54 shelters open with a current population of more than 3,500 people.

– Florida has released U.S. Department of Agriculture food supplies in 35 affected counties for use at shelters, canteens, and mobile kitchens.
– The Salvation Army mobilized 20 mobile feeding units, capable of providing 30,000 meals per day.
– Florida Baptist has four kitchens activated with total capacity of 170,000 meals per day and six additional kitchens on standby in Tallahassee.
– The American Red Cross is ready to serve 30,000 meals per day beginning on Oct. 13.
– The Army Corps of Engineers is deploying its Temporary Power Planning and Response Team and members from the 249th Engineer Battalion to provide temporary emergency power in Florida. Additional teams have been placed on alert.
– A FEMA Mobile Emergency Response Support unit is deploying with secure and non-secure voice, video and information services to support emergency response communications needs. Additional FEMA mobile communications vehicles are deploying to support potentially affected areas as needed and requested.
– The Agrico Chemical Company and American Creosote Works Superfund sites in Pensacola are located in storm track and susceptible to flooding; subsequent groundwater monitoring ongoing.
– The Joseph M. Farley Nuclear in Columbia, Ala., has advised federal officials that power generation will be shut down two hours prior to hurricane force winds impact.
Among other advice Long offered people affected by the storm:
– Consider the private sector as the first source for goods in affected areas.
– Text, don't call. During an emergency, phones lines may be overwhelmed. To let your loved ones know you are safe, send a text instead.
– Check in with the American Red Cross's Safe and Well site to check in and find missing individuals. Shelters are open throughout Florida. The American Red Cross has asked residents to bring their food and water supplies with them to the shelters.