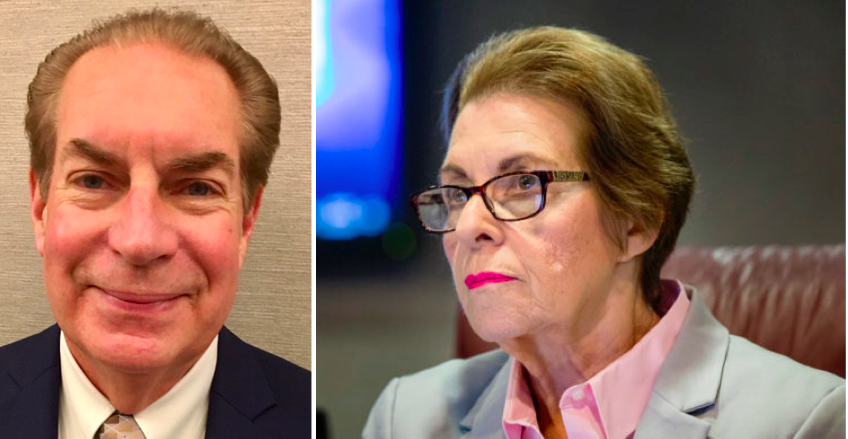 Republican leaders named New Smyrna Beach businessman Tom Wright as the replacement nominee in state Senate District 14, replacing the late state Sen. Dorothy Hukill.
"I believe I have the skills, life experience, and record of success to strongly support our community as the Republican nominee for Florida Senate," Wright wrote in a letter to party leaders.
District 14 political leaders say they have confidence in Wright as a candidate.
"We were pleased that the Brevard County Chairman and State Committeeman both gave Tom Wright their vote, giving Tom an 84 percent win for the nomination," said Tony Ledbetter, Volusia County Republican Executive Committee chairman.
"We had many good candidates come forward for the position from both counties, however, Tom Wright was seen by us as the one most capable of immediately launching a winnable campaign with just 28 days to go until the election on Nov. 6."
Brevard leaders showed equal enthusiasm.
"We're very excited to rally behind Tom," said Rick Lacey, chairman of the Brevard County Republican Executive Committee. "We feel he'll be an excellent senator, and he'll make us proud to be Republicans."
Party leaders underwent the replacement process following Hukill's departure. Hukill had previously been treated for cancer in 2016, then in September announced cancer had returned and she would enter hospice care. She died less than a week later.
State law allows party leaders to name a replacement nominee. Ballots have already been printed and Hukill's name will appear on ballots. Elections officials will provide a letter with vote-by-mail ballots and through noticed posted at polling locations notifying voters in District 14 that votes cast for Hukill will now count for Wright.
According to Lacey, Wright has long supported Volusia County Republicans. Volusia makes up a majority of the Senate district.
Ledbetter said Wright serves on the Board of Halifax Urban Ministries and Chase Academy for Autistic Children and supports many projects for veterans.
"Tom has supported and advised Republican candidates and will serve with the same conservative voice Senator Hukill has promoted during her years in public service.," Ledbetter said. "He has the experience and skills necessary to serve the citizens of Volusia and Brevard counties well in the Florida Senate."
Florida Today reports Wright promised to "do you a good job and stay the course." He will pay a candidate qualification fee to the Division of Elections out of pocket and promised he could largely self-finance the campaign, something that could be necessary with the short period between now and the Nov. 6 general election.
"I am a self-made businessman, I have no one that I owe or am beholden to," Wright wrote to leaders. "Through hard work, I have been blessed with business success, and I know firsthand what it takes to run a business, make payroll, live within a budget and make the tough decisions that come with running a business.
"As a lifelong Republican business person, I have employed hundreds of people over the years, and know firsthand what is required of a small business to remain compliant and within the countless regulations and rules placed on them from a local level all the way up to the national level."
Martin to date has raised $41,850 and chipped in a $2,000 loan.
The selection process was similar to the recent replacement nominee process Democrats held to replace deceased Congressional candidate April Freeman in Florida's 17th Congressional District, though in many way the stakes could be higher in the Senate contest.
Hukill, of course, was the incumbent, one who won this district with more than 68 percent of the vote two years ago over Democrat Richard Paul Dembinsky.
Republican President Donald Trump won the district as well but by a smaller margin, with 56 percent of the vote over Democrat Hillary Clinton's 39 percent.
Florida Today reports that Republicans make up about 39 percent of registered voters while Democrats make up 33 percent.
Wright will run against Brevard County Democrat Melissa "Mel" Martin in the November election. Martin, a former judge advocate in the U.S. Marine Corps, had raised $41,850 for the race as of last Friday and had about $27,000 in cash on hand, a finance report shows.
District 14 has not been one of a handful of high-profile Senate races that the state Republican and Democratic parties targeted this year. As of last week, for example, state Democratic leaders had provided little in-kind assistance to Martin — one indicator of attention from state parties and leaders, according to Martin's finance report.
Hukill had raised $249,221 for her re-election bid, though she had not raised any money since mid-September, reports show.
Some high-profile names were floated as possible replacement candidates for Hukill, including former Senate President Mike Haridopolos, former House Speaker Steve Crisafulli and state Rep. Tom Goodson — all Brevard County residents.
But Wright and three other finalists considered Thursday night did not have legislative experience.
__
The News Service of Florida contributed to this post. Republished with permission.