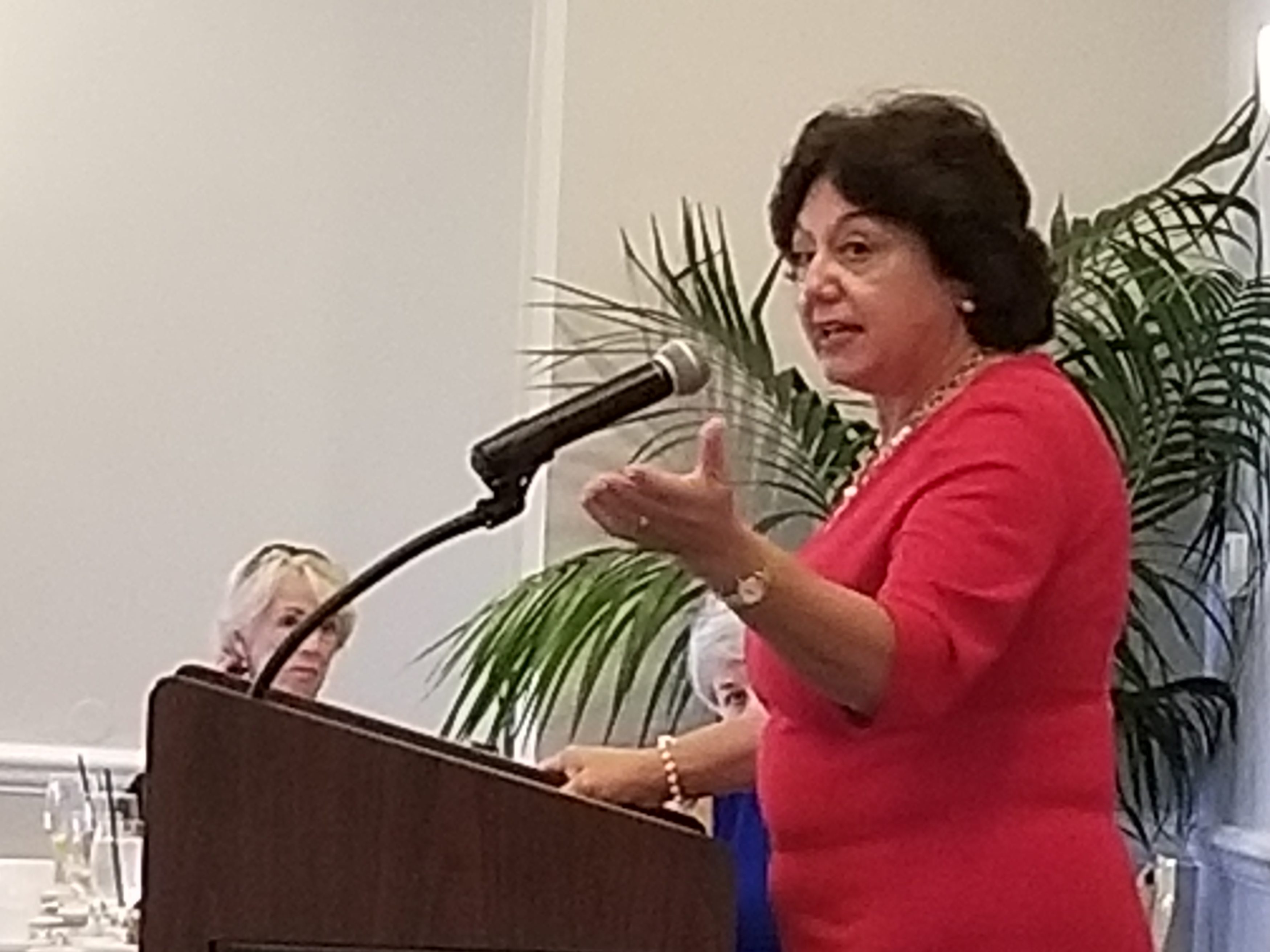 If Florida wants to fight blue-green algae and red tide, it means getting serious about septic tanks, says state Sen. Kathleen Passidomo.
"Anyone of us who has a bathroom is at fault," the Naples Republican said.
Passidomo spoke on South Florida's ongoing water woes at a Naples luncheon organized by the Women's Republican Club of Naples Federated.
There, she went over the history of waterway manipulation in Florida, from the expansion of farming around Lake Okeechobee to the creation of the Herbert Hoover Dike to stop flooding in the region and the manipulation of the Kissimmee River to more rapidly direct water from Central Florida into the lake.
Over the past century or so, humanity connected the Caloosahatchee and St. Lucie rivers to Lake Okeechobee artificially while altering the natural filtration of nitrogen and phosphates in the land.
These efforts started when 30,000 people lived in South Florida, she said, and now millions of residents face the consequences.
But to address the issue means more than focusing on a few large polluters, she said. As Big Sugar gets demonized by BullSugar and other groups, Passidomo noted its importance to guarantee compliance with environmental rules but also essential to see the big picture.
"We don't have a statewide initiative or study that looks to form a global perspective," she told Florida Politics. That needs to change, and it will require statewide support,
"This cannot be a South Florida thing or a Southwest Florida thing," she said. North Florida, which looks to protect its own springs, and Central Florida, where many South Florida leaders point as the source of nutrients in Lake Okeechobee itself, need to focus on eliminating septic use as well.
Passidomo also referenced an attack by Annisa Karim, her Democratic challenger in state Senate District 28, noting the incumbent, in fact, voted to lift requirements that property owners regularly have septic tank inspections.
"If I could go back would I have voted to repeal it? Probably not," Passidomo acknowledged.
But she noted that vote came at the early stages of the Great Recession when people feared a government inspection forcing them to pay for $25,000 or $30,000 worth of repairs or replacements at their own homes.
Now, Passidomo wants to take a fresh look at septic tank requirements. She noted communities like Key West addressed the matter at the local level.
Indeed, Melba Wagner, a former member of the Key West utility board, attended the luncheon today and said the decision to put septic requirements on homeowners created an uproar on the island but resulted in drastically improved water quality.
Passidomo says there must be septic improvements statewide, but it can't be forced on communities.
"We can't do what we usually do, which is to tell local government to just eat it," she said. "What we need to do is say, this is a framework, and you have to decide on a community level how to get there.
"The issue is funding, and for all of those of us who live here we have to participate in the funding."
As for Karim's suggestion that lawmakers need more scientists in the Legislature and that Passidomo doesn't follow the research, the incumbent pushed back hard on the notion.
"If you're a scientist, go and do your job," Passidomo said. "Don't just talk about it. Come up with solutions. Standing up and saying the Legislature isn't doing the right thing isn't solving the problem. Go to Mote Marine and help. Then you can come to me and say this and this are the cause of that."
"I can then take your science say let's make sure this doesn't happen and this doesn't happen so that doesn't happen. That's what I can do. That's what I'm good at doing."