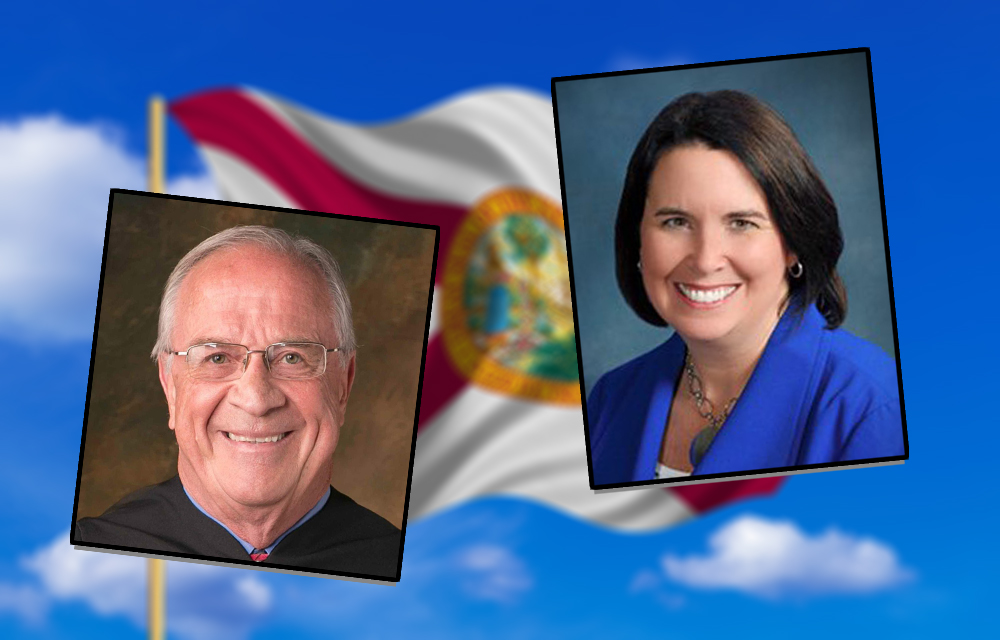 A new poll of the Senate District 22 race shows state Sen. Kelli Stargel has nearly doubled her lead over Democratic nominee Bob Doyel compared to a month ago.
A new St. Pete Polls survey, conducted Oct. 13-14, found the Lakeland Republican leading Doyel 52-40 percent with 8 percent of voters undecided. That margin was consistent among the 19 percent of voters who said they had already turned in their ballot as well as the 81 percent of voters who said they planned to vote but have not done so yet.
The new results come four weeks after St. Pete Polls last polled the district and show a statistically significant gain for Stargel as well as some minor slippage for Doyel, a retired circuit court judge. The month-old poll pegged the race at 48-41 percent, advantage Stargel.
The Doyel campaign has circulated internal polls showing him leading Stargel, however, those now-stale numbers were never corroborated by any public poll of the race.
Doyel has a little room for growth among the Democratic base, 12 percent of which is still undecided. About 18 percent of Democrats are leaning toward Stargel, however, which is considerable due registered Dems making up a plurality of the Polk County-based district's electorate.
Likely Republicans voters are in lockstep, preferring Stargel 84-10 percent. Third- and no-party voters are also tilting toward the incumbent by a near 20-point margin.
There's more good news for Stargel, first elected in 2012, further down the poll. She's the pick for the majority men, women, white and Hispanic voters, Millennials, Gen Xers and younger Baby Boomers
Doyel, for his part, held a 4-point lead among voters over 70 years old and posted strong results among the few black respondents polled, though black voters only make up about 14 percent of SD 22's voting age population according to U.S. Census data.
SD 22 covers southern Lake County and northern Polk County and has trended toward GOP candidates in the past despite registered Democrats outnumbering registered Republicans by a couple points.
In the 2016 cycle, Stargel beat underfunded Democrat Debra Wright by a touchdown while President Donald Trump carried the Central Florida seat by nearly the same margin.
Though Doyel has overperformed past Democratic nominees in fundraising, Stargel's campaign and committee accounts are as flush with cash as ever, and she's also received significant backup from the Florida Republican Senatorial Campaign Committee, a well-stocked Republican Party-affiliated committee chaired by incoming Senate President Bill Galvano.
To date, Stargel has raised $487,000 in hard money and had $138,250 banked on Oct. 5. She also has $263,000 ready to deploy in her affiliated PAC, Limited Govt for a Stronger Florida Political Committee.
Doyel's early October finance reports brought him up to $431,000 in total fundraising — $212,500 hard and 218,600 soft. On Oct. 5, the Winter Haven Democrat had $210,500 banked between his campaign account and affiliated political committee, Bring Back Democracy.
Florida Democrats are hoping the so-called 'blue wave' can put it and other Republican-held Senate seats in their column come November, though poll results in SD 22 and other targeted districts show waning odds that Democrats can force a tie or take the majority in the state Senate, where Republicans hold a 23-16 advantage with one vacancy.
The St. Pete Polls survey, commissioned by Florida Politics, was conducted via an automated phone call polling system. It received responses from 503 registered voters who said they planned to vote in the general election. The sample was 38 percent Democrats, 38 percent Republicans and 24 percent independents.
The top-line results have a margin of error of 4.4 percentage points at a 95 percent confidence level.