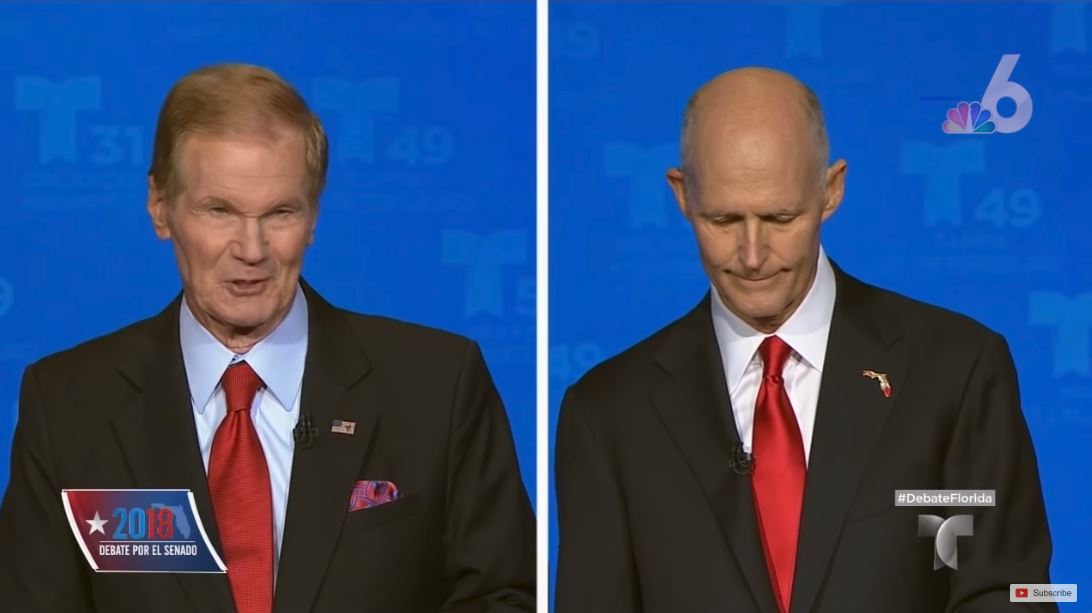 Since Hurricane Michael became an imminent threat and then made a catastrophic landfall last week, Gov. Rick Scott has been in emergency management mode.
That role, familiar for the two-term Republican governor, has insulated Scott from  campaign events and inconvenient questions from media about issues ranging from Donald Trump to his blind trust.
The Scott campaign has already teased the possibility of Scott no longer appearing on the trail at all, with his wife Ann Scott serving as a surrogate — of the sort who can't be expected to answer policy questions.
However, contends Dan McLaughlin (an adviser and former spokesperson for Nelson), Scott leaving the trail is simply a "cynical attempt to avoid facing voters."
"We're not going to let Rick Scott hide from voters in the last three weeks of a major election — especially while he's significantly increasing his negative TV attack ads," McLaughlin vowed.
McLaughlin charges Scott with wiring $18 million of his own money for these ads, though it should be added that Scott has been adding positive messaging to the mix.
Piggybacking off an item in POLITICO Florida, McLaughlin noted that Scott "can't campaign around the state without protesters; he can't risk having to answer people's questions directly; he can't campaign across a state that's plagued with red tide and green algae; he can't campaign and answer questions on how he's enriched himself in public office."
McLaughlin bemoaned the rescheduling of a CNN debate from Oct. 16 to Oct. 30, describing it as "very late in the election," and suggested a town hall … a format that the Governor likely wouldn't prefer.
Nelson soon enough took to Twitter himself to slam Scott for a contrast/attack ad in which the Governor compared his storm relief work to Nelson's negative campaigning. Below, just a few of the tweets from the afternoon.
Bill Nelson operative: 'We're not going to let Rick Scott hide from voters' https://t.co/dNg3gErLdl

— Bill Nelson (@NelsonForSenate) October 16, 2018
Rick Scott inviting the Florida Highway Patrol to the governor's mansion in the aftermath of the hurricane – and then using them in a newly cut campaign ad – is a new low, even for a career politician like Rick Scott. In fact, it's terrible. Here's a frame from the campaign ad. pic.twitter.com/1Av2GGcx8J

— Bill Nelson (@NelsonForSenate) October 16, 2018
Apparently, "Scott will be leaving the campaign trail to focus on the hurricane" means that Scott instead will be using the hurricane to film a new campaign commercial. A new low – even for Scott. See for yourself in this frame from his newly unveiled ad: pic.twitter.com/ZcqJlVSorX

— Bill Nelson (@NelsonForSenate) October 16, 2018
Hey, @ScottforFlorida. @SenBillNelson didn't run the ad about you ripping off TRICARE. He had nothing to do with it.

WE ran the ad, on behalf of our 550,000 vets, military families & supporters, b/c your defrauding our military was a disgrace.

Next time have the guts to @ us. https://t.co/WqdvwLVCvQ

— VoteVets (@votevets) October 16, 2018
Republicans were quick to pounce on what one op called a "bizarre Twitter rant."
Camille Gallo, NRSC Regional Press Secretary: "Meanwhile, nobody seems to know where Senator Nelson even is today….  So, we have to ask, is everything ok over there?"
Gallo spotlighted "laughably claiming the Governor is hiding from voters" and "having ranted about the CNN debate being cancelled because of the storm, claiming he'd debate on October 22nd before voting starts…but Floridians have been able to vote by mail for weeks."
Additionally, Gallo notes "Nelson doubled down on the ad his liberal pals are running for him that shamelessly mocks Governor Rick Scott's military service."