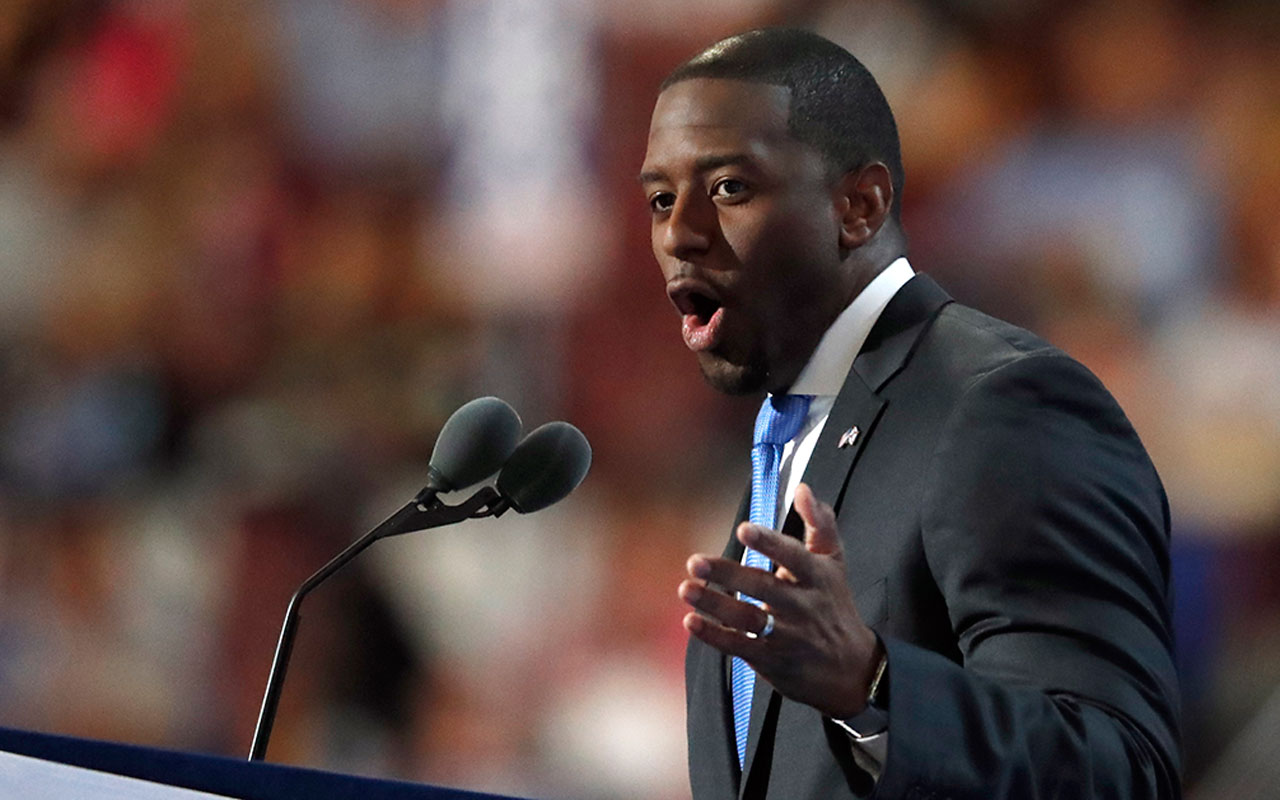 Andrew Gillum is confronting Florida voters with mixed messages as he approaches the home stretch of his Democratic bid for Governor.
Gillum's campaign debuted two new ads on Tuesday, the three-week mark ahead of the Nov. 6 Election Day. One, a negative attack on his Republican opponent Ron DeSantis, criticizes the former congressman's voting record on Medicare and social security. Another features one of his closest surrogates, wife R. Jai Gillum, who offers an overwhelmingly positive overview of her husband and his quest for the Governor's Mansion.
The negative ad in part focuses on health care, noting DeSantis' prior willingness to increase the age of Medicare retirement — a continuation bet on Gillum's health care offensive against DeSantis.
Prior televised criticisms from Gillum have questioned DeSantis' health care ambitions. The Florida Democratic Party has also harped on the same issue via television, a parody website — even a real-time clock tracking how much time has elapsed since DeSantis entered the race. (From the Democrats' perspective, it's a matter of how long it's taken for DeSantis to unveil his highly anticipated but prolonged health care plan.)
But the ad also serves as an attempt to appeal to Florida's coveted older voting bloc, featuring presumed seniors saying things like, "I've earned my retirement." The criticisms aren't exactly fresh. In fact, they're repurposed from DeSantis' tough primary against Adam Putnam, who aired a similar affront in July to no avail.
In response, DeSantis campaign spokesman Stephen Lawson said Gillum's health care plan, which in part provides support for Medicare for all, "would take away the health insurance choices that most Floridians enjoy today and hurt seniors who have earned their benefits by paying into the system their entire lives."
According to the Gillum campaign, the 30-second spot is airing in most of the Sunshine State's major media markets.
The other ad featuring R. Jai Gillum serves as a positive testimonial to her husband's widely publicized political story arc.
"One thing I can tell you about my husband is that he is a fighter," R. Jai Gillum says in the spot. "He was the first in his family to graduate high school and college."
She also speaks to Gillum's tenure as the Mayor of Tallahassee, including his legal victory against the National Rifle Association. Confirmation is pending on whether that positive message will also air across the state.
To watch the ads, click on the images below: