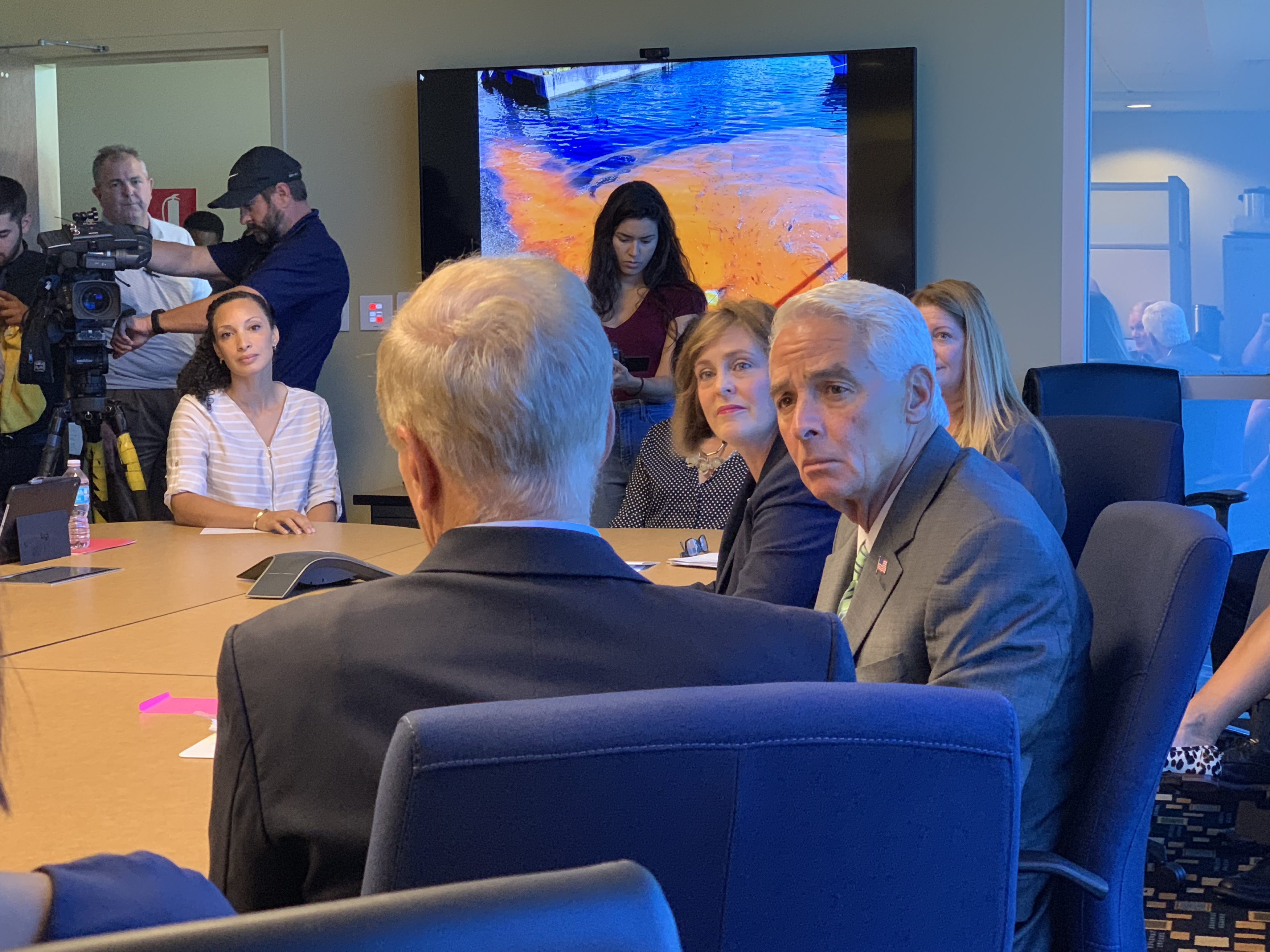 Three Democratic federal lawmakers will work toward increasing water quality monitoring in the Gulf of Mexico and creating more wetlands to clean water flowing into the Gulf and other waterways.
U.S. Reps. Kathy Castor and Charlie Crist, and U.S. Sen. Bill Nelson crafted a preliminary action plan Wednesday after meeting with local scientists and business leaders about the ongoing impacts of red tide.
"Even though the tourism numbers have been up … boy, this could really set us back unless we work together to address the red tide," Castor said during a roundtable discussion in St. Petersburg on Wednesday.
Three scientists with varying areas of expertise all agreed: Red tide is a naturally occurring environmental phenomenon, but large blooms are likely fueled by warmer Gulf temperatures as the result of climate change and, possibly, by nutrient runoff from agriculturE.
Jacqueline Dixon, Dean of the University of South Florida's College of Marine Science, compared red tide to naturally-occurring bacteria in the human body.
"As long as those conditions are conducive to a healthy ecosystem, we're all good," Dixon said. "But should we change those conditions, then one bacteria can bloom and cause an infection."
She explained red tide naturally grows at the bottom of the Gulf. It's a plant, she said, and when you feed plants nutrients, they grow.
The explanation lends to the argument among critics of Gov. Rick Scott that environmental deregulation under his administration has increased the likelihood of a harmful red tide algal bloom.
William Mitsch, director of the Everglades Wetland Research Park, said that may be the case, but scientists have yet to find steadfast evidence proving that it is the culprit. Further, he said even if it is a culprit, it's not the only one.
Climate change is increasing water temperatures in the Gulf of Mexico. That paired with increased rain and nutrient runoff from Florida agriculture creates "a toxic brew" ripe for red tide development.
"Can we change the temp of the Gulf of Mexico? Probably not," Mitsch said.
But he said Florida legislators and federal officials can take steps to mitigate red tide occurrences by better regulating nutrient pollution and creating new wetlands that serve as a filter for water before it reaches the Gulf.
Mitsch recommends adding 100,000 acres of wetlands south of Lake Okeechobee. He said it's crucial that water flow be directed south – its natural course – rather than east and west to the Gulf and Atlantic shorelines.
Nelson and his Republican colleague, Sen. Marco Rubio, successfully included provisions for wetlands in the recent Clean Water Act that includes 6,500 acres of new wetland-like land and a 10,500-foot reservoir to tame nutrient-rich water runoff.
Mitsch cautioned that's not enough: "If you have 100,000 acres of new wetlands, you don't need that reservoir."
The three federal lawmakers all lamented that politics was getting in the way of clean water. Crist said he supported federal funds for buying land to create new wetlands, but implied his hands are tied.
"Talk to me in three weeks," he said, referring to the Nov. 6 election.
"Elections matter. If we have a governor … who does not [understand or believe in climate change], or one that won't let people in the environmental agencies utter the words 'climate change,' you have a problem."
Scott, who defeated Crist for Governor in 2014, came under fire during his administration after issuing a memo telling staff not to use the term "climate change."
Scott denies that claim and points to reports from departments within his administration that have studied climate change and sea level rise. He also defends his environmental track record including allocating $300 million for flood mitigation and resiliency.
Crist supports Tallahassee Mayor Andrew Gillum for Governor over Republican Ron DeSantis. DeSantis recently acknowledged pollution might be an exacerbating factor in red tide, but said it's not the state's job to mitigate it. Gillum has been more direct on the issue of climate change.
"Climate change is real, it is impacting Floridians directly, and we will not be silenced on the matter. When I'm Governor, we will not just talk about climate change: We will put Floridians to work to make our state more energy independent and resilient and transform our state into the Solar Capital of the United States," Gillum wrote on Facebook last March.