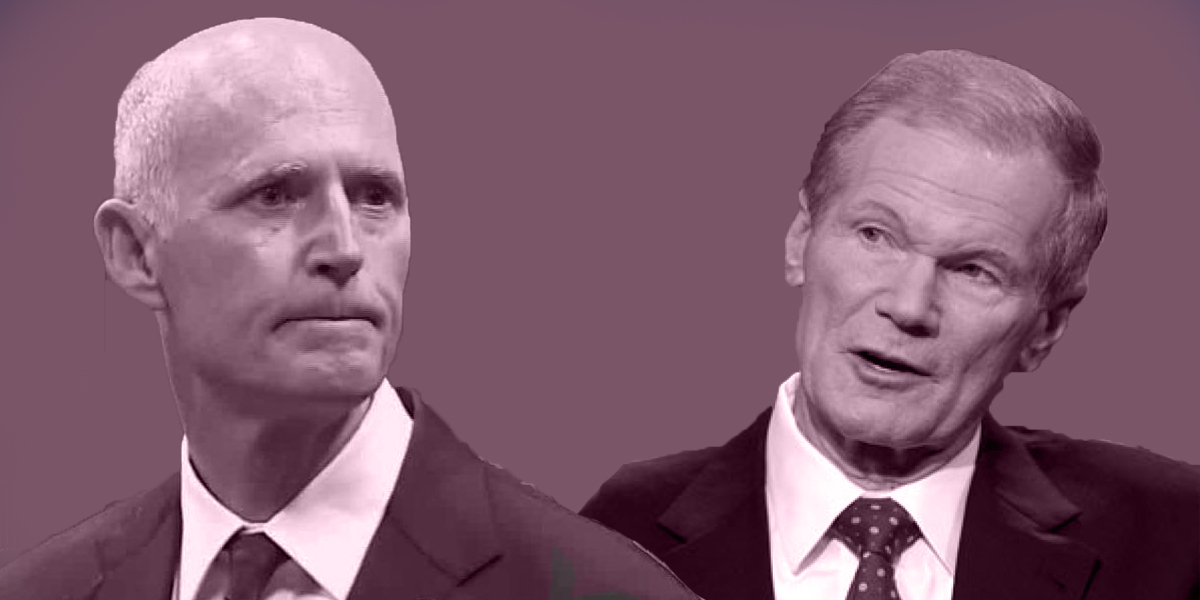 One of the most bitterly disputed features of Florida's U.S. Senate race is if or when the candidates will convene to talk about real issues.
Incumbent Democratic U.S. Sen. Bill Nelson and Republican challenger Gov. Rick Scott have swapped accusations of debate dodging since the summer. The latest development: a canceled CNN forum, prompting more sparks to fly in the debate debacle.
"Regrettably, Sen. Bill Nelson and Gov. Rick Scott are unable to agree on a new date to hold the U.S. Senate debate originally scheduled to air Tuesday, Oct 16," an account associated with the cable news network tweeted on Wednesday. "Therefore, the CNN Florida Senate debate has been canceled."
The debate, once approved by both candidates, had been postponed last week after Hurricane Michael devastated Florida's Panhandle. Both candidates agreed to delay the forum.
Scott's campaign wanted to reschedule the debate for Oct. 25 and early this week began suggesting Nelson would back out.
That's precisely what Nelson did, according to Scott's campaign.
Scott spokeswoman Lauren Schenone said in an email that CNN had proposed rescheduling the debate for Oct. 25, and that "Nelson refused to debate on the date [CNN] offered."
As of publishing, the communications office at CNN did not confirm nor deny that Nelson refused.
Schenone also pointed to Scott's displayed eagerness to face Nelson on stage. The Governor accepted four debates earlier this year, but only two were agreed to by Nelson.
But on Twitter, Nelson is suggesting that Scott refused to debate earlier than Oct. 25.
"We received word from CNN it will cancel our Senate debate," Nelson tweeted. "Rick Scott refused to debate before early voting starts en masse Oct. 22."
Early voting begins statewide on Oct. 27, though some large counties, including Miami-Dade, will open up the polls on Oct. 22. Vote-by-mail is already is underway.
A request for comment was left with a spokesperson for the Nelson campaign.
From Scott's perspective, it's a matter of Nelson not wanting to face him one more time ahead of the Nov. 6 election.
"Bill Nelson ducks CNN debate," Scott tweeted. "Refuses to reschedule after Hurricane Michael delay. Sad but not surprising. I hope he reconsiders. Senate won't be in session – can't imagine what's more important than talking to voters."