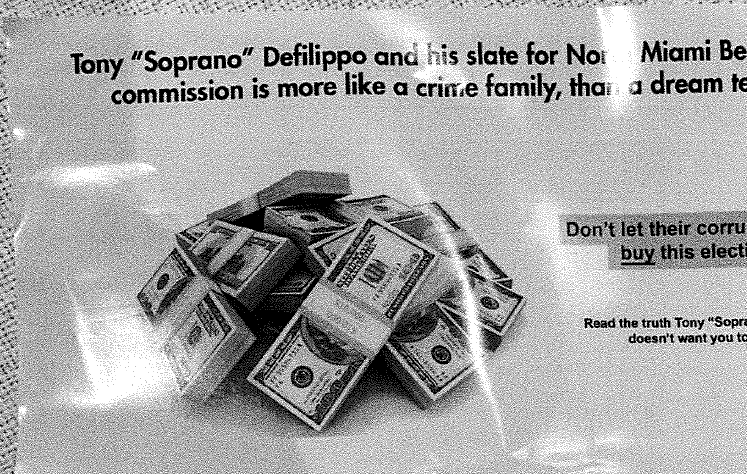 A new mailer labeling North Miami Beach mayoral candidate Tony DeFillipo to a crime boss lists AFSCME PEOPLE as it source, but political leadership for the public union say it had nothing to do with the advertisement.
"On behalf of every AFSCME member who voluntarily contributes to their union's political program to ensure working families have a voice in the process, I strongly denounce this mailer," said Brian Weeks, national political director for AFSCME.
Now, officials with the union have sent a cease and desist order to Hector Roos, a Miami political consultant officials believe created the mailer.
The mailer, which refers to the mayoral candidate as "Tony 'Soprano' DeFillipo," also attacks other candidates seeking city commission seats. The union today plans to file an emergency motion today seeking a temporary injunction in court.
"His slate for the North Miami Beach City Commission is more like a crime family, than a dream team," the mailer reads.
It dubs DeFillipo the "Godfather," Ketley Joachim as "Capo," Alter Gambarte as "Associate," Dianne Raulson as the "Lobbyist boss" and Henry Dube as "The Recruit" and "Pushover."
That's a list of candidate AFSCME locals have not endorsed, but Jacqui Carmona, Florida political director for the union, said the mailer makes attacks in a way AFSCME does not support.
"We were outraged when we originally heard about it," Carmona said. "We are currently conducting an investigation to figure out who sent the fraudulent mailer."
In addition to taking a nasty tone, Carmona noted the mailer brimmed with spelling and grammatical errors.
In one portion, for example, the mailer randomly asks if DeFillipo is a misogynist for supporting "Bret Kavanaugh" for the Supreme Court.
The mayor of North Miami, of course, has no say on who sits on the U.S. Supreme Court, and the mailer misspells recently installed Associate Justice Brett Kavanaugh's name.
But the mailer also scours criminal records for the entire slate of candidates, including arrests for marijuana possession and giving alcohol to a minor, in addition to more standard attacks like DeFillipo taking developer money.
The mailer labels North Miami Beach "one of Miami-Dade County's most corrupt municipalities,
"AFSCME members are proud public service workers who are committed to improving our communities, and we are organizing tirelessly to elect candidates who will stand with working families," Weeks said. "This mailer was not created or paid for by AFSCME PEOPLE or AFSCME Florida, and we unequivocally denounce these defamatory and offensive attacks."