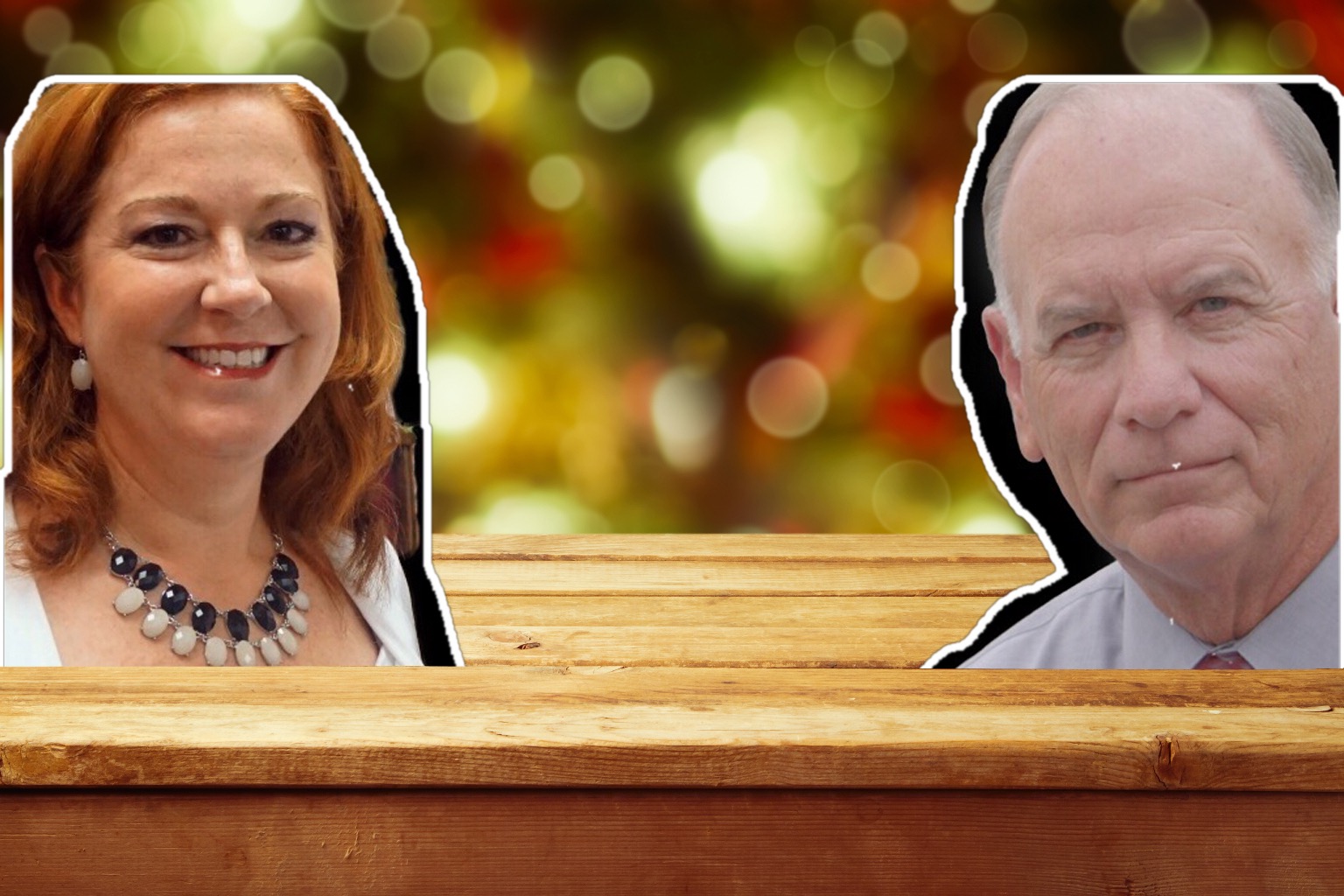 Former Republican Rep. Ed Hooper and Former Democratic Rep. Amanda Murphy are locked in a dogfight according to a new poll of the race for open Senate District 16 seat.
The St. Pete Polls survey, conducted Oct. 18, found Hopper leading Murphy by a basket 19 days out from the election, 48-46 percent with 6 percent undecided. His 2-point lead among SD 16 voters shrinks to just six-tenths of a point, however, among the 36 percent who said they've already cast their ballot.
The Clearwater Republican is also up a deuce over his New Port Richey rival among the yet-to-vote crowd, which favored him 47-45 percent. Those voters were the most undecided, with 8 percent saying they hadn't decided which of the two former lawmakers would earn their vote.
The topline results in the new poll are almost unmoved from where they were a month ago, when Hooper led Murphy 47-45 percent in the Tampa Bay area scrap.
The consistency in the topline numbers belies a few shifts in the senate scrum since that measure.
Hooper and Murphy have both improved among their party's base, an important accomplishment for Hooper especially, Murphy was peeling away a fifth of Republicans in the prior poll. He's lost ground among independents, however, who have started to skew more heavily toward the Democrat.
A month ago, Murphy held a 46-41 percent lead among unaffiliated and no-party voters. That lead has more than doubled to a 52-39 percent spread in the interim, heavily augmenting her base in a district where Republicans make up a strong plurality of the electorate.
White voters have been steady in giving a slim edge to Hooper, whom they favored 48-44 percent with 19 days to go until Election Day.
Murphy is still racking up big leads among the handful of black and Hispanic voters polled, though non-Hispanic whites make up 85 percent of the district's voting age population, and redistricting data shows those voters tend to made up an even larger share of those who make it to the polls.
A full third of white voters said they've already cast their ballot.
Hooper has also improved his standing among women, who now prefer him over Murphy by 5 points, 49-44 percent. That step forward was coupled with a backslide among med — Murphy has improved from a 7-point underdog among those voters into a virtual tie at 47 percent all.
Millennials, Gen Xers are still leaning toward Hooper by a material margin although he and Murphy are grappling for supremacy among older voters, who make up a much larger share of the electorate and tend to punch above their weight at the ballot box.
There's are virtually tie among voters aged 50 to 65, the largest age bracket in the district, while the 70-plus crowd has started gravitating toward Murphy by a statistically significant 51-45 percent margin.
The push poll received 816 responses from registered voters who said they were voting in the Nov. 6 general election. The sample was 41 percent Republican, one-third Democrat and 26 percent independent. The topline results have a margin of error of plus or minus 3.4 percentage points at a 95 percent confidence level.
Though Hooper has held on to a slim in the last couple St. Pete Polls surveys, his inability to muster up an outside-the-margin edge indicates SD 16 voters will make a marked shift toward the Democrats this cycle.
That shift could be due to the now 10-month interregnum since SD 16 voters last had a representative — the seat was last held by Republican Sen. Jack Latvala, who was a vocal Hooper supporter and considered an asset in his Senate campaign before he resigned late last year amid accusations of sexual misconduct.
Additionally, Murphy has shown an unprecedented ability to lull GOP voters in each of her three elections. In a 2013 special election, she took over for exiting Republican Rep. Mike Fasano — with his blessing, no less — and won re-election to a full term the following year.
In 2016, she was booted from office by now-Republican Rep. Amber Mariano in one of the closest state House races in recent history. In spite of President Donald Trump winning the Pasco-based House seat in a 20-point landslide, the Murpy-Mariano contest came down to to just 691 votes, or 0.6 percent.
While SD 16 is essentially an even-money race when it comes to the odds, Hooper and Murphy are nowhere near even in the fundraising race.
As of Oct. 5, Hooper had raked in more than $900,000 for his comeback bid, including $600,000 in hard money and another $300,000-plus in committee cash via Friends of Ed Hooper, not to mention the substantial "in-kind" support he's received from the Florida Republican Senatorial Campaign Committee, a cash rich party affiliated committee helmed by incoming Senate President Bill Galvano. Hooper has $421,000 in the bank.
For her part, Murphy has collected $116,500 in hard money and another $276,300 in soft via her two PACs — Working Towards Florida's Future and Taxpayers for Responsible Government. She had a relatively lean $55,540 banked between the three accounts on Oct. 5.
SD 16 covers northern Pinellas County and southwestern Pasco County, including Clearwater, Dunedin, Safety Harbor, Palm Harbor, New Port Richey and Oldsmar. Republicans make up about 38 percent of the district's electorate, while Democrats make up about a third. Two years ago, President Donald Trump carried the district by 12 points.