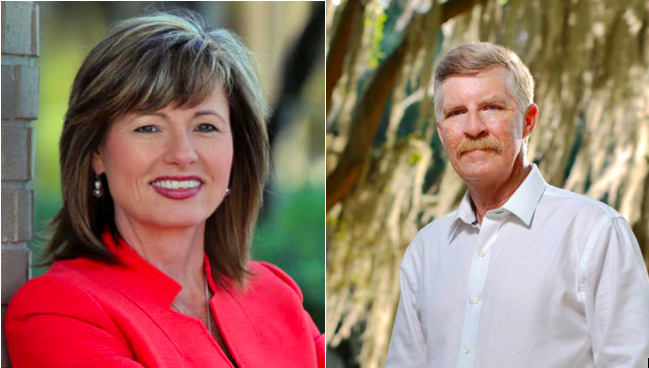 A series of election complications, outright errors and now multiple ballots in the field has created chaos in the House District 56 contest.
Worse, it remains possible controversy could spread should any statewide races end with results close enough for Hardee County voters to swing the outcome..
"I've been in politics close to 30 years, and I've never seen a snafu like this," said Jeff Mann, one of two Republicans running in the race.
Mann faces Republican Melony Bell in the race to succeed state Rep. Ben Albritton. The Republicans face off in a universal primary scheduled for Nov. 6, and yes, that's abnormal in itself.
The first Democratic complication arrived when David Joseph Patzer filed as a write-in candidate. With only Republicans filed, this closed what would have been an open primary in August to determine a new representative.
But write-ins closing election are nothing new to Florida politics. Things turned messy, though, after Patzer abruptly dropped out in July. Patzer's wife later told The Ledger he had been pressured by Mann, whom he considered a father figure, to file.
Mann disputes this but acknowledges his son and Patzer went to school together.
Regardless, Secretary of State Ken Detzner in July ruled that without a write-in opponent to challenge the Republican primary winner, the primary must be open. With the window for sending absentee ballots already passed, Detzner rescheduled the race for September.
But another problem occurred. Hardee Supervisor of Elections Diane Smith's office made a mistake and listed Mann as a Democrat in the race.
Bell figures the unusual circumstance caused the human error. "I guess the Hardee Supervisor, having never had two Republicans in a general election, put my opponent as a Democrat and me as a Republican," Bell said.
Bell would appear first on the ballot in alphabetical order in a Republican primary. In most general elections, the nominee for the party controlling the Governor's mansion, right now Republicans, appears first on the ballot.
Some 800 to 900 vote-by-mail ballots already shipped to voters in Hardee and overseas before anyone noticed the glitch. Now, yet another irregularity enters the mix.
Smith decided to reorder ballots and send out vote-by-mail ballots to everyone who already received them. Those contain a note explaining Mann had incorrectly been identified as a Democrat, and that the older ballots would be discarded if voters sent in the new, corrected ballot.
"This could hurt him, it could hurt me and help him, I just don't know," says Bell. "His name has a special notice now about the mistake."
Yes, but then Hardee County isn't the most friendly territory for Democrats, likely a reason no Democrat decided to run.
"I ain't happy about it," said Mann. "I'm the most conservative person in the race so to be listed as a Democrat really set me back a little bit. But it's more the election."
In 2016, almost 69 percent of Hardee County voters supported Republican Donald Trump for President and Republican Marco Rubio for Senate. So party line voters on the bad ballots may break for Bell.
The false ballots may not matter, so long as the winner in District 56 wins by more than 900 votes.
But now a cog gets thrown into every race on the ballot, from county commission contests straight up to the year's U.S. Senate and Governor's race.
A recent St. Pete Polls survey found both those major statewide races essentially tied. And Florida has a history of narrow election margins. Like, razor-thin. The most notorious close call of them all came in 2000, when Republican presidential candidate George W. Bush won Florida by 537 votes, and in turn captured the White House. That hints at potential catastrophe in Hardee County on a butterfly ballot scale.
Of course, Bell and Mann just hope the margin runs wider than the votes in question. Bell likes to note she won the August primary anyway. Well, sort of. She won the vote in Polk County, which is just a part of the district, with 67 percent of the vote, according to results erroneously reported by the supervisor of elections there.
One more error, Mann notes. He feels the race will be very close.
Of course, he blames the Mann camp for pressuring Padzer out of the race. Bell blames Mann for tricking Padzer into the contest in the first place.
And the rest of the state sits wondering what this middle-of-the-state election irritation could mean for the entire Sunshine State.