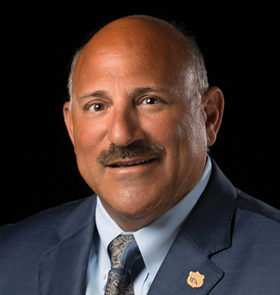 Florida Police Benevolent Association President John Kazanjian is telling voters Republican gubernatorial candidate Ron DeSantis "has our back" in a new robocall going out statewide.
The bulk of the call, though, slams Democratic gubernatorial candidate Andrew Gillum for a sometimes contentious relationship with police leaders.
"Tallahassee Mayor Andrew Gillum has failed us," Kazanjian says in the robocall.
The PBA leader hits Gillum on crime rates in Tallahassee, a frequent contrast made by Republican leaders during the gubernatorial campaign.
"Tallahassee's had the highest crime rate in Florida four years in a row," Kazanjian says.
The call marks the latest move for Florida law enforcement to tout the Republican candidate and critique the Democrat on law enforcement issues.
On Saturday, Broward County Sheriff's Office Deputies Association President Jeff Bell appeared on Fox News to blast Gillum for signing a Dream Defenders pledge.
That earned mention in the new Kazanjian as well.
"He [Gillum] even signed a pledge to cut police funding and support a group that says, 'police and prisons have no place in justice,' that 'police were never meant to serve us.'  It's dangerous," Kazanjian says.
Perhaps controversially, Kazanjian also asserts Gillum wants cops kept off campuses.
"Gillum supports ridiculous radical ideas like removing law enforcement from schools," the robocall says.
That seems to reference friction between Tallahassee and the Leon County School District. School leaders earlier this year requested Tallahassee Police Department officers be provided to meet new school security requirements put in place after the Parkland shooting.
Gillum and other leaders said no, but the disagreement came over resource allotment, not whether schools should have student resource officers.
"I am in favor of the city helping to fund Leon County SROs inside our elementary schools, rather than bringing TPD officers off their beat while they are fighting to reduce crime in our city," Gillum said in a statement to the Tallahassee Democrat.
Overall, the call makes clear what outcome PBA leaders want in November's governor race.
"Vote today for Ron DeSantis for Governor, your personal safety – and your families' safety – depends on it."