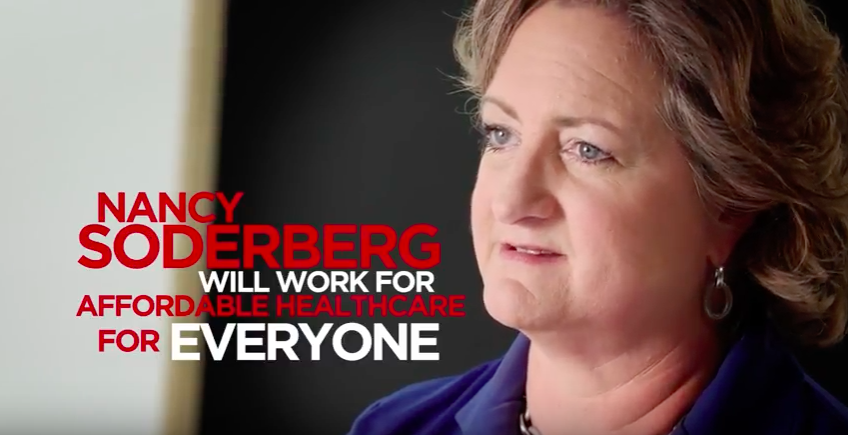 Fresh off a strong fundraising quarter, former U.S. Ambassador Nancy Soderberg is out with a new ad touting her healthcare priorities in the race for Florida's 6th Congressional District.
The new ad, "Afford," features one of the St. Augustine Democrat's would-be constituents, Kay, explaining why she left the Republican Party to cast a ballot for Soderberg in August and is planning to support her again in November.
"I'm a schoolteacher and was a lifelong Republican. My uncle was even the Orange County campaign coordinator for [Ronald] Reagan. But this election, I can't support Mike Waltz for Congress," Kay says in the ad. "Because his healthcare plan would cost us more, including higher premiums for millions and eliminating protections for pre-existing conditions. So that's why I'm supporting Nancy Soderberg for Congress. Nancy will work with Republicans and Democrats and make sure our health care is affordable."
Soderberg's campaign didn't detail the media buy backing up the new ad, though filings with the Federal Communications Commission show numerous TV buys made by the campaign in the past week.
Soderberg and Waltz are competing for the Congressional seat recently vacated by Republican gubernatorial nominee Ron DeSantis. A recent internal poll circulated by the Soderberg campaign showed her and Waltz tied at 45 percent support apiece with 9 percent of voters undecided.
CD 6 covers parts of St. Johns, Putnam, Flagler and Volusia counties on Florida's Atlantic coast. President Donald Trump won CD 6 by 17 points two years ago while DeSantis, who held the seat for three terms, won re-election by 17 points.
The Cook Political Report and Larry Sabato both rate CD 6 as "likely Republican," while Nate Silver's FiveThirtyEight has moved the race into the "lean Republican" category. Their forecasting model currently expects Waltz to win 52-48 in November, though it gives Soderberg a two in seven chance of flipping the seat.
Soderberg's new ad is below.