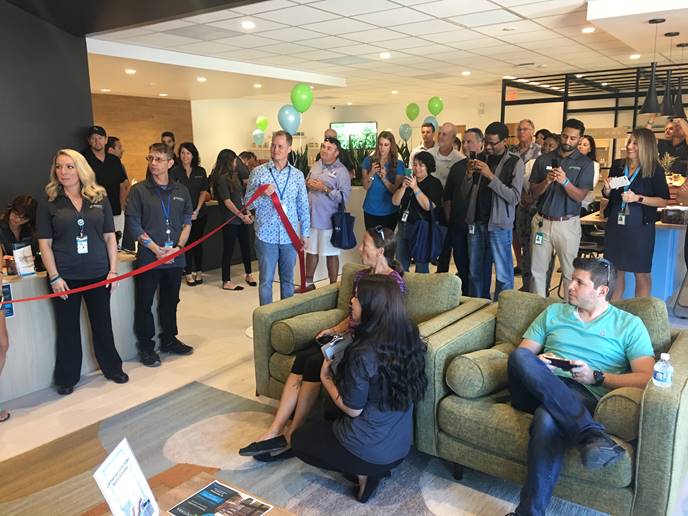 The medical marijuana treatment provider Surterra Wellness opened its 12th Florida location in St. Petersburg Thursday. The Medical Marijuana Treatment Center is located at 2001 Fourth Street on one of the city's busiest thoroughfares.
State Senator Jeff Brandes called the new dispensary "the Apple Store of cannabis."
Unlike other treatment centers, Surterra designed all of their locations with an open floor plan where products can be viewed by anyone who enters the facility. Other companies, like CuraLeaf, allow approved patients and their designated caregivers to enter a separate room showcasing products.
The difference is, Surterra's product displays are all empty, which keeps them in compliance with state laws governing the distribution of medical cannabis.
Like other dispensaries, the new Surterra facility is designed with serenity in mind. Far from the head shop imagery that once stigmatized marijuana, the building features warm colors and moderate decor.
Eucalyptus plants line the walls giving the room a peaceful aroma.
The centerpiece of the facility is a kitchen-like area where patients meet with care coordinators to discuss their needs and treatment options. The idea is to incorporate an at-home-like feeling for patients who are used to having important discussions in the home around the family kitchen or dining area.
Care coordinators will make patients and their loved ones a cup of coffee or tea to settle down into a relaxed environment where they feel open to discussing personal health decisions, according to Surterra Senior Manager of Government and Public Relations Kim Hawkes.
The company offers two lines of products. Florida's Finest line are strain-based products most similar to what someone might buy off the street. There are five strains ranging in levels of THC, the chemical in marijuana that gives users a high, and CBD, the calming, non-high inducing chemical in cannabis.
The strains also have flavoring and can be consumed through vaporizing the marijuana flower, which gives patients more immediate access to relief without the harmful effects of smoking.
Surterra's signature line is different than what most other dispensaries offer in that it balances the levels of THC and CBD proportionately so patients are receiving a consistent dose each time they use the product.
That line also includes five options – Calm, Serene, Soothe, Zen and Relief. The products range in levels from low-THC, high-CBD to low-CBD, high-THC. The lower THC products are used for patients suffering from things like epilepsy, PTSD or Parkinson's Disease. Higher levels of THC are recommended for patients suffering from things like Cancer, ALS or Glaucoma.
Hawkes said the products are competitively priced to match what patients might pay on the black market.
"But with this patients have the piece of mind that it's legal and that the products are tested," Hawkes said. "That way they know there's no yeast or mold, things that could irritate some ailments."
Surterra also serves patients and friends and family members of potential patients. People who don't have a patient access approval can still meet with wellness coordinators who can provide product information or even help to find a physician certified to recommend medical cannabis for treatment.
Under Florida law, patients must obtain a medical cannabis recommendation from doctors who have been certified through the state can.
"This is giving a lot of people access," Brandes said. "And I've said all along, it's about access and research."
The new St. Pete location is Surterra's third in the region. They also have facilities in Largo and Tampa. The company also offers next-day delivery service on its products.