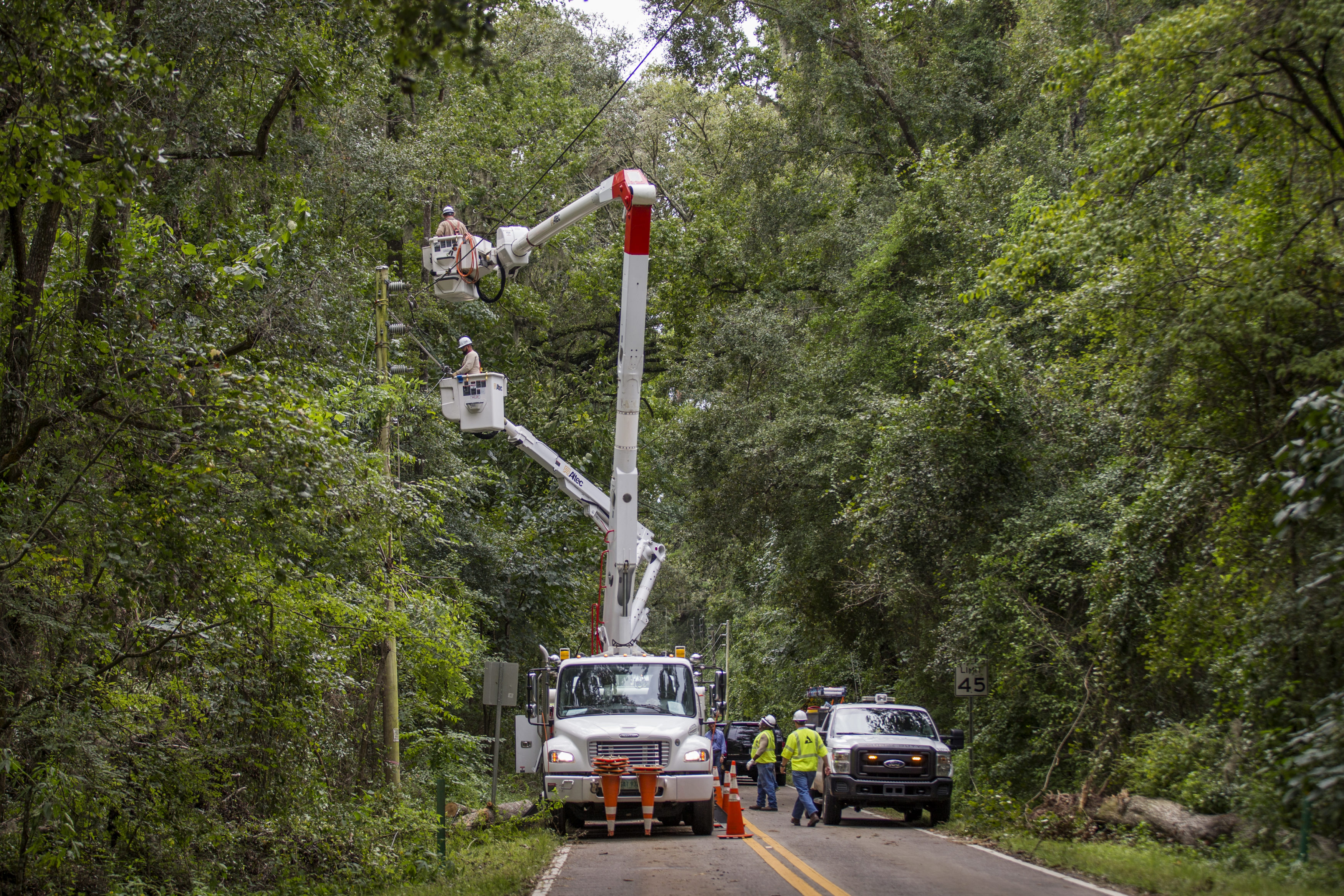 Panhandle utility company Gulf Power hit its goal of restoring electric service to 95 percent of its customers who can safely receive power by Oct. 24, but the company said there's plenty of work to be done to get the few remaining ratepayers back on the grid.
"We still have many customers who are working to make repairs to their homes and businesses so they can safely receive power," said Adrianne Collins, vice president of power delivery for Gulf Power. "Moving forward, we're still committed to our top priority of restoring power to every single family and business that can still take power. We will continue to have a large presence in the area working to reconnect our customers as quickly as possible."
Gulf Power said it has started tapering off the number of boots on the ground, which at one point hit several thousand power pros, but it'll be keeping more than 1,100 lineworkers and support personnel on board to continue restoration efforts in Bay County.
That equates to 10 times the number of employees stationed in the area prior to Michael making landfall on Oct. 10.
"We have a rigorous plan for cleanup over the next several weeks, which includes picking up electric equipment, and continuing to clear and trim trees and vegetation that has become a hazard since the storm," Collins said.
In addition to getting the lights back on for those who can safely receive power, the company said it customers can dial in once they've been able to make necessary repairs on their end to have their service restored. The hotline number to schedule a reconnect is 1-800-225-5797.
As Gulf Power neared the finish line on the bulk of its restoration efforts, it announced it was chipping in $200,000 to help fund disaster recovery efforts in Northwest Florida. That contribution was split between the Red Cross of Northwest Florida and the United Way of Northwest Florida's Hurricane Michael Relief and Disaster Fund.
In addition to killing more than 40 people, including 35 Floridians, Hurricane Michael caused an estimated $2.5 to $4 billion in damage to residential and commercial properties in the Sunshine State alone.
The storm, the strongest hurricane ever recorded in the Panhandle region, also caused catastrophic damage to Tyndall Air Force Base, with every building on the nearly 15-square-mile installation sustaining damage or being completely destroyed.