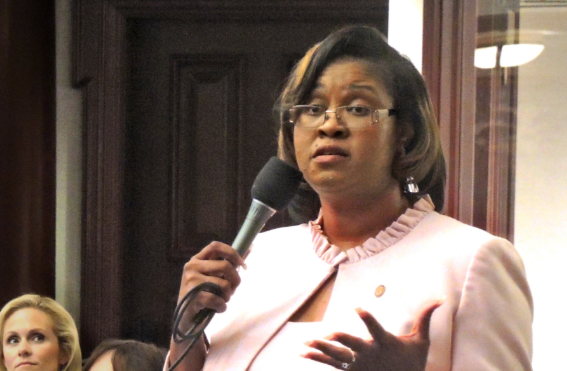 Both candidates in the November election for Duval County Tax Collector are attempting political comebacks.
However, just one has statewide support when it comes to late-game fundraising.
Democrat Mia Jones, CEO of Agape Health Services, was formerly on the Jacksonville City Council and a member of the Florida House, rising to Democratic Leader pro tempore in 2014-16.
Now, in the closing days of her campaign for Tax Collector, the cavalry is coming into support her, in the form of Agriculture Commissioner hopeful Nikki Fried.
Fried will be in Jacksonville Thursday evening for "The Future Is Female" fundraiser.
Also supporting Fried is another viable candidate (in whose district the fundraiser will be held): House District 15's Tracye Polson.
This support is timely, given that Jones' opponent on this year's ballot is a proven political commodity.
Republican Jim Overton, a Realtor by trade, was the former Duval County Property Appraiser and a Councilman.
Jones and Overton were the top two finishers in August's blanket primary. Jones, the sole Democrat in the field, got 47 percent of the vote. Overton, who split GOP loyalty with two other candidates, garnered 21 percent of the vote in a heated primary with former state Rep. Lake Ray and former Councilman Doyle Carter.
Given Overton's background, this is notable: Republican support is finding its way to Jones.
Local establishment pillars John Baker and Gary Chartrand ponied up this month, as did Kathryn Peyton (whose husband, John Peyton, was Jacksonville Mayor).
Prominent Democrats, including political allies like former Mayor Alvin Brown (a consultant currently), also have contributed.
Jones has to some degree closed the fundraising gap with Overton in recent weeks (as of receipts through Oct. 19). She has more cash on hand, even though he has out-raised her in aggregate.
Jones, who did not self-finance, has raised $100,195 during the campaign, and as of Oct. 19, she had just over $30,000 on hand.
Overton has $22,000 on hand of the more than $176,000 he raised and self-financed during the course of the campaign.
Though active Democratic donors by and large have not given to Overton's cause, former state Sen. Mattox Hair, who represented Jacksonville in the 1980s, is an exception to that rule.
The biggest name Republican to ante up for Overton recently: U.S. Rep. John Rutherford, the former Duval Sheriff first elected to Congress in 2016.