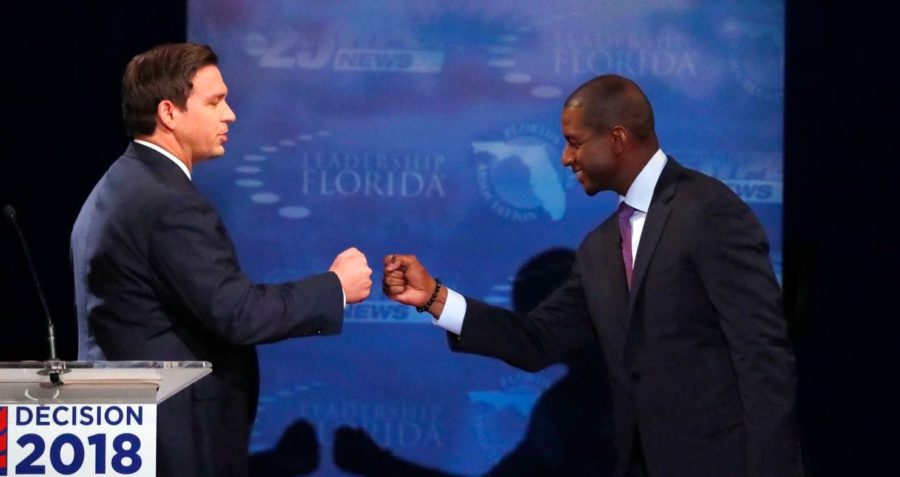 The latest poll from the University of North Florida's public opinion outfit has Democrat Andrew Gillum six points ahead of Republican Ron DeSantis in the race for Florida governor. 
The six-point lead is outside of the poll's 3 percentage point margin of error.
Released Tuesday from the Public Opinion Research Lab at UNF, the survey has 49 percent of likely voters backing the Tallahassee Mayor and 43 percent opting for DeSantis, the former Congressman from Ponte Vedra Beach. 
About 7 percent of the sample is undecided.
With Gillum at an advantage, the results mirror most public polls released since the Aug. 28 primary. RealClearPolitics, which aggregates the results of reputable polls, puts Gillum ahead on average by 3 points.
"Almost 3 million people have already voted, and Gillum is clearly leading in the gubernatorial race," said Dr. Michael Binder, faculty director of UNF's polling branch. 
The edge for Gillum stems from non-party affiliates. Of the 194 NPAs sampled — roughly 18 percent of the 1,047 sample size — 56 percent broke for Gillum, while 31 percent went for DeSantis, and 13 percent indicated they were undecided. 
Partisans, for the most part, supported their party-backed candidate.
Of the 422 Democratic voters sampled, 87 percent said they'd vote for Gillum, with 7 percent splitting for DeSantis and 6 percent undecided. Eighty-four percent of the 431 likely GOP voters said they'd cast a ballot for DeSantis, with 10 percent breaking for Gillum and 7 percent undecided. 
These splits highlight the need for emphasis on sampling the right amount of NPA voters in surveys leading up to the Nov. 6 election, Binder added.

"Currently less than 18 percent of ballots cast have been by NPA/Others, we estimate that number will be 19 percent," said Binder. 
In September, the same UNF polling group had Gillum up 47-43, with 10 percent undecided.