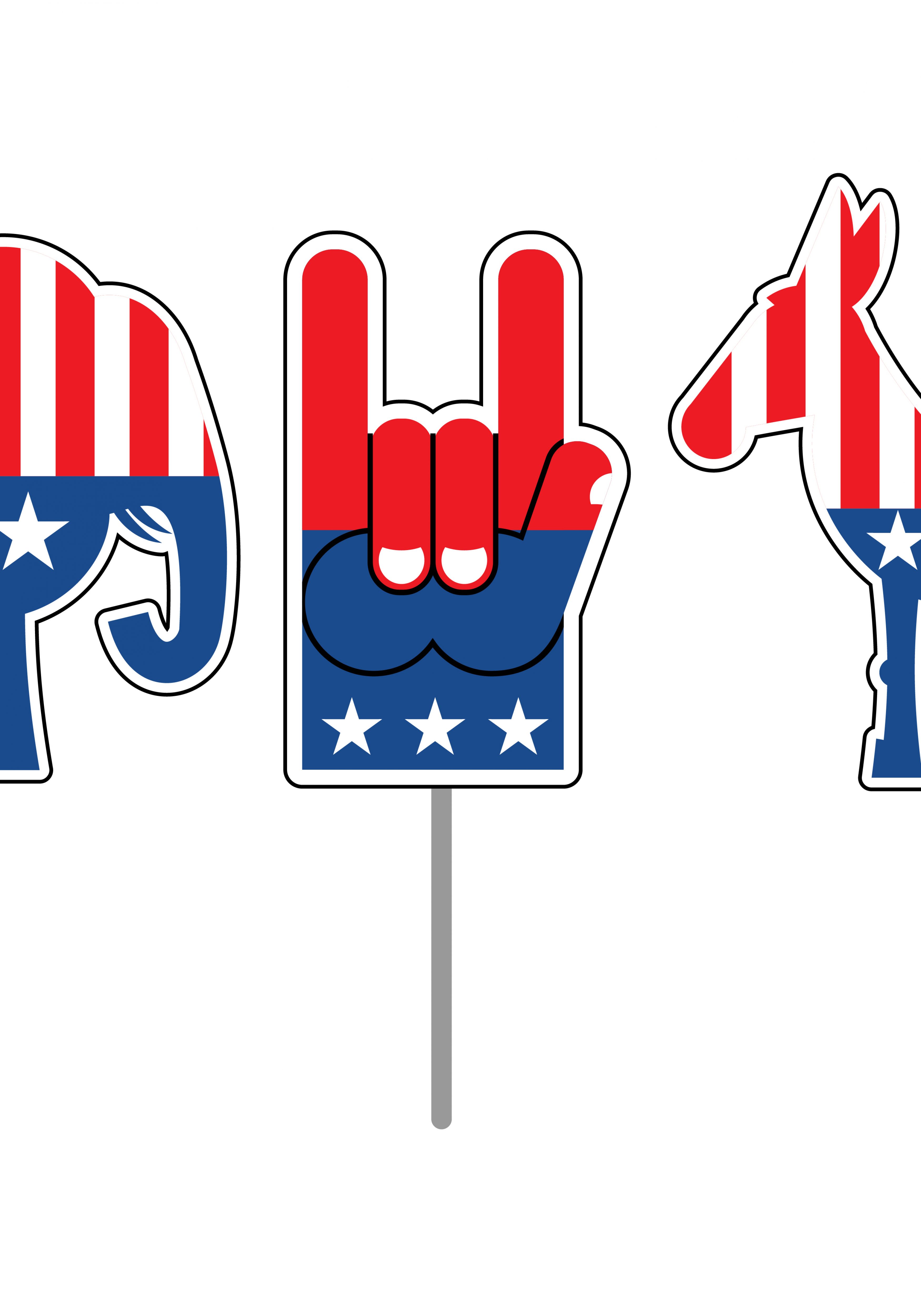 On Election Day, as the polls close, the after-parties begin.
Candidates — along with nearly everyone else in America — will be glued to their screens Tuesday night for election results. In the end, win or lose, there will be a party.
Some will celebrate a hard-fought victory, while others will be a bit more somber, drowning their sorrows.
Want to party like a politician? Here's a rundown of where major statewide candidates will be as the polls close, followed by locations for candidates in the South Florida scene.
If your favorite candidate isn't listed, check the Party or venue websites for more information.
U.S. Senate
Gov. Rick Scott is hosting his election night party at 7 p.m., Naples. The address will be provided upon RSVP. Press credentials required; media access begins 3:30 p.m. Hotel rooms are available in the Scott for Florida room block; email for details. RSVP must be submitted by Friday, November 2, to [email protected].
Governor
The Ron DeSantis for Governor campaign election night party begins 6 p.m., Rosen Centre Executive Ballroom, 9840 International Dr., Orlando. The event is open to members of the media with credentials; press preset begins 4 p.m. Please apply for credentials here.
Tallahassee Mayor Andrew Gillum, wife R. Jai Gillum will join running mate and Orlando businessman Chris King and his wife Kristen will hold an election night celebration starting 7 p.m., Florida A&M University Lee Hall, 1601 South Martin Luther King, Jr. Boulevard, Tallahassee. While it is a public event, those planning to attend should RSVP to secure a ticket. Tickets are required for entrance in the area. Parking will be limited and available on a first-come, first-served basis. Shuttle service will be available from Bragg Memorial Stadium to the election night celebration starting at 6 p.m. and ending at midnight. Attendees should prepare to go through an airport security-style entry — please do not bring large bags/backpacks, laptops, large camera equipment, signage or weapons. Additionally, there will be a "clear bag" policy in effect for the event. Clear bags must adhere to the dimensions of no larger than 12" x 6" x 12;" small non-clear shoulder bags or clutch purses must be no larger than 4.5" x 6.5." All bags will be checked upon entrance to the event. The public entrance for this event will be on Martin Luther King, Jr. Blvd, south of Lee Hall and adjacent to the FAMU Student Union Building.
Florida Cabinet
The Ashley Moody for Attorney General campaign party will be at the Renaissance Tampa International Plaza Hotel, Costa Del Sol Ballroom, 4200 Jim Walter Blvd., Tampa. Doors open at 7 p.m. Media will be allowed access at 4:30 p.m. and must be set up by 6 p.m. Media contact is Erica Geiger. Email is [email protected]
State Sen. Jeremy Ring, who is running for Florida Chief Financial Officer, will join The Nikki Fried for Agriculture Commissioner campaign for an election night watch party at Good Spirits, 476 N Federal Highway, Fort Lauderdale. There will be parking available in the corresponding lot and garage as well as workspace set aside for the press. Doors open for guests at 7 p.m. and 4:20 p.m. for members of the press. RSVP to [email protected].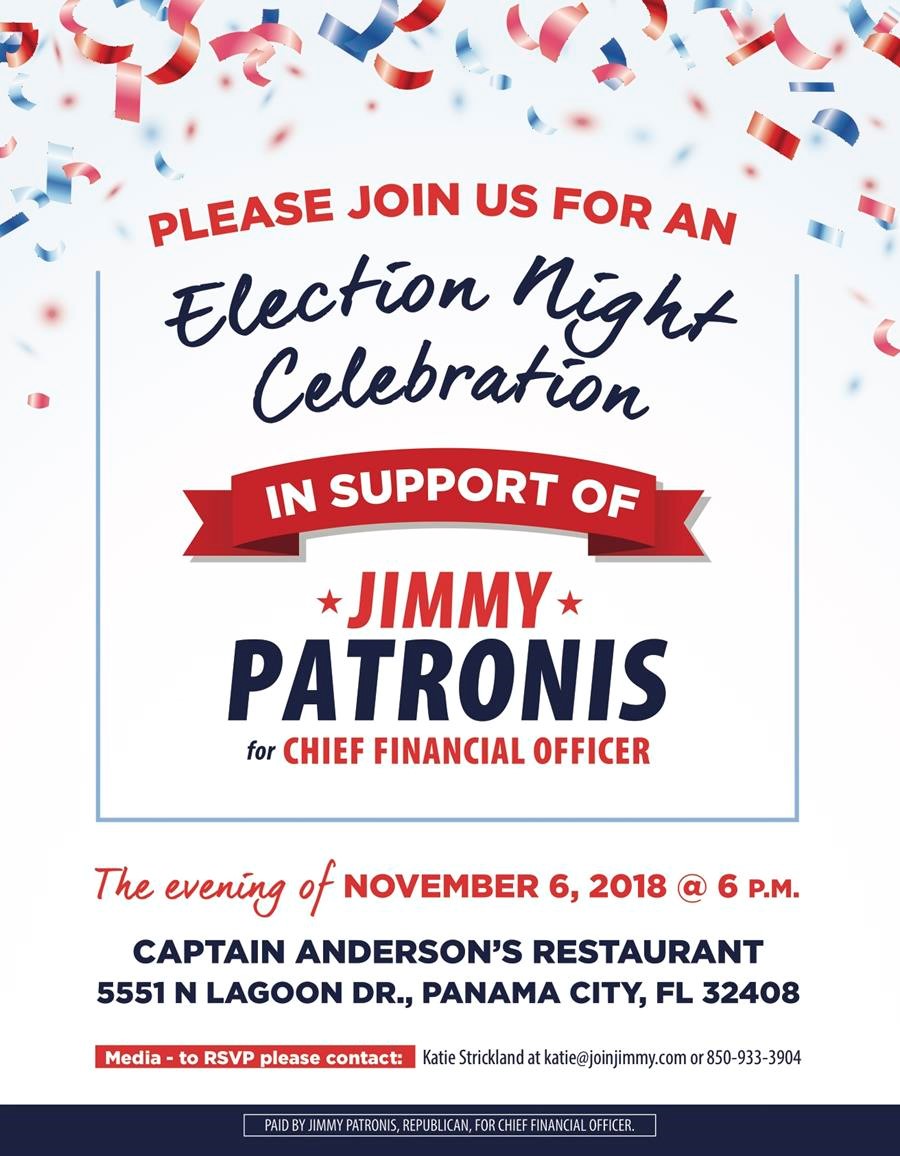 U.S. House
CD 18 — Democratic challenger Lauren Baer hosts a watch party with friends and supporters from 7 p.m. to 11 p.m., Palm Beach Gardens Embassy Suites, 4350 PGA Blvd, Palm Beach Gardens. Those looking to attend can RSVP by using this link.
CD 22 — Republican Nicolas Kimaz will be at Nikki's Orange Restaurant, 1 N Ocean Blvd #102, Pompano Beach, from 7:30 to 11:30 p.m.
CD 25 — Mary Barzee Flores is hosting an Election Night party at The Bend Liquor Lounge in Hialeah, 6844 NW 169th St. Doors will open to the public at 7 p.m.
CD 26 — The Carlos Curbelo campaign is inviting voters to an 8 p.m. watch party at his campaign headquarters, 12877 SW 42nd St, Miami. Contact [email protected]
Debbie Mucarsel-Powell is gathering at the Black Point Ocean Grill, 24775 SW 87th Avenue, Cutler Bay. The party will begin at 7:30 p.m.
CD 27 — Democrat Donna Shalala will hold her election night watch party at 7 p.m. at the Coral Gables Woman's Club, 1001 E Ponce De Leon Blvd, Coral Gables.
State Senate
SD 36 — Democratic nominee David Perez will be meeting with supporters at La Carreta Restaurant, 5350 W 16th Ave, Hialeah. The party will run from 7:30 p.m. to 10:30 p.m.
SD 40 — State Sen. Annette Taddeo will be at the Miami-Dade Democrats' Party at The Brick, 8955 SW 72nd Pl, South Miami. That gathering starts at 7 p.m.
State House
HD 89 — Jim Bonfiglio will be party of the Palm Beach County Democratic Party's election night watch party. The event will be held at the Embassy Suites, 1601 Belvedere Rd, West Palm Beach and will run from 7 p.m. to midnight.
HD 93 — Democratic candidate Emma Collum hosts an election night party running from 7 p.m. to 11 p.m. The party will be located at 26 Degrees Brewing Company, 2600 E Atlantic Blvd, Pompano Beach.
HD 103 — Democratic nominee Cindy Polo will be at the 5inco Indoor & Colombian Flavor, 8081 W 28th Ave, Hialeah. The event begins at 7 p.m.
HD 105 — Javier Estevez, the Democratic nominee, hosts a watch party at 7 p.m. at 8502 SW 146th Ct, Miami.
HD 113 — Starting at 7 p.m., Democratic candidate Michael Grieco will be at Hotel Gaythering, 1409 Lincoln Rd, Miami Beach.
HD 115 — Jeff Solomon will be attending a party hosted by the Miami-Dade Democratic Party beginning at 7 p.m. Democratic will be gathering at The Brick, 8955 SW 72nd Pl, South Miami.
HD 118 — State Rep. Robert Asencio will be at Isla del Encanto 2, 11236 SW 137th Ave, Miami, starting at 7p.m.
HD 120 — Democratic challenger Steve Friedman is meeting supporters 7 p.m. at Angler House Marina, 80500 Overseas Hwy, Islamorada.
Local candidates are also hosting election night parties.
Palm Beach County Commission — Starting at 7:30 p.m., District 4 candidate Robert Weinroth will be at the Delray Beach Marriott, 10 N Ocean Blvd, Delray Beach.
And it's not just candidates taking in the election results..
Amendment 4 — A watch party for backers of the voting rights restoration measure will gather at 6 p.m. at Little Haiti Cultural Complex, 212 NE 59th Terrace, Miami. An RSVP is available on Facebook.
United Teachers of Dade — The group will gather in support of Gillum at the UTD headquarters, 2200 Biscayne Blvd. The event begins at 7:30 p.m. and an RSVP is required, which you can make here.