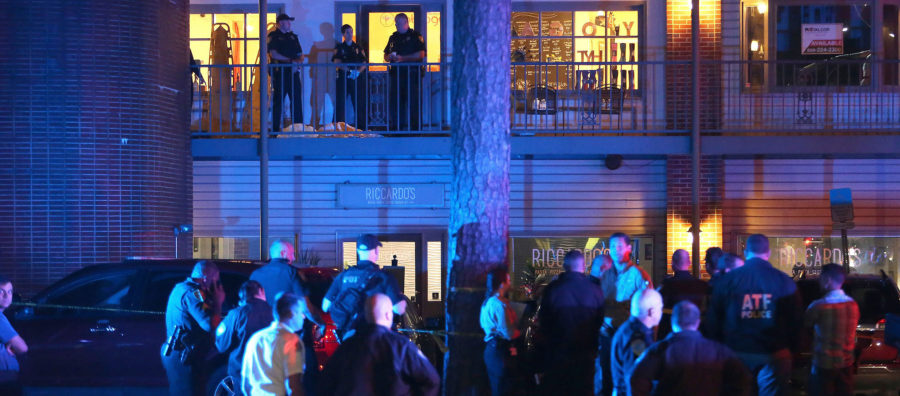 Tallahassee Mayor Andrew Gillum, also the Democratic nominee for Governor, said Friday's mass shooting at a yoga studio "has no place in civilized society."
Gillum released a statement Saturday morning in response to the attack that claimed three lives, including the shooter's. Five others were wounded, according to reports.
"I am deeply appreciative of our law enforcement and first responders for their lifesaving work yesterday," he said. "While investigators continue their work, our community is mourning over this senseless act of gun violence and loss of life."
Tallahassee police had identified all the victims and the gunman by Saturday afternoon (see bottom of post).
The mayor had announced he was leaving the campaign trail and returning to the capital Friday night.
As the Associated Press has put it: "Tallahassee's crime rate has been an issue in the governor's race. Gillum's opponent, Republican former U.S. Rep. Ron DeSantis, has called the capital Florida's most crime-ridden city — a claim that is incorrect."
Police identified the victims of the gunman as 61-year-old Nancy Van Vessem, and Maura Binkley, 21. The shooter was ID'd as Scott Paul Beierle, 40. As of midday Saturday, investigators were still trying to figure out his motive.
The shooting took place at Hot Yoga, in a shopping center in the city's Midtown neighborhood, at the intersection of Thomasville, Betton and Bradford roads.
Florida State University President John Thrasher tweeted earlier Saturday that both women were part of the "FSU family."
"There are no words to express the shock and grief we feel," he wrote. "To lose one of our students and one of our faculty members in this tragic and violent way is just devastating."
The Tallahassee Democrat reported Van Vessem also was chief medical director for Capital Health Plan, a Tallahassee-based health care system.
"We feel this loss profoundly and we send our deepest sympathies to Maura's and Nancy's loved ones while we pray for the recovery of those who were injured," Thrasher added.
In a statement, the Florida Coalition to Prevent Gun Violence said it was "shocked and saddened by the news."
"We send our sincere condolences to the families of Dr. Van Vessem and Ms. Binkley and grieve with our beloved Tallahassee community," the statement said. "We pledge to remain vigilant in our fight to reduce gun deaths and injuries in our state and will honor the victims with action."
"According to news reports, several people in the studio courageously fought back against the shooter, which may have saved additional lives,"
Democratic state Rep. Kristin Jacobs of Broward County was a "barside witness" to the shooting, the Democrat reported Friday night. Jacobs was sitting in Bar on Betton, near the yoga studio, after taking part in an "active shooter training."
She credited an unidentified man whom she said rushed the shooter and then was pistol-whipped by him before the man turned the gun on himself: "Many people are alive because (of) this guy," Jacobs said.
The AP reported Saturday that "the shooter acted alone and authorities are investigating possible motives." Police "declined to say what kind of gun" was used.
Gillum said he was "assured by law enforcement that this is an isolated, contained event," and that he and Gov. Rick Scott "visited two of the surviving victims at Tallahassee Memorial Hospital last night."
__
Tallahassee police issued this update later Saturday (click on graphic to read whole post):
Tallahassee police issued this update earlier Saturday: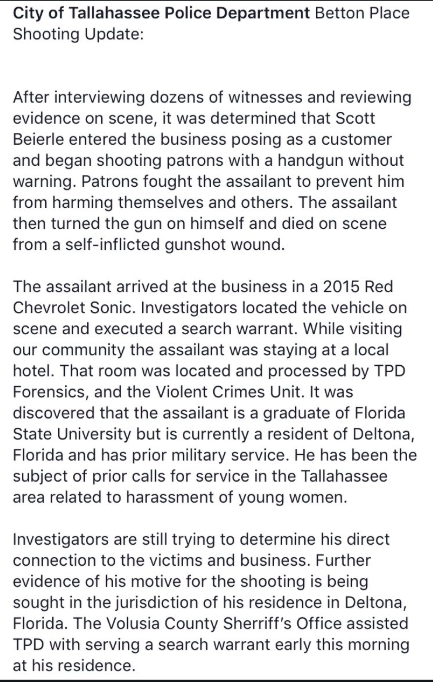 Also, Tallahassee Police Chief Michael DeLeo held a media briefing early Saturday: