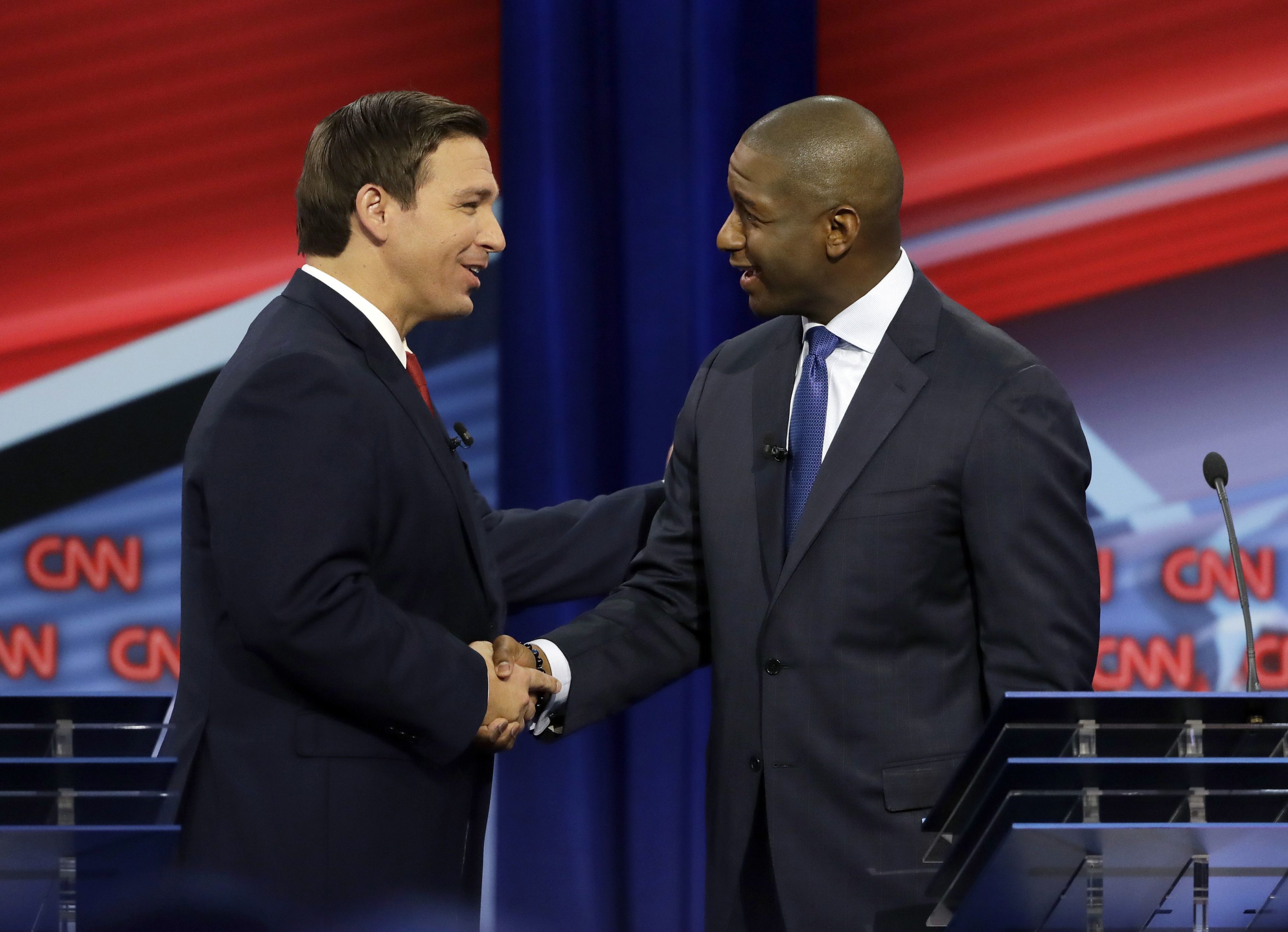 Democrat Andrew Gillum holds a nearly 5 percentage point lead over Republican Ron DeSantis heading into Election Day, according to the final St. Pete Polls survey conducted for Florida Politics.
The last poll of the 2018 election cycle for the outlet found the Tallahassee Mayor winning almost 50 percent of the vote, while the former congressman pulls in around 45 percent. Another 2 percent of voters support Reform Party candidate Darcy Richardson.
That puts Gillum's lead outside of the 1.8 percent margin of error for the poll. The poll was conducted over Nov. 3-4 and includes results from a sample of 3,088 voters.
Gillum's lead looks substantially more decisive among those voters who already cast ballots.
Among those who already cast their ballots, Gillum wins 55 percent of the vote, compared to 42 percent for DeSantis and 1 percent for Richardson.
At the same time, DeSantis holds an even more substantial lead among those who intend to vote but had not done so at the time of the poll. There, DeSantis lead with 53 percent to Gillum's 37 percent, while Richardson picks up 3 percent of that vote and another 7 percent still undecided.
Gillum takes 79 percent of the Democratic vote, while DeSantis wins 78 percent of Republicans.
But among the critical independent voters, Gillum boasts a lead of 53 percent to DeSantis' 38 percent. Richardson gets 6 percent of that vote.
DeSantis does hold the lead among white voters, winning 53 percent of that large group while Gillum takes 42 percent. There, 3 percent remain undecided, and 2 percent support Richardson.
Gillum and DeSantis split the Asian/Pacific Islander vote 47-47, with 3 percent backing Richardson and 3 percent still unsure.
But all other racial groups go for Gillum. The Democrat wins 90 percent of the black vote to the Republican's 6 percent and 48 percent of the Hispanic vote to DeSantis' 47 percent.
Gillum wins all age demographics under 70, while DeSantis wins that oldest group with 52 percent of the vote.
Men effectively split 47-47 between Gillum and DeSantis, with the Republican having an edge of a couple of tenths of a point in the poll. But 51 percent of women support Gillum, and just 44 percent support DeSantis.