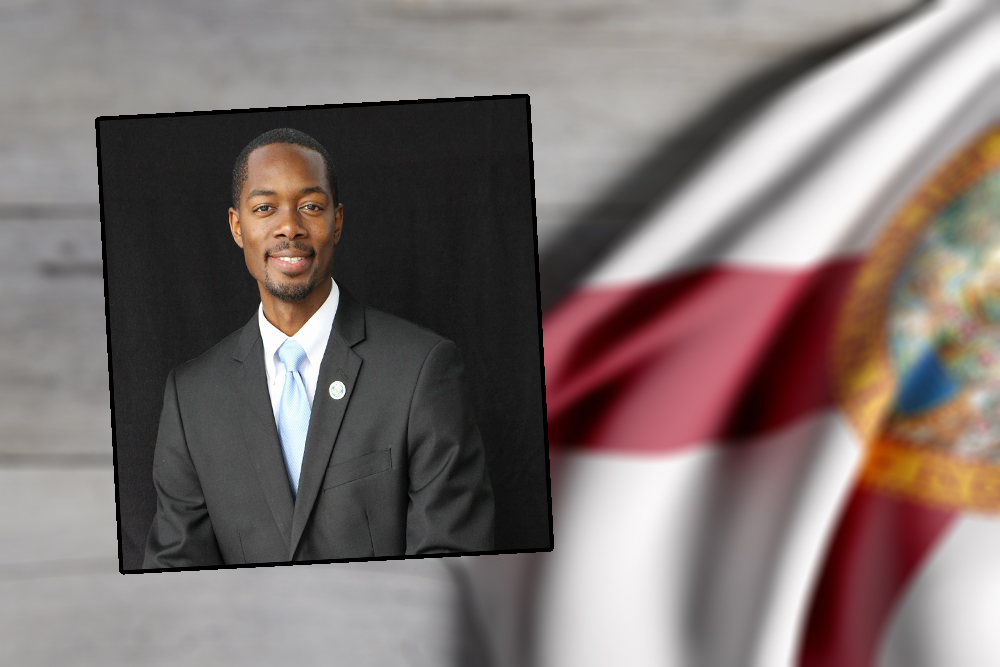 It's no easy task running for office when your name doesn't appear on the ballot. But replacement candidates who stepped in this year for deceased had to do just that.
In Florida Senate District 14, Tommy Wright stood up after the withdrawal of Republican state Sen. Dorothy Hukill, who died days after ending her candidacy. In Florida's 17th Congressional District, Allen Ellison did the same following the sudden death of Democratic nominee April Freeman.
Tragedy shifted the tone on those elections instantly and irreversibly. The list of challenges the new candidates face seems endless.
They had to mount campaigns in a matter of weeks when their predecessors spent years in anticipation. Qualifying by petition was not an option, so the men needed to pay thousands in qualification fees on little notice. And if all that didn't make voter education hard enough, their names don't even appear on the ballot.
Because Freeman and Hukill both passed away after ballots had already been printed, neither Ellison nor Wright can so much as encourage voters to bubble the circle by their own names.
While the candidates face similar challenges, each addressed the problems with deeply different strategies. Now, each one looks toward election returns on ballots cast for someone no longer among the living, in hopes they can be sworn into office in a fallen colleagues stead.
Race to the Finish
Ellison, a Sebring business owner, previously considered running for Congress, but never imagined these circumstances.
"It is unfortunate that it played out this way," he said. "April was fighter and a very fierce competitor."
Freeman had run for Congress in Southwest Florida multiple times before, in a special election in the 19th District in 2014 when she lost to Curt Clawson, and then in the 17th District against incumbent Rep. Tom Rooney two years ago.
Weeks before her death, she spoke of confidence following Rooney's retirement. "I know this district better than anybody running," she said.
But it wasn't meant to be. Freeman died in her sleep the evening of Sept. 24, and her husband announced her death the following morning.
Shell-shocked party leaders began the process of finding a replacement, an opening that drew interest from candidates around the state who lost their own contests.
But ultimately, Democrats chose Ellison, a largely untested candidate running in a district where Republican Greg Steube remained a heavy favorite even before Freeman's death.
Since taking over as a candidate, Ellison has attended forums and campaign events throughout the district, handing out fliers with his own face splashed across the page—and with a faded thumbnail image of Freeman as well.
The campaign slogan for Ellison's campaign: "Vote for April, Elect Allen Ellison."
He's also had his face painted on racecars with American Standard Watersports, in a car with the number 17 painted on the site and another image of Freeman. The car races "in remembrance of April Freeman," much like Ellison.
He's had to get as much bang for the buck as possible in his campaign. Federal Election records show he had about $3,014 as of third-quarter reporting. The bulk of Freeman's money went to pay pack her family for candidate loans.
Steube, meanwhile, closed the third quarter with $182,683 in cash on hand.
New Game, Same Name
This all feels a markedly different approach than what's occurred in Senate District 14. There, Wright's been almost an invisible candidate, which in fact is by design.
Florida Politics caught up with Wright at a rally held by President Donald Trump in Fort Myers on Wednesday, but he declined to do an interview. In fact, he stated he wasn't supposed to talk with anybody about his candidacy until after Election Day.
Tony Ledbetter, chairman of the Volusia County Republican Party, said that's because as far as party leaders are concerned, Wright's not the candidate.
"This is about re-electing Dorothy Hukill, not electing Tom Wright," he said. "She's on the ballot. It is what it is."
Hukill announced on Sept. 28 that she would leave the state Senate race following an aggressive return of cancer. The sitting senator, who won election to the district in 2016 with 68 percent of the vote, entered hospice care immediately and succumbed to illness within days.
Ledbetter, a friend of Hukill, says the community remains stung by the loss, and his eyes, this race isn't about new leadership in the district but about the senator's legacy.
"The whole focus now is to retain this as a Republican seat," he said.
The strategy doesn't set well with Democrat Mel Martin, who had originally filed to challenge Hukill and quickly labeled Wright's selection as a "business decision."
To some degrees, party leaders acknowledged as much from the beginning. Wright for years served as a financial support of Republican candidates in the area, and he had the capability to pay a filing fee.
Wright also threw in a $2,500 candidate loan to his campaign, and has only raised $5,700 in addition to that in the limited time he's run. His campaign largely has relied on in-kind support from the Florida Republican Senatorial Campaign Committee.
Meanwhile, advertising on the part of Republicans has included either attack ads on Martin or continued promotion of Hukill.
But if the approach of Wright and Ellison seems wildly different, the stakes are as well.
Ellison stands in for a Democratic candidate few believed could win a one of Florida's most conservative districts.
Wright replaces an incumbent Republican state senator, one few believed would be unseated. Hukill, even as illness limited her appearances on the trail, seemed entrenched in the seat. Ledbetter calls her a "lion of the Senate."
Could this strategy be risky? Democratic analyst Matthew Isbell of MCI Maps after Hukill's death moved the Senate district in his election forecast from "Safe GOP" straight over to "Lean GOP."
To make matters worse, a tough national environment puts Republicans on defense anyway, and there's concern, albeit slight, about actually losing control of the state Senate to Democrats.
But running on Hukill's popularity may make the most political sense, especially when compared to raising the profile of a political unknown. If Republicans prevail, Wright will be sworn in to a four-year term, and from there voters can hold his accountable for his own record.
Really, there's no good way to run a campaign once your candidate dies.
For now, Ledbetter says, the situation "is what it is."