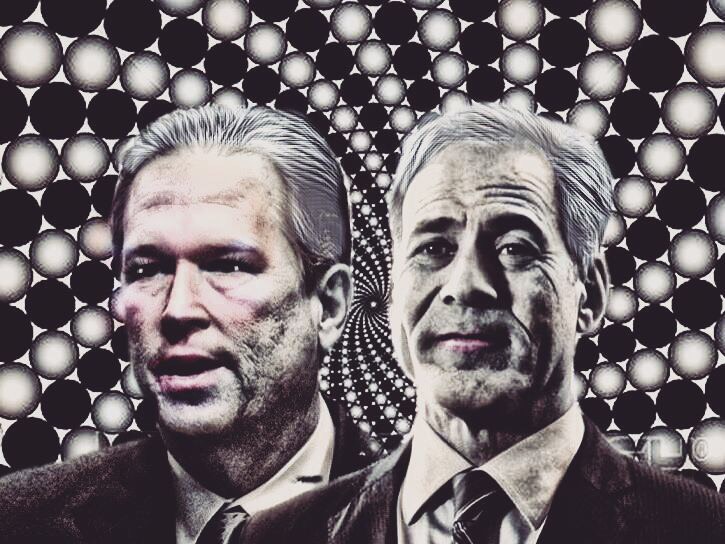 In the early days of 2018, Democrats held serious optimism about their Congressional chances in Florida, and that included weighty dreams of a blue wave striking Sarasota.
It had been 12 years since U.S. Rep. Vern Buchanan squeaked into office with a razor-thin, 369-vote margin and some officials never stopped dreaming of vengeance. Perhaps this year, many hoped, the Longboat Key Republican would fall pray to progressive energy.
The Democratic Congressional Campaign Committee found an avatar in Sarasota Attorney David Shapiro and put Florida's 16th Congressional District on its "Red To Blue" target list.
But fast-forward to Election Day and Buchanan rests comfortably on a near 10-point win, ready to be sworn into his seventh term of office. One can imagine a toast to his success, perhaps on the deck of a yacht—but more on that later.
How exactly did the GOP incumbent chart a course to success? Was he ever a proper target for Washington Democrats, or will he remain forever their great white whale?
Feeling Special
Gulf Democrats in the spring felt a particular electoral high. In a region with a long history of Republican leadership, the blue team in recent years enjoyed increasing success in city level races in Sarasota.
Then an unexpected special election for state House District 72 created an exciting prospect just as Democratic anger with President Donald Trump put voters in a frothing mood.
Democrat Margaret Good made headlines nationwide when she pulled an upset in the district, an ex-urban area where registered Republicans outnumbered Democrats. The fact she'd beaten James Buchanan, the son of the long-time Congressman, stirred ambitions even further.
Shapiro, who had run and come just short of winning a Sarasota area state House seat 12 years before, had already announced his candidacy by that point, and as enthusiasm for Good built, so too did hopes Shapiro might pull off an upset himself.
The Democratic Congressional Campaign Committee in March made an ad buy attacking Buchanan and it started to feel like Sarasota could have a race on its hands.
Buchanan campaign manager Max Goodman said the congressman didn't worry too much over the District 72 upset. "Vern had such a unique brand that had been cultivated over time," he said.
Still, the congressman got serious about spreading his own message early.
"We clearly have a more competitive race than the last couple cycles," Buchanan said.
And knowing that, the campaign cut advertisements stressing positions with broad appeal.
"People appreciate that fact Vern is a bipartisan, effective leader who can be strong on economic issues and tough on border security, but also can be the Humane Society's Legislative Legislator of the Year," Goodman said.
So Buchanan stressed his long-time opposition to oil drilling, his actions on tackling an opioid crisis in Bradenton, the funding he secured for research at Sarasota-based Mote Marine Laboratory.
Meanwhile, a new political action committee, Floridians for a Fair Shake, formed and set its sites initially on two House incumbents that the most ambitious prognosticators felt could be vulnerable come fall. Those included Brian Mast, a freshman Republican in Florida's 18th Congressional District, and the more venerable Buchanan.
Opposition groups seized on a favorite soft spot in Buchanan's reputation: his wealth. With Democrats anxious to make a message of Trump's tax cuts benefitting the top 1 percent ahead of the middle class, the fact Buchanan remains the 11th richest member of Congress seemed a ripe area to scrutinize. Did Buchanan benefit from those tax breaks?
Then the perfect vehicle for messaging sailed into a nearby harbor.
Battleship
On July 11, the tenor of the 2018 election would change when Florida Politics first reported Buchanan purchased a new Ocean Alexander yacht the same day he cast a vote in favor of the Trump tax cuts. And with the news, the tenor of the race changed instantly.
Fair Shake put out a cash reward for pictures of the boat and started using the discovery of the purchase to tar Buchanan as someone using his position to enrich himself.
"Buchanan's yacht purchase on the same day he voted himself a $2 million tax break has been the perfect illustration of what's wrong with the Trump Tax law," said Stephen Gaskill, communications director for Fair Shake, "and it also highlights the real reason Buchanan wanted to keep his congressional seat—to have more time to shape tax policy to benefit himself."
The correlation between a boat purchase and a committee vote seemed absurd to the congressman. "It's totally dishonest," Buchanan said. "You don't just decide to go buy a boat on any given day."
But the purchase served to illustrate an economic message that otherwise held the excitement of a business school lecture. This was John Edwards' haircut or Mitt Romney making it rain for Bain Capital. In other words, a complex argument about elitism wrapped in a package everyone could visualize and instantly understand.
Fair Shake ran with it and the Shapiro campaign latched on as well. Suddenly, banners flew from behind airplanes overhead in Bradenton and Sarasota. A fictional character named The Captain started showing up at farmers markets with a miniature boat.
That made Camp Buchanan angry.
Buchanan through the summer had refused to discuss Shapiro at length. The Democrat still faced a primary opponent, Jan Schneider, and Buchanan didn't plan to talk general election politics until the end of August.
Goodman said that changed when Fair Shake bought television ads lambasting Buchanan for the yacht purchase.
"That's the moment we said we will hold this group—and David Shapiro—accountable," he said.
Buchanan started running ads that spotlighted Shapiro by name and scrutinized his stock holdings. The TV spots chose to spotlight his investments in polluters, gun companies and major corporations benefitting from Trump's tax cuts.
The move prompted Democratic political leaders in Southwest Florida to speculate whether Buchanan secretly wanted to taint Shapiro among progressives and maybe even cause a primary loss to Schneider. Goodman denies this, and said the campaign just decided to get serious about the general election.
Regardless, the August primary did turn out closer than most people anticipated. Shapiro won the nomination by about 10 percent, mostly on his strength in Sarasota County, but Schneider actually won Hillsborough by a handful of votes. Shapiro still projected confidence, saying he could feel the party coalescing around his candidacy already.
"The Democrats I've talked to are ready, riled up and enthusiastic," he said.
General Warfare
And leading toward the general election, Shapiro started to gain support from national organizations that never entered the fray in Southwest Florida before.
By October, billionaire Tom Steyer's NextGen America put Florida's 16th in its list of targeted House seats. The Human Rights Campaign endorsed the Democrat and held a local event. He picked up the endorsement of the Tampa Bay Times.
Political prognosticators like Cook Political Report and Sabato's Crystal Ball put the seat into the vulnerable "Leans GOP" column as momentum seemed to shift Shapiro's way. As red tide blooms endured on the district's coastline, Shapiro held massive canvassing events.
But Buchanan continued to chug along, boasting in press interviews about his bipartisan relationships with Democrats like Rep. Alcee Hastings, who co-chairs Florida's Congressional delegation with Buchanan, and his push in Washington for more research dollars to fight red tide.
Still, Buchanan, a legendary fundraiser, burned through his war chest as Shapiro picked up steam. In the third quarter filings, the Democrat announced he outraised Buchanan substantially in the build-up to the general election, and that was after Buchanan dipped into his own pocket for serious dough.
Meanwhile, the DCCC and Fair Shake continued to pour dollars into the media markets. Goodman says the National Republican Congressional Committee never jumped into the race, and Buchanan never asked them for help. The Republican Party of Florida sent a staffer to Sarasota to assist with the campaign, but the Buchanan Camp operated largely as a solo operation.
And Buchanan staffers held their breath at the news in September that the DCCC would spend $900,000 on an ad blitz in the region. Shapiro's staff watched reports of the ad buys come in, but wondered themselves where that money would go. After all, Kristen Carlson's candidacy in Florida's 15th Congressional District started heating up about the same time.
As the potential air blitz drew closer, the DCCC also sent new staffers to Shapiro's campaign to handle communications efforts and bolster the Democrat's operations.
But then, as the campaign rode high on fundraising totals and Washington endorsements, that DCCC ad buy evaporated. The story, which also broke on Florida Politics, recast the race again.
"The DCCC decision to pull the plug on financial aid for David Shapiro confirms what independent polls have shown over the past two weeks—Vern Buchanan is going to win re-election," Goodman said in a statement.
Democratic officials insisted the race remained in play, the DCCC continued to provide hybrid ad spends and staff support. But killing the ad blitz seemingly marked Shapiro for death.
Buchanan soon started cracking jokes about his yacht in public. While campaign officials always maintained Buchanan held a steady lead in the race, a calm confidence returned to the campaign. But a fighting posture never disappeared.
At a debate aired on ABC-7, Shapiro in opening statements issued direct attacks on Buchanan. In the immediate commercial break afterward, Buchanan shouted angrily at Shapiro while the cameras were turned off. He called a staffer to bring a copy of a recent Tempo News article that cited a scandal involving Shapiro's son Adam, who'd posted the n-word in a social media post quoting a rap song. The front-page article sat on the table in front of Buchanan and Shapiro for the remainder of the debate.
Meanwhile, red tide receded from Sarasota's coast as Hurricane Michael passed by the region, and news of a blue wave, at least in Florida, started to tame as well.
Election Night
Goodman says the mood leading into Election Day grew brighter each day. Come Nov. 6, the incumbent felt confident, buoyed by that debate performance and stoked to have scared away the DCCC's ad buys.
Reality surely set in among Shapiro's team as well. And fairly early in the night, the Democrat called the Republican to concede the election. Buchanan had captained a path to victory. The yacht didn't anchor him down after all.
"People understood the tax cut benefits everybody," Goodman said.
Buchanan even won Sarasota County, the most liberal portion of the district, with 51 percent of the vote.
"We had an army of grassroots volunteers working day and night for months, knocking on doors, making phone calls, meeting with voters, distributing information," Goodman said.
The win came despite the fact Buchanan for the first time in his political career got outspent dollar for dollar. While the Republican dropped a substantial $3.78 million over the course of the campaign, Democrats lobbed upward of $4.1 million at the race, including $2.18 million by the Shapiro campaign, $450,000 by the DCCC and close to $1.5 million by Fair Shake.
Incidentally, Fair Shake post-election issued a press release signaling they won't just sail into the horizon now.
"Despite Buchanan's victory, our message to Suncoast voters connected with them," Gaskill said. "Many of them realized that Vern Buchanan's votes on taxes and health care underscored his lack of concern for his constituents."
And they noted Buchanan's victory looked small compared to recent re-election efforts.
"Buchanan won 59.8 percent of the vote in 2016 and 61.5 percent in 2014. This campaign to unmask his record for voters was successful despite the overall outcome," Gaskill said. "Floridians will continue to hold Vern Buchanan accountable."
But Goodman felt good about the victory. He noted that while Shapiro enjoyed better financial resources than any past competitor, his 10-point loss in fact was greater than Buchanan's last serious opponent, Keith Fitzgerald in 2012.
"Vern's a perfect fit for the district," Goodman says. "He's a businessman more interested in results than partisanship. And at the end of the day, people responded positively to Vern's record of bipartisan accomplishments."