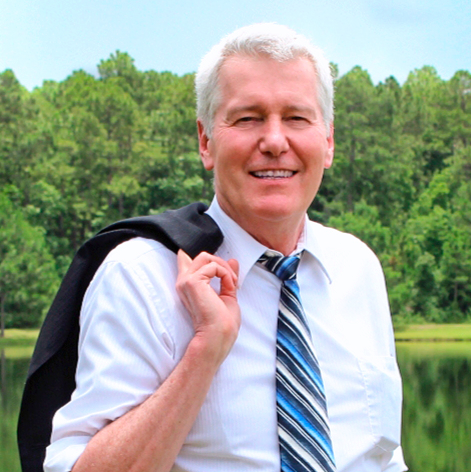 First the vote. Then the "spoiler" charge.
After every close election, the inevitable post-game narrative involves some variation of "did the third-party candidate cause a major party candidate to lose?"
A couple of examples for those new to American politics: the Ralph Nader and Pat Buchanan effects in 2000. The Jill Stein and Gary Johnson blame game after 2016.
In both cases, the third-party candidates were ignored through the campaign, regarded as spoilers, with any supporters decried for having "wasted their votes."
In the wake of Florida's statewide triple-recount, a similar narrative has emerged in Palm Beach County.
The Palm Beach Post reported Tuesday of potentially "confused" voters in the Democratic stronghold who may have mixed up the ballot lines of Republican Ron DeSantis and Reform Party candidate Darcy Richardson.
"There's been a lot of over-votes and those have been in the Governor's race," said an attorney from the local Republican Party. "It certainly appears there was confusion and based on that confusion I believe the Reform Party candidate got an uncharacteristic amount of votes more than he should have. And if that did not occur there wouldn't be a recount in the DeSantis race."
Whether it is possible or not to determine an appropriately "characteristic amount" of votes for a candidate without tens of millions of dollars behind him is an open question. Likewise, the question of whether his voters simply didn't know how to fill in a ballot. And the definition of a "lot" of overvotes is yet another subjective determination.
Regardless, Richardson's 0.57 percent of the popular vote is more than the 0.41 percent difference between DeSantis and Gillum, neither of whom were able to top 50 percent. Other third-party candidates accounted for 0.66 percent of the vote.
There are a couple of ironies in Palm Beach being the epicenter of questioning a legitimate third-party challenge.
In 2000, voters mixed up Buchanan and Al Gore on the Presidential ballot.
Yet in 2018, Richardson actually underperformed compared to statewide in Palm Beach County, garnering 0.35 percent of the vote.
On Wednesday, Richardson was unapologetic about the drama in Palm Beach, noting that one issue was ballot design.
"To the degree there was any confusion among DeSantis voters — and I'm not sure there was — it could easily have been avoided if Florida fully listed the name of each party on the ballot rather than identifying them with a ridiculous three-letter abbreviation.  It's obviously detrimental to the state's minor parties and every other state in the country lists a party's complete name on the ballot," Richardson noted.
"I disagree with the assertion that there was any widespread confusion on the part of DeSantis voters," continued Richardson. "I'm not sure how many Republican voters in Palm Beach County may have inadvertently voted for both of us — the article wasn't clear about that — but that doesn't appear to have happened anywhere else in the state based on the number of 'overvotes' reported by various counties in both the initial and machine recount totals.
"We've been looking at those numbers closely," he added.
Ballot anomalies, including a design flaw in Broward that led to apparent undervotes in the U.S. Senate race, have been a recurrent story since Election Night.
Richardson has garnered his share of criticism from Gillum supporters; an irony, he said.
"The more than 47,000 Floridians who voted for us last Tuesday clearly weren't happy with either major-party candidate and were looking for a pragmatic, centrist alternative," Richardson said.
"We've taken a considerable amount of heat since last Tuesday, but the Gillum forces are wrong in blaming us for their candidate's apparent loss. They just want somebody to blame," Richardson added.
"Moreover, we personally campaigned heavily in traditional 'red' rural counties and spent most of our time and advertising dollars in those areas — and those efforts were reflected in the proportionately higher percentage of the vote that we received in those counties compared to our results in heavily Democratic urban areas, such as Broward and Palm Beach counties," Richardson added.
"We know for a fact that quite a few 'Never Trump' Republicans sprinkled across the state supported us, including several former and current Republican officeholders — most of whom, understandably, offered their support 'off the record.' Unfortunately, we can't say the same thing about any elected Democratic officials," Richardson noted.
"If anything, my candidacy kept the Tallahassee Mayor within striking distance of his unimpressive Trump-backed Republican opponent. But like I said, they just want somebody to blame," Richardson added.
Richardson's 0.57 percent is in line with some of his previous statewide voting totals, including 0.58 percent in his 1988 run for Senate in Pennsylvania. In his 2012 Democratic primary challenge to President Barack Obama, he actually got over 6 percent in Oklahoma.
Richardson's spent the bulk of his adult life challenging what some might call a duopoly.
"In all of these efforts, third parties have injected new ideas," Richardson told WJCT in August. "And that's something we're not getting from the Democratic or Republican parties, and haven't, really, for most of my lifetime."
Richardson's gubernatorial campaign went uncovered, for the most part. However, the aftermath clearly reveals that he had an impact on the race, and a seeming need to question the legitimacy of his vote total is nothing he hasn't heard before.
As a third-party historian, he is uniquely equipped to address these questions.
"The 'wasted vote' syndrome really took hold following Ralph Nader's candidacy in 2000 and, in no small measure, has arguably led directly to the hyper-partisan polarization of American politics that we're experiencing today where voters perceive virtually everything in strictly red and blue terms," Richardson said.
"It's a recipe for disaster, forcing Democratic and Republican candidates alike to the extreme edges of their parties while stifling any possibility of compromise and rationality in dealing with the myriad issues facing the country," Richardson added.
"It also stifles the possibility of new ideas being introduced into the body politic, an important role played by third parties from the antislavery movement to women's suffrage and the progressive movement embodied by both Teddy Roosevelt and 'Fighting Bob' La Follette in the early twentieth century. Sadly, the duopoly shuts out similar voices today," Richardson noted.
The end result? Per Richardson, "the middle — the vast majority in this country, including those who might be slightly left-of-center or center-right — no longer has a real voice in this increasingly wretched and dogmatic environment."