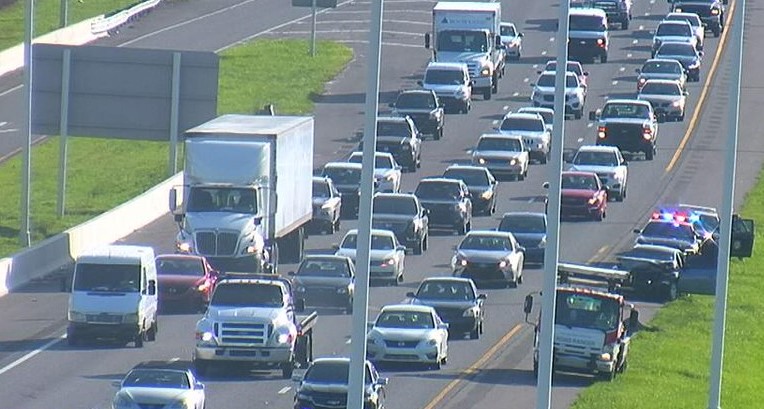 Make room on those highways. There will be 48.7 million of you traveling 50 miles or more to go home for Thanksgiving this week, an increase of 1 million travelers compared to last year.
That's according to the latest projections from AAA as the Thanksgiving holiday weekend approaches. This year will see the most Thanksgiving travelers since 2007, pre-Great Recession. More employment, rising wages and increased consumer spending and confidence are leading the parade, the Auto Club said in a report.
So are drops in gas prices, which have fallen to an average price of $2.50 per gallon and look like they'll fall some more. That's still a higher price than drivers paid last year or the year before or the year before that, but the downward trend has relieved drivers' anxieties, AAA said.
"If you are one of the 43.5 million people on the road, we urge you to be patient in traffic and limit distractions while behind the wheel," AAA President Joseph Richardson Jr., stated in a news release.
The vast majority of Americans traveling for Thanksgiving, and the vast majority of Floridians doing so, are doing so by car. Of the 48.7 million Americans traveling, 43.5 million will do so by road. Of the 2.5 million Floridians traveling for Thanksgiving, 2.3 million will be in cars, the agency is reporting.
"Americans can be thankful for strong oil production and supplies, which have set the table for some of the lowest gas prices of the year," Mark Jenkins, spokesman, AAA — The Auto Club Group, stated in a news release from the agency. "The state average should carve off another five cents before Thanksgiving. Florida's average price should eventually reach $2.35 before fully adjusting to recent oil and wholesale gas price declines. However, there is potential for oil prices to rise in December, depending on how markets respond to possible OPEC oil production cuts and sanctions against Iranian oil exports."