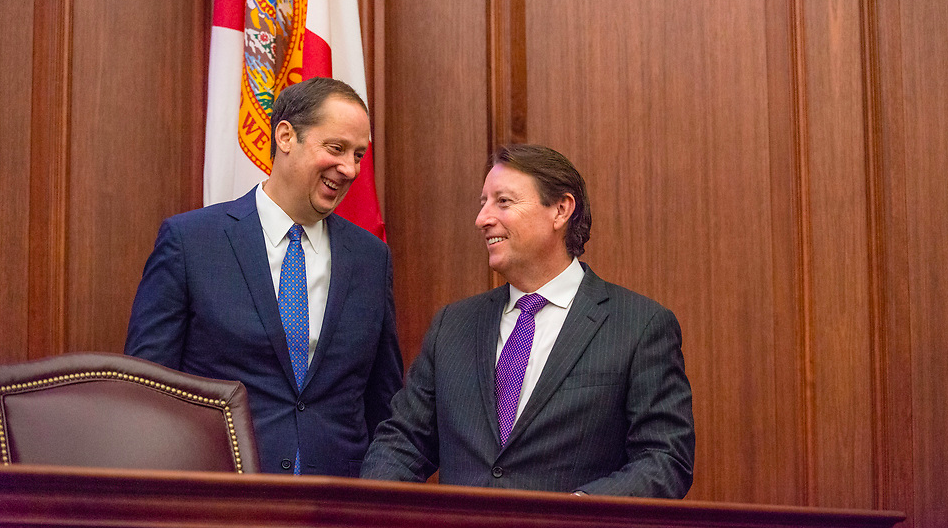 As expected — and scripted — the Florida Senate unanimously elected Bill Galvano as President of the GOP-controlled chamber for the 2019 and 2020 Legislative Sessions.
The move came at a constitutionally mandated "organization session" on Tuesday after the 2018 general elections. Outgoing President and Stuart Republican Joe Negron passed the gavel, and 10 new members also took seats at the ceremony.
Galvano, a Bradenton Republican, didn't lay out a detailed policy agenda for the next two years but rather told his 39 colleagues: "We will write the agenda together."
In brief remarks, Galvano said he intends to be a "facilitator," to empower individual Senators.
After a rough and tumble campaign season, he asked fellow Senators to now act with "honor and civility." While he has "little ability to change national discourse," Galvano wants to stem "incivility," and work toward "candor and transparency."
"Now is the time to move forward, united together, for the purpose of serving — to the very best of our ability — the people of Florida," he said.
The lawyer and lawmaker added that he couldn't predict the "challenges that lie ahead" for the Legislature.
"… I've never been able to fully predict what was going to happen," he said, mentioning there are always "issues (that) have yet to reveal themselves."
Galvano did talk about the need for "ample reserves" and "smart investments," especially in light of lingering damage from Hurricanes Irma and Michael. And he said lawmakers will need to "think innovatively" about infrastructure needs.
"We will need 20/20 vision as we approach (the year) 2020," he said.
Galvano also paid homage to the late Sen. Dorothy Hukill, a Port Orange Republican who died from cancer in October, referring to "the love that she carried for each of us in this chamber."
Senators confirmed David Simmons, an Altamonte Springs Republican, as President pro tempore.
Galvano was first elected to the Senate in 2012, after serving in the House 2002-10. He was Senate Republican Leader in 2014-2016 under then-Senate President Andy Gardiner, an Orlando Republican.
Galvano is a partner with the law firm Grimes Goebel Grimes Hawkins Gladfelter & Galvano of Bradenton.
__
Excerpts from his acceptance speech as prepared for delivery are below:
"It has been a long election cycle, vigorously fought, and the voters have spoken, as is the cornerstone of our democracy.  But, now it is time to move forward united in the purpose of serving, to the absolute best of our ability, the people of Florida.
"As we exchange ideas, debate the issues, and vet our would-be laws, I ask that we do so with civility and with the honor that is worthy of the Florida Senate, and let us extend that honor and decorum to our interactions with our friends in the House, our Governor, our Cabinet, and most certainly with our constituents.
"As Senate President, I have little ability to change the national discourse or to stem the tide of modern-day incivility that has become so pervasive in an era of social media and the 24-hour news cycle. But I can tell you that while I am serving as Senate President, the Florida Senate will have civility, transparency, candor, and opportunity. Including opportunity for the people of Florida to be heard. Together, we can strive to be an example other states and governments can follow as to how to focus on policy, not politics and on service, not severance.
"As we are gathered here today, I cannot fully predict what challenges lie ahead.  Yes, it is necessary for us to plan, but it is equally necessary for us to be agile and ready to respond.  In the sixteen years that I have served Florida in the legislature I can tell you that nothing ever has played out as predicted.  Many of the major issues we will deal with have yet to reveal themselves. Last session was certainly no exception.
"In addition, we must begin with the state as it is on this day. As my late father said: 'Play the hole you are on.' We must address the issues at hand, starting with the aftermath of Hurricane Michael.  By all accounts, an aftermath costing billions of dollars that will impact our budgetary and policy decisions out of the gate. Senator Gainer, Senator Broxson and Senator Montford, your constituents were at ground zero. Thank you for your leadership.
"Despite this devastating storm and the long-lasting impacts facing our state, as well as other challenges, we have much to be proud of and many reasons to be optimistic. Private sector job growth in Florida continues to outpace the nation. Unemployment is at the lowest point in over a decade. And, after reducing debt by $10 billion since December 2010, for the first time in our state's history, Florida has an AAA bond rating with all three rating agencies.
"All of these indicators give us reason to be optimistic and inspired to build on our past decisions to keep taxes low, regulations reasonable, and to set aside ample reserves, while making smart investments in essential government services, including services for servicemen and women, veterans, and first responders, persons with unique abilities, children and our elderly. By being disciplined we will keep our state strong and in a position where families find prosperity and where private sector innovators come to start, expand and grow their businesses.
"And as we prioritize, I still believe that the future of Florida's economy and the ability to expand and diversify its economy is tied to the strength of our infrastructure and our investment therein.  At all levels, from transportation to water to communications.  Let us together think innovatively when it comes to infrastructure, so we are not just addressing the needs of today, but anticipating the needs of the tomorrow.
"As we move towards the year 2020, may we have 20/20 vision to enable us to see well into the future. Recent estimates indicate over the next six years, our state will gain over 850 people a day, effectively adding a population equal to a city slightly larger than Orlando every year. We must be ready. I respectfully challenge you all to lead with this reality in mind.  We have great opportunity.  Now it is time to move to the next level.
"With the proper planning we can attract technology, not just tourists. We can be the target for venture capital, job creators and startups.  Let us together develop ideas, supporting and working with our schools, colleges, and universities to ensure the necessary flexibility to students and their families to be a part of this vision.  Hand-in-hand with a growing and diversifying economy is a well-trained, skilled workforce, with a nexus to economic demands.
"Together we can find ways to maximize our technical colleges and our state colleges to meet these demands. Our goal should continue to be job growth, but with a focus on higher paying, skilled jobs.  I will also continue to seek the leadership in this chamber to provide economic opportunities to our rural communities that make up the spine of our state. I ask for your leadership to diversify, support research, strengthen, and welcome new technologies in agriculture. And, let us take renewed interest in the timber industry and other impacted crops in the wake of Hurricane Michael.
"In light of today's world, we must also continue to find ways to improve our security at all levels, including cyberspace and unfortunately in our schools. Let us do what is necessary to be prepared and structurally sound. And we must not forget to address the root of our risks, including hate, mental illness, and addiction.  Together we can continue to do our part to provide security for the people of this state.
"The people of this state have added their own agenda through amendments to our constitution. We have both opportunity and work to do in implementing them. I expect that we will work diligently with our partners in the House to fulfill the will of the people.
"I know the drive and dedication coupled with the diversity of backgrounds that make up the Senate will get us there on these and myriad other issues. We have the tools and assets. We are all eager to begin our work in earnest together."