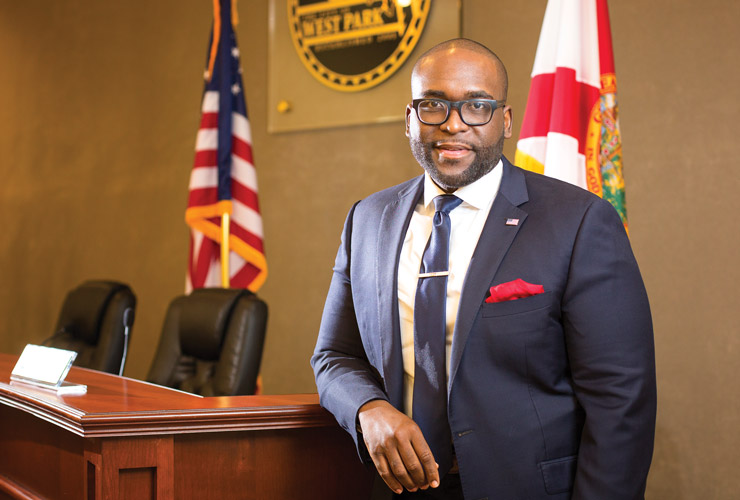 Florida House Deputy Democratic Leader Shevrin Jones has filed a new bill (HB 49) which seeks to provide hygiene products to women inmates, as well as protect those women from abuse while incarcerated.
Jones spoke with Florida Politics about the bill, saying he was first inspired to tackle the issue after fellow state Rep. David Richardson's tour of prisons throughout the state.
Those efforts led Richardson to uncover the amount of basic hygiene products denied to inmates, such as toilet paper, toothbrushes and other supplies.
After those reports were published, Jones said he was approached by a constituent who said women inmates often have it even harder.
"Last year, one of my church members mentioned that not only do those within the prisons lack those basic things, but women sometimes do not have feminine hygiene products," Jones recalled.
He says Valencia Gunder, a community activist in Miami, approached him with an idea for the bill, now called the Dignity for Incarcerated Women Act.
"She came to me with this dignity bill, and she said, 'Shev, I would really appreciate if you took a look at this. Is this something that you would be interested in?' It did not even take me 5 minutes, and I told her, "Yes, I'll file the bill.'"
The relevant text of HB 49 reads, "A correctional facility shall make available health care products to each woman incarcerated in the facility at no cost to the woman in a quantity that is appropriate to the needs of the woman without a medical referral."
The bill would also bar any requirement that the woman be diagnosed with an illness to access health care products.
Those products are defined as "feminine hygiene products, moisturizing soap, toothbrushes, toothpaste," as well as "any other health care product the correctional facility deems appropriate."
The treatment of women in jails and prison has garnered newfound attention in light of the #MeToo movement, as well as recent efforts to enact bipartisan criminal justice reform.
Abusive behavior that the bill seeks to curb was documented at Central Florida's Lowell Prison in 2015 by the Miami Herald.
Women at Lowell told the newspaper they were forced to exchange sex for soap, toilet paper and sanitary napkins.
Jones's bill would also seek to shield women inmates from abuse by restricting the use of pat-down searches by male correctional officers.
"This is not a Democrat or Republican issue. This is a human issue to ensure that regardless of what crimes they have committed, everyone deserves to be treated with some type of dignity, no matter their status," Jones said.
"When it comes to decreasing mass incarceration, women are not usually the center of conversation," Gunder added in comments to Florida Politics.
"And we thought it would be great to talk about hygiene products and the treatment and the safety of women while incarcerated."
Gunder said she works with a group identified as Dignity Florida, aiming to bring attention to the issue. She says she's also earned support from Cut 50, a national group working on criminal justice reform.
Gunder noted her own experience being jailed back in 2010 showed the lack of resources available to women, even if they are just jailed temporarily.
"We're not asking for a lot. We're asking for basic necessities, like hygiene products for people to be clean and safe and healthy."
After Florida voters approved an amendment earlier this month restoring voting rights to nonviolent felons, Jones said he is optimistic about his bill's chances.
"I believe when you look at the number of Floridians who ensured that rights are restored to more than 1.4 million people, I think that was a good step."
Whether it will garner enough support from Republicans is an open question. But while Jones said he hasn't yet reached out to gauge support among the GOP, he seemed hopeful they would be receptive.
"If my Republican colleagues are the same ones that I've been serving with for the past six years, I do know that although they maintain their values, they're not heartless. And I'm hoping they'll see a piece of legislation like this and realize, just like I have, that it's the right thing to do."
Ashley L. Eubanks, founder of the Beauty Initiative, says her group also supports the measure. Beauty Initiative is a group that provides feminine hygiene products to those in need.
"They're humans," Eubanks said of women inmates denied these products.
"And I think it's inhumane to push the burden back on them to just figure it out."
"This is not just for the women who are on death row, or just the women that are on a 40-year sentence," Gunder added.
"It's also for the women who are sitting at your county jails and the girls who are in juvenile facilities."
Eubanks said that even though these women are being punished for potential crimes, they should still be able to adequately deal with their bodies' needs.
"Periods are periods. It doesn't matter if you're in prison or a young girl in school."