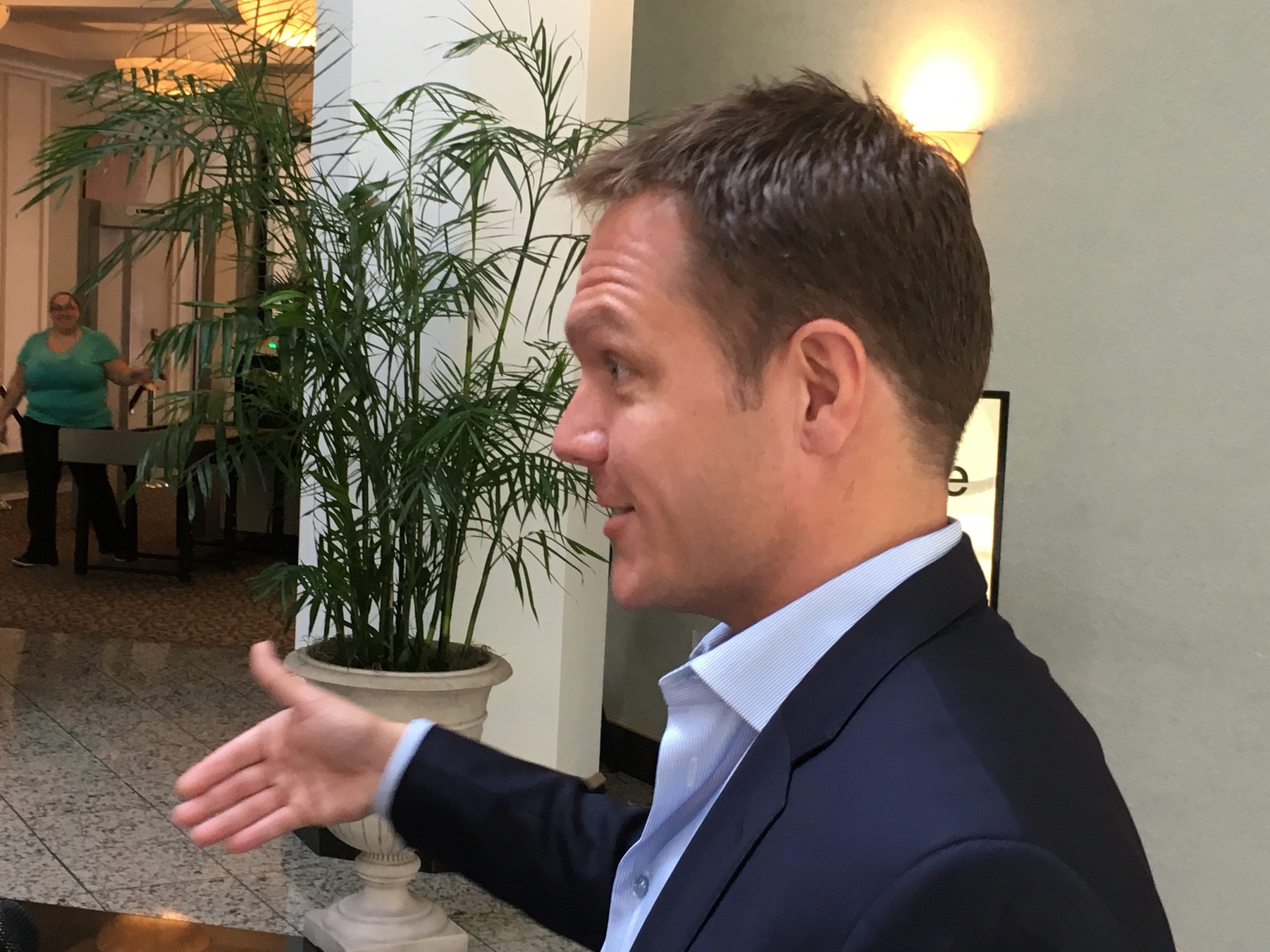 On Tuesday, the board of Jacksonville public utility JEA voted to make interim CEO Aaron Zahn permanent.
Mystery shrouded the process for some observers, leading JEA board chair Alan Howard to decry notions that the board was not independent of the Mayor's Office.
A review of the seven-person board's scoring matrixes backs up at least part of that claim. Each candidate was scored on a 70 point scale (10 per category), and Zahn didn't win on everyone's score sheet.
Chairman Howard had San Antonio utility executive Cris Eugster ahead of Zahn by one point (61.5 to 60.5). Board members Husein Cumber and Kelly Flanagan, each of whom verbalized concerns about Zahn during the meeting, had the in-house candidate tied with Eugster in total.
The win came from two places, one aggregate and one categorical.
Zahn outscored both Eugster and power industry veteran Pamela Hill by almost 40 points, and those margins came from the four other board members. And across the board, Zahn outperformed his competition in three intangible categories: financial acumen, stakeholder management, and interpersonal skills/influence/gravitas.
First, the voters who chose Zahn, sometimes by resounding margins.
Board members Fred Newbill and April Green provided Zahn the biggest total margins.
Newbill, a preacher who was taken to the Jacksonville City Council Rules Committee for confirmation by mega-donor and utility privatization advocate Tom Petway, gave Zahn 66.5 points, well ahead of Hill (58) and Eugster (53).
On the Newbill sheet, Zahn racked up wins over the other two in all seven categories. Organizational leadership, industry experience, innovation/revenue growth, operational excellence, and stakeholder management being the other five.
Zahn scored 9.5 across the board. Neither of the other candidates even attained one score that high on the reverend's scorecard.
Green, the COO of Bethel Baptist Institutional Church, gave Zahn nine points in "stakeholder management," five points more than Eugster and four more than Hill.
All told, he won six of seven categories on her sheet.
Board members John Campion (who lambasted Eugster for not driving to Jacksonville for an interview when he couldn't get a flight because of Hurricane Michael) and Camille Lee-Johnson also had Zahn ahead, but by a few points and with no clear trend in their scoring patterns.
However, as mentioned above, three categories closed the deal.
In interpersonal skills/influence/gravitas, Zahn had 62 points, well ahead of Hill (52.5) and Eugster (50).
In financial acumen, Zahn's 63.5 put him over Hill (58) and Eugster (45).
In stakeholder management, Zahn's 64 topped Hill (55) and Eugster (53.5).
The interviews went roughly 45 minutes for each candidate, and there was no talk of JEA privatization and barely an allusion to JEA's recent credit downgrade from Moody's, two hot-button issues over the last year.
See the full sheet below.