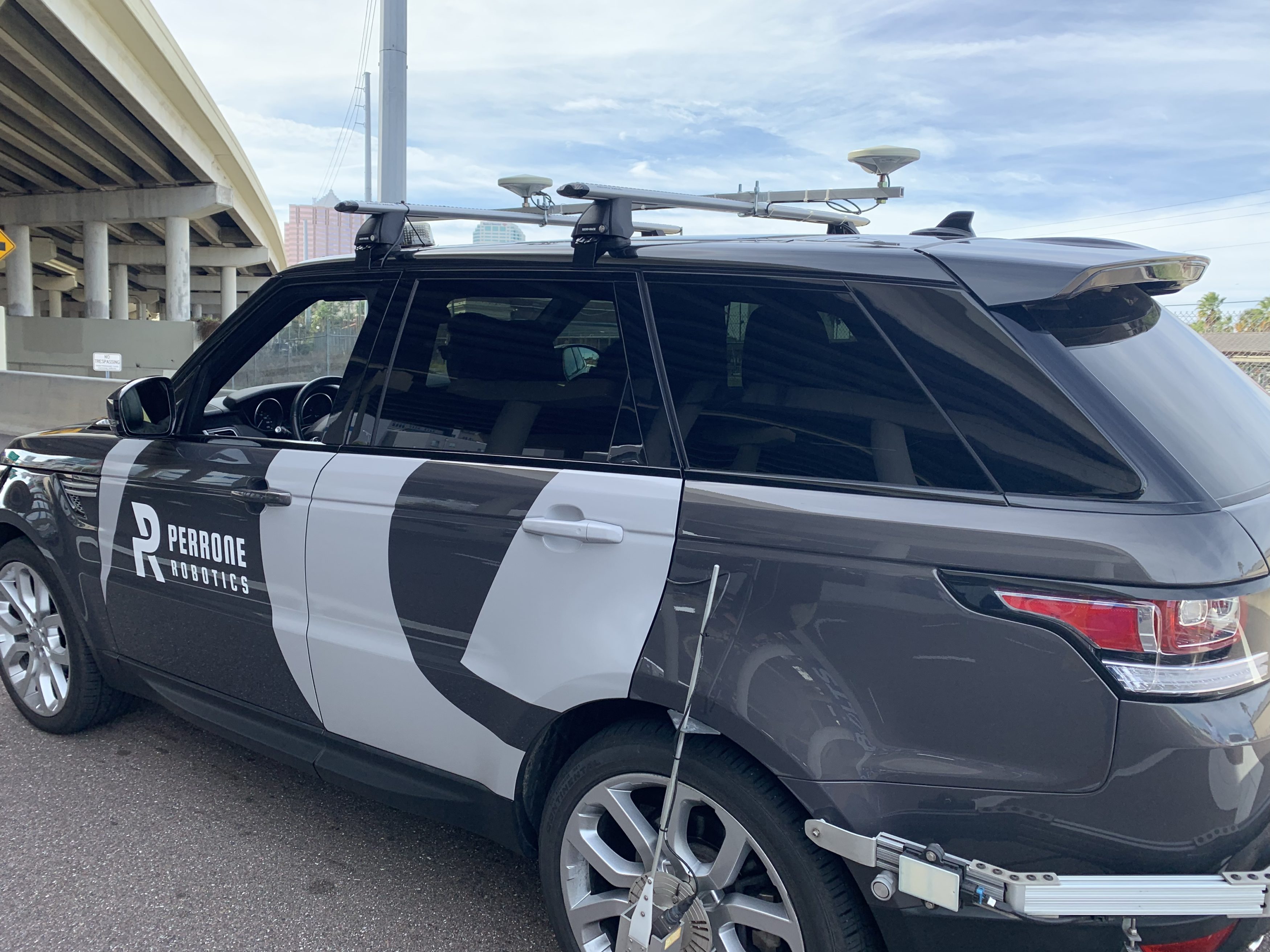 For the second year in a row, Virginia-based Perrone Robotics showcased its autonomous vehicle technology that allows cars to operate without any human operation during the 2018 Florida Automated Vehicle Summit in downtown Tampa this week.
The company equipped a new model Range Rover with lidar, radar, sensors and high-precision GPS to operate in fully autonomous mode along the Lee Roy Selmon Expressway's Reverse Express Lanes.
Perrone's equipment is already in use in Great Britain and the company is preparing to launch a fully autonomous shuttle in Charlottesville, Virginia, and surrounding areas.
"This is the future," said Garrett Moore, a quality assurance lead for the company.
Moore estimates that within three to five years consumers will be able to purchase vehicles capable of fully autonomous driving from a local dealership.
The car looks mostly like any other. It was loaded with leather seats and a functioning sunroof. The only noticeable differences were a small computer screen on the dash and a series of high-tech gadgets mounted to the roof.
The company chose a high-end Range Rover (and a Lincoln MKZ from its spring demonstration in Tampa) because modern luxury vehicles are typically equipped with some semi-autonomous features like adaptive cruise control and parking and lane assist.
The company doesn't directly use those features to retrofit cars for autonomy. Instead, they choose them because the features require what's called "drive-by-wire actuators" for steering, braking and throttling that can be tapped into in order to make automation cheaper and easier.
The high-precision GPS used in the automated vehicles is accurate to just two centimeters. Sensors, radar and lidar further hone accuracy so an automated vehicle can maintain its position in a lane often times better than even the most-skilled human driver.
Lidar uses laser light pulses to detect objects, while radar uses radio waves. Combined, the two create a robust vision of what is surrounding the device sending out the respective lidar and radar signals.
When operating in autonomous mode, Perrone-equipped vehicles use detailed mapping data to know how fast to go and other necessary rules of the roads. Sensors tell a computer when there's a road hazard, traffic slowing ahead or even a pedestrian in the way.
During the five-minute demonstration, a Perrone employee stood in the middle of the lane as the Range Rover approached. The car not only sensed his presence, it did so in enough time to comfortably brake. As the pedestrian moved forward, the car matched his speed until he was safely out of the road and then resumed normal speed.
Moore didn't say how much the technology costs — it's too hard to estimate because the costs vary wildly depending on the type of car being retrofitted — but he acknowledged the cost is still high.
"It's not extremely economical yet, but hopefully in the next couple of years the price will drop," Moore said.
Moore said some experts estimate that by the time his generation has kids — he's 24 — their children will no longer need a driver's license.
Asked if we could just keep on riding in the Range Rover to Westshore Mall, Moore said, "maybe."
"If we have mapped road, we could do that today," he said.
Of cours,e because Tampa is an urban area there are plenty of maps available. But this isn't a Google Map kind of thing. The cars require hyper-detailed mapping data. For now, Perrone makes its own.
But even that isn't a huge undertaking.
"When I was here in the spring I made [the Selmon] map. I created that in about ten minutes," Moore said.
Most of the people riding in the car for demonstrations Wednesday were self-proclaimed tech geeks. The prevalence of already existing autonomous technology to them is no big shock.
But for one un-initiated rider, it was a huge deal.
"Is this thing doing a u-turn all by itself?"
"Yep," Moore said with a grin.