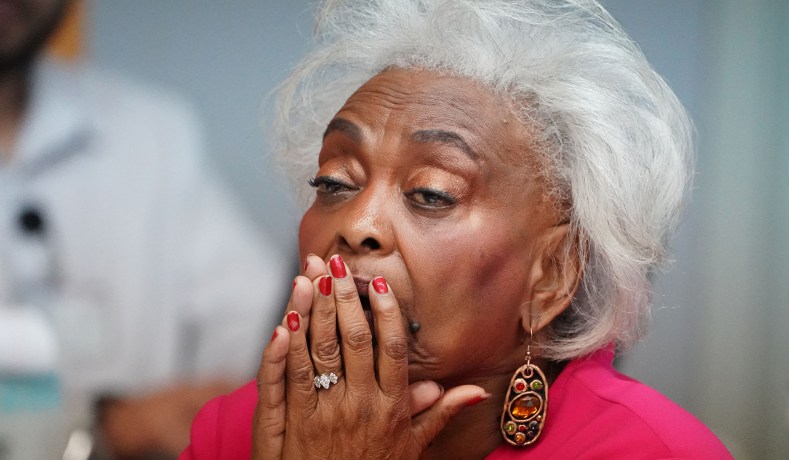 Broward County's elections office continues to exist in legal limbo.
This weekend alone, Gov. Rick Scott suspended Supervisor of Elections Brenda Snipes weeks before her already-announced departure. Snipes subsequently withdrew her resignation and vowed to fight her suspension in court. And Scott ally Pete Antonacci was named as the replacement in office.
"The supervisor is being held to a standard that no other supervisor has been held to in the state of Florida," said Snipes attorney Burnadette Norris-Weeks at a Saturday news conference, as reported by the Miami Herald.
Snipes announced her resignation immediately after a high-profile recount of three statewide elections, including one in which Scott unseated U.S. Sen, Bill Nelson by a historically close 10,033 votes, or 0.12 percent of nearly 8.2 million votes cast.
The recount faced controversy over late tabulations of votes in heavily Democratic Broward and Palm Beach counties. Broward was the only county still tabulating a substantial number of Early Voting ballots days after the Nov. 6 election.
And when a machine recount was conducted, Snipes said her office had lost more than 2,000 votes.
Snipes resignation would have gone into effect on Jan. 4, likely leaving the decision on her replacement to Gov.-elect Ron DeSantis.
Instead, Scott suspended her late Friday and named Antonacci to the post.
"After a series of inexcusable actions, it's clear that there needs to be an immediate change in Broward County and taxpayers should no longer be burdened by paying a salary for a Supervisor of Elections who has already announced her resignation," Scott said.
Now, Snipes attorney noted that for Snipes to be removed from office, the Florida Senate must hold a hearing on the matter.
The entire affair elicited various reactions in South Florida.
Congressional candidate Tim Canova, who sued Snipes office previously after he lost a Democratic primary to Debbie Wasserman Schultz and whose suit revealed Snipes' office prematurely destroyed ballots from the race, has called on Antonacci to fire Snipes' staff.
Canova has also filed a complaint in court calling for a revote in the 2018 election.
"Brenda Snipes' misconduct has created sufficient doubt in our election results," he tweeted.
Meanwhile, Kartik Krishnaiyer of The Florida Squeeze called the removal of Snipes a "Friday Night Massacre" by Scott on his way out of office.
"Scott for some reason which we can surmise is power and influencing the 2020 Presidential Election has chosen not to leave this decision in the capable hands of DeSantis," he wrote.