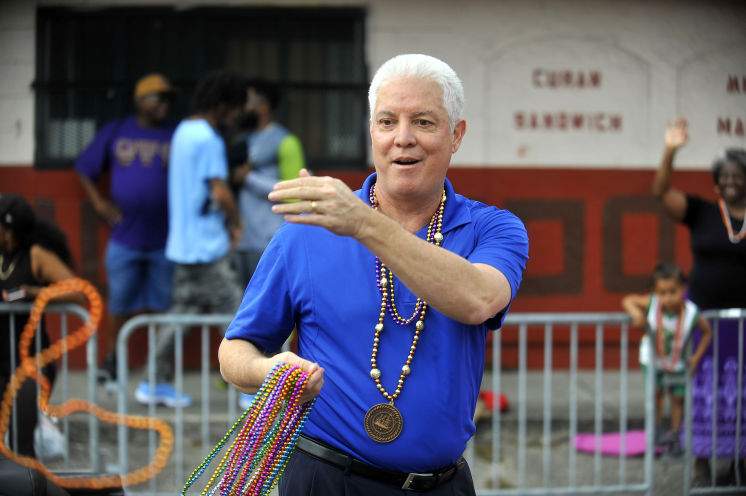 Tampa mayoral candidate Mike Suarez wants to use revenue generated from the 1 percent sales tax increase voters approved last month to fund transportation and transit improvements to draw down federal funding and finance future projects.
The All For Transportation sales surtax will generate about $280 million a year in Hillsborough County with about $34 million of that going to the city of Tampa.
The incoming revenue stream would give Tampa financial backing for bonds on transportation projects the city could use for one of Suarez's top priorities — extending the TECO Line Streetcar that currently services downtown Tampa and Ybor City. Suarez wants to expand that into Tampa Heights north of Interstate 275.
Streetcar expansion is already under consideration in a study evaluating route options.
"But studies don't mean anything until you pay for it," Suarez said.
He expects the price tag for expansion to come in just shy of $100 million.
Under the streetcar expansion study, several routes are proposed including extending the route along Florida Avenue, Tampa Street or Franklin Street into the burgeoning Tampa Heights area.
That community is not only rapidly growing with the emergence of businesses like the Hall on Franklin, it's also home to some of the city's most historically disenfranchised residents.
Funding opportunities for expansion are plenty. The Hillsborough Area Regional Transit Authority will receive 45 percent of the total All For Transportation tax revenue — about $112 million. The agency is tasked with using that funding for new or expanded transit options that include at least 75 percent of the funded routes operating in dedicated transit lanes. The streetcar runs on a fixed rail guideway, which checks that box.
That means HART could fund part or all of the streetcar expansion. But with its new revenue stream, the city of Tampa will also be poised to provide local funding, which could be used to draw down federal dollars for the project. Federal grants typically require a combination of local and state funding matches.
But Suarez isn't just eyeing new revenue. He's also looking at ways, if elected, to identify even more potential funding.
"We need to focus on transit-oriented development," Suarez said. "We have a great opportunity now to partner with private businesses on building transit centers that make sense for people's lives."
That includes creating transit hubs that include affordable, multi-unit housing, retail and entertainment and office space.
Housing creates a need for transit by moving more people into an area while retail, entertainment and office space create a destination for the transit and tax revenue Suarez said could be tapped to help fund it.
Suarez also has his eye on a dedicated transit route connecting areas north of the University of South Florida south to downtown Tampa. Such a route could run along several corridors including Nebraska Avenue or Florida Avenue.
HART already has its MetroRapid route from north of Fletcher Avenue into downtown Tampa's Marion Transit Center, but that route includes 39 stops, doesn't run in dedicated lanes and buses don't get traffic signal prioritization — all important factors keeping the Nebraska Avenue route from being quick.
"It's not rapid because you're still in traffic," Suarez said.
And without signal prioritization, buses are still at the mercy of sitting at lights. The Florida Department of Transportation determines, along that particular route, whether or not to implement signal priority for buses.
"You have to be collaborative with your partners, including FDOT. Sometimes it's hard, sometimes it's easy," Suarez said. "I think we have a good relationship with [FDOT District 7 Secretary David Gwynn.] He always responds to my emails and calls."
Suarez's plan also includes taking a hard look at where and how to create new sidewalks and repair existing ones — projects on which the city of Tampa has historically struggled to keep up.
"The first part of transit is always your legs. Walking is really key to making sure you can get around on transit," Suarez said.
He detailed his plans during a lunch meeting that included using the Tampa Streetcar to travel from the streetcar stop in front of the Tampa Convention Center to Ybor City and on a walk from an Ybor stop to Acropolis on East 7th Avenue.
"We took the streetcar, but we had to walk to the stop and then walk to the restaurant," Suarez said.
Suarez would create a "sidewalk selection service" including city staff who conduct public meetings within communities to determine where sidewalks are most needed and determine whether the city needs to purchase rights of way to build them.
"You need to be safe. So if I'm leaving my house I'm walking to a transit stop and then I'm only going one or two stops to go grocery shopping or pick up dry cleaning. That's when a transportation system is really working," Suarez said. "It's not working when you're only providing transit to someone's job and back."
Suarez also wants to tackle affordable housing by making the popular trend surrounding micro-housing a reality in Tampa. A previous proposal to build micro-apartments downtown was shot down because city code requires a certain amount of parking per residential unit in downtown developments. That means developers have to plan, in most cases, parking garages as part of their plans. That's not economically viable when considering multiunit housing at the scale smaller apartments require.
Suarez wants to instead create an in lieu of type of agreement with developers to reduce the parking requirements by creating transportation services for residents. That could be anything from short-term car rental services like Zipcar to other private transit access.
Another Suarez priority is code enforcement. If elected, he hopes to partner with Tampa Bay Wave or other local tech firms to create an application that allows residents to crowdsource code violations. His idea is based on a startup tech model that fizzled, which used cars similar to Google cars to roam neighborhoods photographing and documenting violations ranging from overgrown lawns and illegal dumping to residents conducting un-permitted construction activities.
Suarez, a current City Council member, is running in a crowded field of candidates to replace outgoing Mayor Bob Buckhorn who is facing term limits. Other candidates include former Tampa Police Chief Jane Castor, fellow Tampa City Council member Harry Cohen, attorney Ed Turanchik, philanthropist David Straz, small business consultant Topher Morrison and community activists LaVaughn King and Michael Anthony Hazard.
Candidates face off at the polls March 5. If no candidate receives more than 50 percent of the vote, the top two vote-getters will advance to a runoff election April 23.