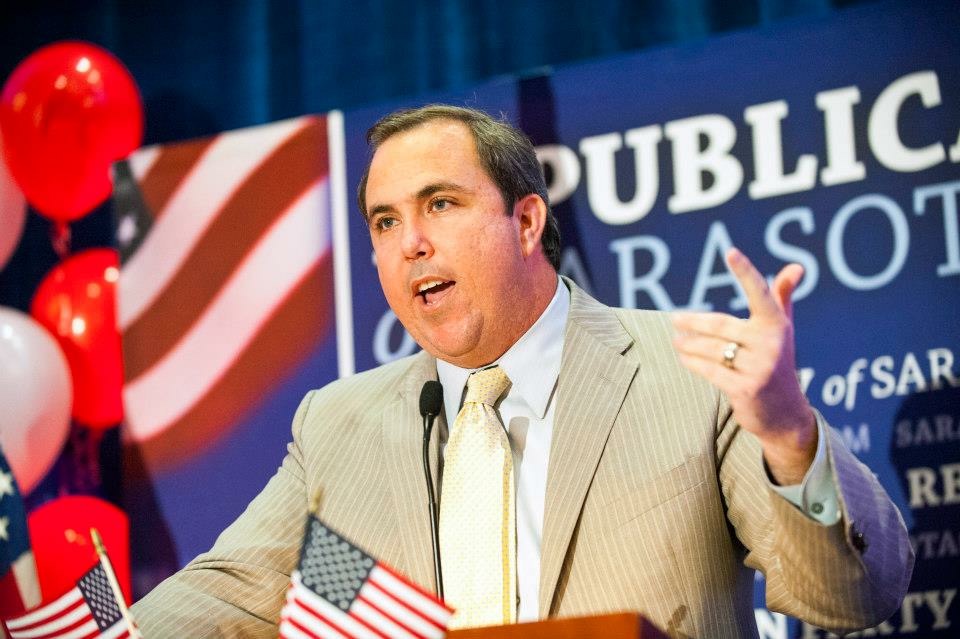 State Sen. Joe Gruters appears poised to become the next Republican Party of Florida chair.
He appears to have the support of Gov.-elect Ron DeSantis, remains one of President Donald Trump's chief allies in Florida and now has a clear path to the chair post with one of his lead competitors stepping aside.
The Republican Party of Sarasota on Wednesday afternoon sent a release announcing Gruters planned to run for state chair and would seek a new term as county chairman. That's a reversal for Gruters, who previously announced he would step away from party politics, but holding the county post ensures his eligibility to run for state chair. Jack Brill, the front-runner to succeed Gruters in the county slot, will seek another term as vice chair of the party.
"To have Joe as chairman of the Republican Party of Florida is huge for Sarasota County," said Brill.
A formal endorsement from DeSantis, expected Thursday, will out Gruters, recently named chairman of the Senate Committee on Commerce and Tourism, into frontrunner status to succeed Blaise Ingoglia, who announced yesterday he would not seek another term as state chair.
Gruters has grown increasingly involved in statewide Republican politics over the past decade. He served as vice chair for the Republican Party of Florida in 2016, the same year he served as co-chair for Donald Trump's state campaign for president.
The relationship with now-President Trump played a major role in DeSantis' decision to get behind Gruters for the state chairmanship. The chief priority for the next state chair will, of course, be securing Florida's electoral votes when Trump runs for re-election.
He ran for state chair back in 2010, touring every county in Florida to meet with party chairs and committee members, but ultimately came up short then.
But now may be his year.
The gubernatorial endorsement puts Gruters ahead of party leaders in Florida who have eyes the chair position, including Sarasota County State Committeeman Christian Ziegler.
But the endorsement of DeSantis doesn't necessarily pave the way for Gruters to become chair, as Ingoglia proved when he beat outgoing Gov. Rick Scott's hand-picked choice for chair, Leslie Dougher, in an insurgent bid in 2015.
That led to years-long friction between the state party and the governor, the top Republican office-holder in the state.
Other candidates for state chair have met with DeSantis over the past week, including: Ziegler; Mike Barnett of Palm Beach County; Jeremy Evans of Escambia County; and Peter Feaman of Palm Beach County.
Another contender, Evan Power of Leon County, has backed Gruters and announced he will instead run for state vice chair.
Of course, the news also comes shortly after Collier County Republicans apparently scuttled an effort to set up state Rep. Byron Donalds, a Naples Republican, for the state chair post. Collier party members elected local activist Russell Tuff over Donalds as the new county chair there.
Gruters won't likely face the same resistance to being re-elected chairman in Sarasota. He just successfully led the party to a number of solid wins in the region in November.
And over a decade, he's grown the party massively. Gruters became county chair weeks after President Barack Obama came within a few hundreds of votes of being the first Democratic presidential candidate to win Sarasota County since Harry Truman.
Since then, he's turned Sarasota into a must-visit locale for GOP presidential candidates in search of wealthy donors and organized supporters. Gruters named Trump as Statesman of the Year well before the New York businessman launched his presidential campaign.
Trump's last campaign rally in Florida took place in Sarasota before his surprising upset for president in 2016.