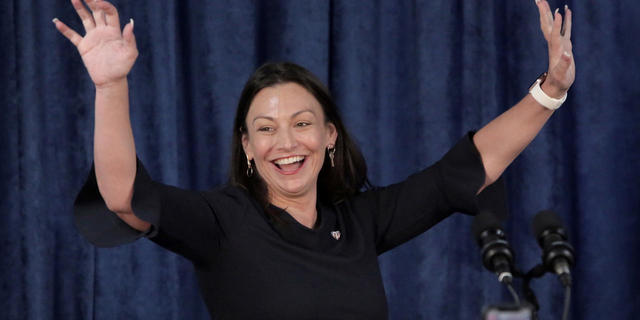 Though she doesn't officially take office for more than a month, Agriculture Commissioner-elect Nikki Fried is already making a splash in the Capital, and laying out clear markers for both her nascent administration and her stewardship of the state Democratic Party — of which she is now, somewhat improbably, the de facto leader.
Fried's transition team — rolled out last week — signaled her seriousness about governing from a position of substance and bipartisanship, while making clear her intent to put front-and-center the issues she campaigned on: Weed, Water and Weapons.
But today's announcement of her inauguration committee was all about Nikki Fried's newfound leadership of a Democratic Party where she stands as the lone statewide elected official. Anyone who knows Nikki (as I do), knows she is tenacious, doesn't sleep, and doesn't half-ass anything. In the rollout of her inaugural leadership team, Nikki is demonstrating that's the same approach she's going to take in her rapid ascent to the top of the Democratic food chain.
To start, Nikki got elected by a razor-thin margin despite being outspent nearly 3-to-1. Most of the Tallahassee power structure was behind her now-vanquished opponent, Matt Caldwell. Translation: Nikki doesn't owe nothing, to nobody. The chairs of her inaugural — her sister, Jenni Shaffren, and one of her lead campaign consultants, Ben Pollara — point to that lack of indebtedness to the elites that like to think they run Tallahassee (and in many ways, do).
And her committee of "Finance Co-chairs" pays the lobbying corps their due, with representation from some of the biggest firms in the Capital, but does so in a way that elevates the Democratic lobbyists at those firms, which in turn elevates Nikki's status as a leader of the party.
Kelly Cohen, Justin Day, Stephanie Grutman, Jodi Bock Davidson, Heather Turnbull and Sean Pittman are all top-tier lobbyists, with top-tier firms, and they are all longtime fixtures in the proverbial smoke-filled backrooms of Democratic politics in the Sunshine State. Rounding out that list is Mitchell Berger, a lion of the party, one of its biggest fundraisers and the head of one of Florida's largest law firms (and arguably, the only major law firm in the state that is firmly, consistently Democratic-leaning).
The Committee's "Honorary Co-chairs" also speaks volumes about Nikki's place in Florida Democratic politics right now. The list includes the only three other titular statewide leaders of the Democratic Party — the two legislative leaders, Sen. Audrey Gibson and Rep. Kionne McGhee, and the Chairwoman of the FDP, Terrie Rizzo — as well as the outgoing leader of Florida Democrats, U.S. Sen. Bill Nelson. I would be shocked if Nikki's inaugural festivities didn't include a metaphorical (if not literal) passing of the torch from Nelson to Fried.
The lengthy host committee for the inaugural festivities also had some interesting names. Here are a few that stood out:
Michael Bronstein — the head of the American Trade Association for Cannabis and Hemp, an under the radar, but substantial, national marijuana reform advocacy organization.
Mike Fernandez — billionaire Republican health care investor who has basically turned his back on the GOP over guns and immigration and become a 7-figure donor to Democrats in the last couple of years.
Fedrick Ingram — the newly elected, African-American, head of the FEA, Florida's largest union and one of the biggest donor organizations to the state party. Ingram also hails from Miami, where Nikki was born and raised, and where teachers successfully passed a county referendum to increase teacher salaries by $200 million over the next 4 years.
Shellie Levin — one of the biggest female, Democratic fundraisers in Florida, and adviser to some of the biggest female Democratic donors in the state, as well as a longtime consultant to EMILY's List.
Andrew Smith — the head of government affairs for Surterra, one of Florida's 13 licensed medical marijuana operators, and one of the biggest donors to Nikki's campaign.
Alex Heckler — consistently among the biggest fundraiser for Democrats in Florida and (along with Finance Co-chair Justin Day) one of the biggest Florida fundraisers for the Democratic Governors Association. Hmmm …
The clock on Nikki Fried's four-year term as Ag Commissioner hasn't even started, but if the moves she is making with her transition and inauguration are prelude to what sort of leader she'll be, Nikki is going to be a major force in politics and government for the next four years, and the four years after that, and the four years after that, and … you get the picture.