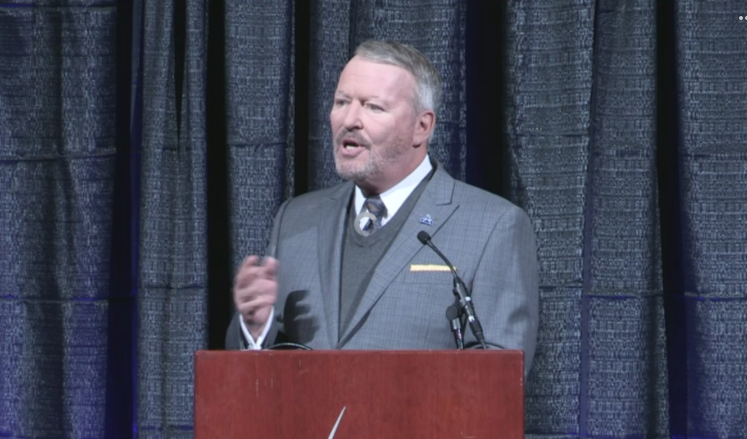 Calling the Valencia College-University of Central Florida Creative Village campus going up a "living, breathing opportunity escalator," Orlando Mayor Buddy Dyer focused most of his annual State-of-the-Downtown address on anticipated improvements for the historically-segregeted and long-distressed downtown neighborhood of Parramore Thursday.
"Education can change lives. It can change neighborhoods, it can change the downtown, it can change cities," Dyer said during his speech at the Amway Center.
Creative Village is a 68-acre urban redevelopment project spanning northwest downtown and northeast Parramore, with plans for $1 billion worth of public and private development to create a new live-study-work community. The first phase and cornerstone, a 165,000-square-foot building for 7,700 for students from the University of Central Florida and Valencia College, is under construction and set to open for next fall.
"Over the last 16 years we've worked hard to lay a unique foundation of education in Parramore. We envisioned using that foundation as the first step toward building an entire building an entire village dedicated to educational and career opportunities," Dyer said. "Beginning this year all our hard work all of our strategical planning, it come together. Beginning this year we'll be home to the most robust educational ecosystem in all of Florida, right here in downtown Orlando."
Dyer promoted six reasons he said the development will make profound impact on Parramore, a largely African-American community with low incomes and a high level of poverty, which now is being surrounded by re-development, including the city's sports corridor along Church Street, and downtown.
– The college campus is an urban campus planned, Dyer said, with and for the residents of Parramore. It will be home to 20 sought-after degree programs, including communication, digital communication, legal studies, health care technology, and health care management, plus trades education, including a culinary and hospitality school, with linking programs to other schools in the area.
– The college campus will be the education engine for a larger urban village Dyer declared is dedicated to "technology, art, creativity, and entrepreneurship, that's home to the companies and careers of the future."
– Dyer said a half-billion dollars of private-sector construction is already underway, most of it for new residential properties, with an emphasis for providing housing for a variety of income levels, including affordable housing. The city is providing $12 million in various programs, including a down-payment assistance program.
– He offered a vision of the broader impact of 8,000 new people moving into the village, "living, learning, working, eating, shopping and playing in our downtown. … Businesses in Parramore and across downtown already are preparing for this historic new infusion."
– Dyer suggested Creative Village will bolster tourism in downtown, and expand hotel and conference space. He cited the sports tourism, in particular, highlighted by three college football bowl games, the NFL Pro Bowl, and other events, with $60 million in improvements to Camping World Stadium, a couple miles southeast of Parramore; as well as NBA Magic, the ECHL Solar Bears, MLS Orlando City and the NWSL Pride, which play just south of Parramore.
And Dyer teased with his dreams for future events: "How about the World Cup in 2026? And maybe, how about, the NFL is playing more neutral site games, so I think we ought to have an annual Tampa Bay Buccaneers game here in Orlando."
– Transportation improvements will lead in and out of Creative Village and downtown, and he declared Orlando is undertaking "the most holistic transportation study ever done in our central business district," plus a downtown ride-share hub.