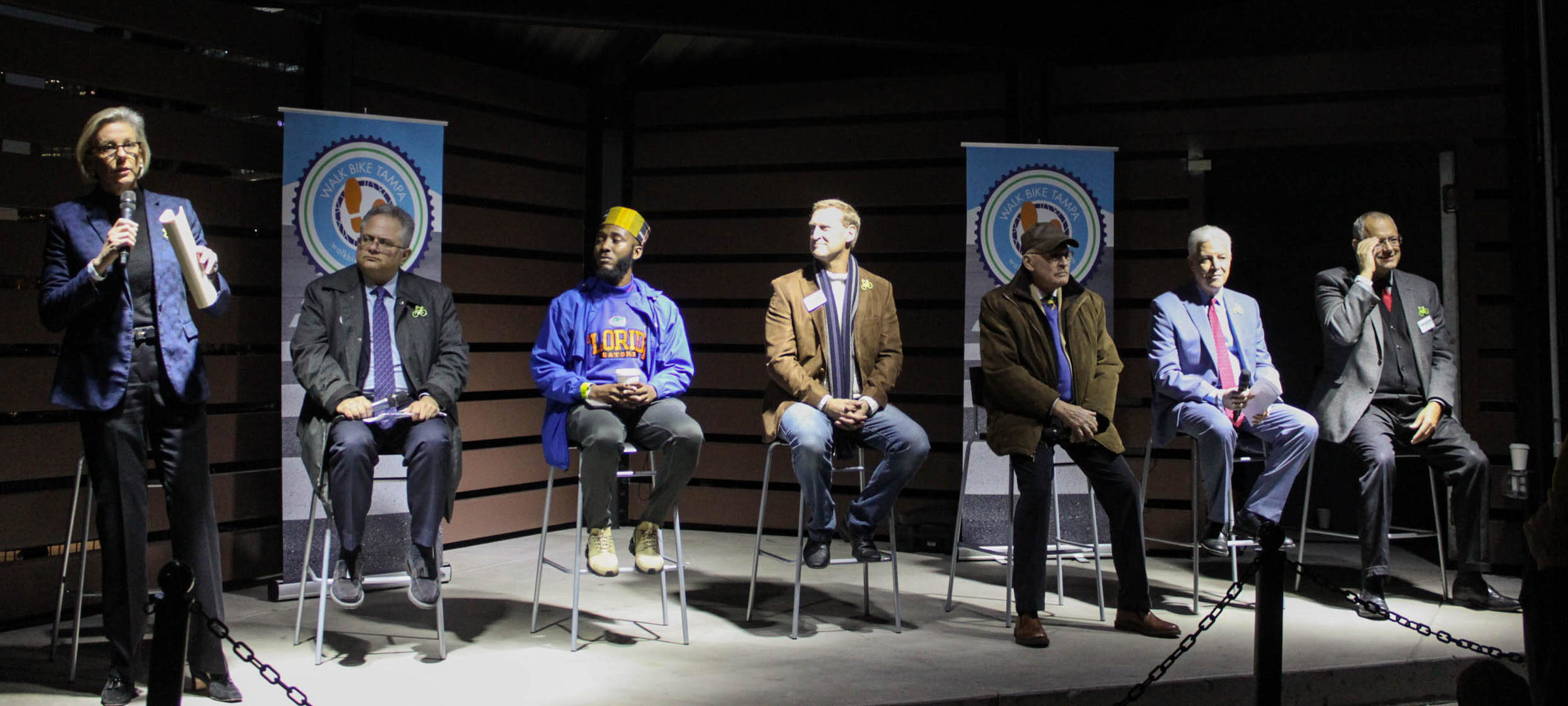 Tampa mayoral candidates bundled up Tuesday night to answer questions about pedestrian and cyclist safety at a forum at the newly opened Sparkman Wharf in downtown Tampa.
The forum, presented by the group Walk Bike Tampa, tackled an important topic, but its narrow focus led to a lot of redundant answers and not a lot came out to differentiate the candidates. But the opportunity to spend an hour and a half discussing one of the city's most pressing challenges also yielded some previously undiscussed policy proposals.
From parking space sharing apps to raised bike lanes, each candidate shared innovative ideas on how to transform Tampa from one of the deadliest cities in the country to walk or ride a bike into a place where mobility doesn't have to include a car.
Participants included former Tampa Police Chief Jane Castor, Tampa City Council members Harry Cohen and Mike Suarez, former Hillsborough County Commissioner Ed Turanchik, philanthropist David Straz, small business coach Topher Morrison and urban planner LaVaughn King.
Here are five takeaways from the Bike Walk Tampa forum.
Pedestrian and cyclist safety is a top priority for every candidate
With seven candidates participating (Michael Anthony Hazard did not attend), debate moderator Ernest Hooper chose seven questions to ask three randomly selected candidates with an eighth question going to all candidates. That means not every candidate answered every issue, but the overall tone regardless was that Tampa's infamy as one of the nation's deadliest pedestrian and cyclist cities has to be fixed.
Castor wants to implement a "grid system" on Tampa roads. Under her plan, certain roads would be prioritized for vehicular traffic while others would be used as safe routes for bikes and walkers. She also wants stricter traffic enforcement to keep drivers from breaking rules that could pose a threat to pedestrians and cyclists.
Cohen touted his comprehensive plan that makes safety the No. 1 priority. His proposal includes an emphasis on transit connectivity including expanding the Tampa Streetcar, increasing access to things like water taxis to bring people into downtown without a car and utilizing smart city ideas like traffic lights that change based on need, not a predetermined formula to reduce traffic congestion.
Suarez also emphasized transit but also proposed raised pedestrian and cyclist lanes to separate more vulnerable commuters from dangerous traffic.
Turanchik pushed his "Tampa Go Plan" that includes mobility zones within communities where people who live within them are encouraged to use transit or to walk or bike because doing so is easier than driving. Under his plan, transit would exist in hubs that include affordable housing, jobs, schools and all of the community amenities residents use daily.
Straz was short on specifics, but vowed to work with communities to develop the right solutions and not just reactionary projects that give the appearance of action while Morrison said he'd use innovation — not necessarily technology — to identify ways to increase mobility and make it safer. He again floated his urban gondola proposal that would move people through cable-propelled aerial transit.
King, a former planner for the Alachua County School District, said he would draw on his education in urban planning and work improving transportation around the Gainesville area to increase safety. That solution, he said, would include light rail.
Citizens should be included in solutions
During the forum, each candidate vowed to involve the citizenry in pedestrian and cyclist safety planning. A few offered specific engagement tools.
Straz pitched his idea to create a "quality of life cabinet" that would meet with constituents every Monday morning at 8 a.m. to discuss potential transit and other mobility projects. Suarez suggested implementing a bike advisory committee within the city.
Tampa's sidewalks need to be fixed
The city has a massive backlog of overdue sidewalk repairs. Cohen, Turanchik and Castor were each asked about providing safe routes to school for kids, which candidates answered focused largely on access to safe and complete sidewalks. Cohen pointed out that under state law, students who live within two miles of their school are not entitled to public transportation to school, meaning many of those children are forced to walk up to two miles every morning and afternoon school is in session. He said those sidewalks should take priority and proposed using revenue from the 1 percent transportation sales-tax voters approved last month to fund it. Tampa will receive nearly $40 million from the new tax, much of which is earmarked for safety projects. Castor echoed most of Cohen's sentiments. Turanchik added that city officials should develop sidewalk projects after careful collaboration with parents and members of Parent Teacher Associations to determine where there is the most need.
Don't just slap some paint on the road
While most candidates offered specific plans, Straz was a little vaguer. On several occasions, he lamented the city's approach to appeasing the growing desire for bike-friendly roads has been to "just slap some paint on the road" and call it a bike lane. He said bike lanes should be a combination of collaborative discussions with cyclists and members of communities affected by bike lanes, like the Bayshore area, and public education campaigns ensuring drivers aren't making road mistakes that could put pedestrians and cyclists in danger.
Parking (or too much of it) is part of the problem
Parking regulations need to be revisited. That was the overall takeaway of the forum from King, Morrison and Cohen on how tax affects overall transportation. King said continuing to allocate more parking downtown only encourages more cars on the road. Morrison noted the high cost of free parking, arguing excessive parking is counterintuitive to creating walkable spaces. He said downtown has plenty of spaces. Instead of adding more, the city should price parking at variable rates to ensure there is always at least 20 percent available. He also suggested better collaboration with private lot owners like TECO, which owns four floors of the Element parking garage, but won't let others use those spaces when its fleet is not. In the forum, Cohen emphasized increasing alternative transit options to reduce the amount of vehicular traffic in downtown in general.