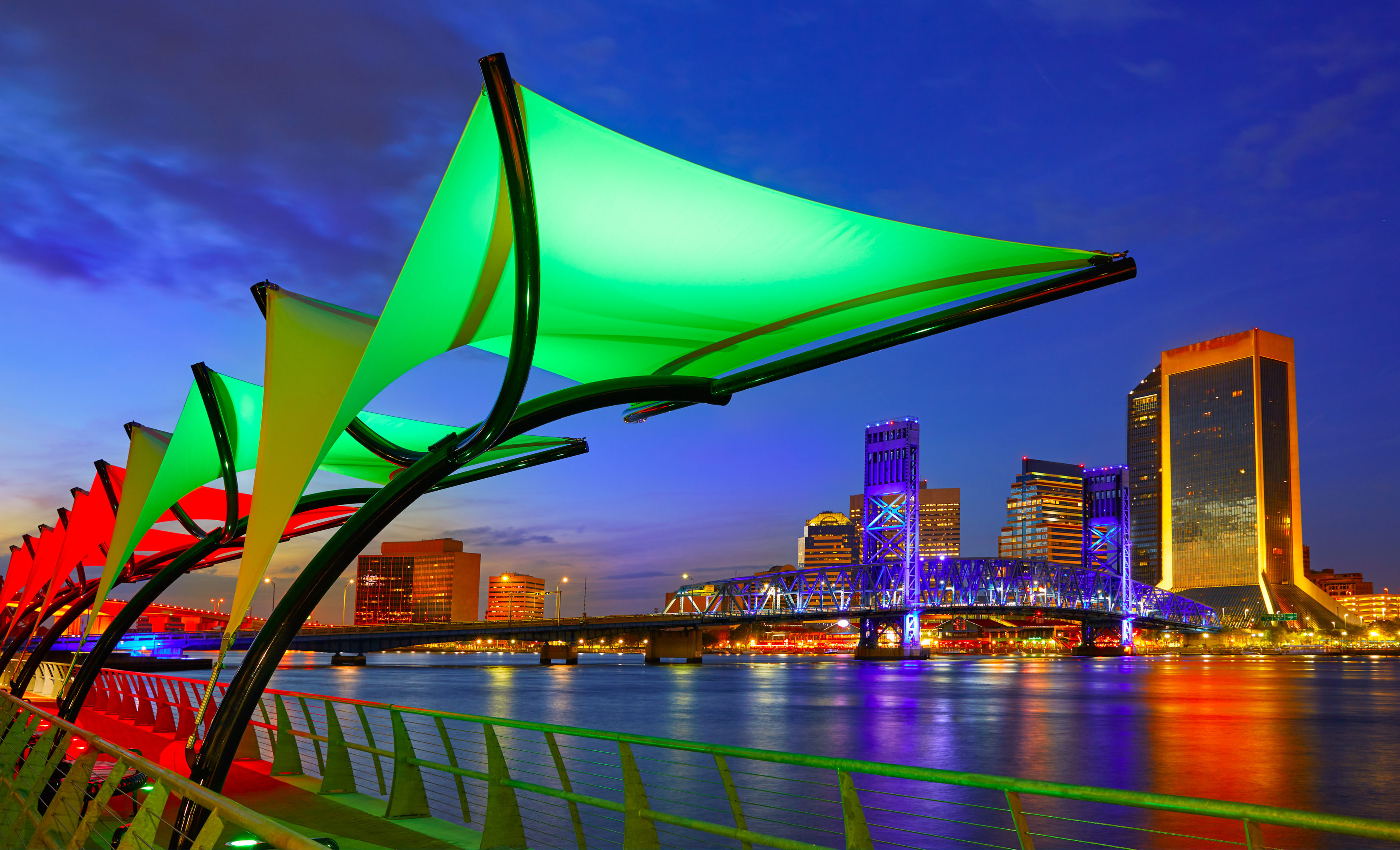 Those close to the political operation of Mayor Lenny Curry are calling this a "momentum week."
And why not?
Curry is essentially alone still in the mayoral field. Yes, there are filed opponents. No, you haven't heard of them.
And won't, given their fundraising.
Curry is on television with an ad buy. He's talking smack. His allies are doing the same.
Is there time enough for someone to mount a challenge? Three months out from the election. And against this machine?
In politics, as in life, timing dictates all other concerns.
From here, it doesn't look like a serious challenger got the timing right.
Public safety presence
Jacksonville contractor Kent Stermon, already on the inaugural committee, was this week appointed a chair of Governor-elect Ron DeSantis' transition team panel on public safety.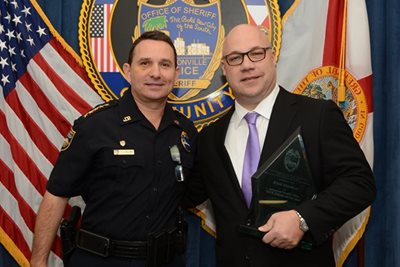 Stermon, the COO of Total Military Management, told us this week that his group is focused on improving the lives of those working in public safety and further working toward school safety.
The group meets for the first time next week in Tallahassee, Stermon said.
Stermon is joined by friends and neighbors from the region on the panel, including crucial supporters of DeSantis such as Duval County Sheriff Mike Williams (briefly in the LG mix this summer), Clay Sheriff Darryn Daniels (who messaged heavily against Democrat Andrew Gillum's signing of the "anti-police" Dream Defenders pledge), U.S. Rep. John Rutherford, and Jacksonville police union head Steve Zona.
Stermon was vital in DeSantis' regional outreach in 2018, and what's clear is that he will have some policy influence also in the nascent administration.
Wishlist
More members than not of the Duval County Legislative Delegation went into Monday's meeting wondering what Jacksonville Mayor Lenny Curry wants.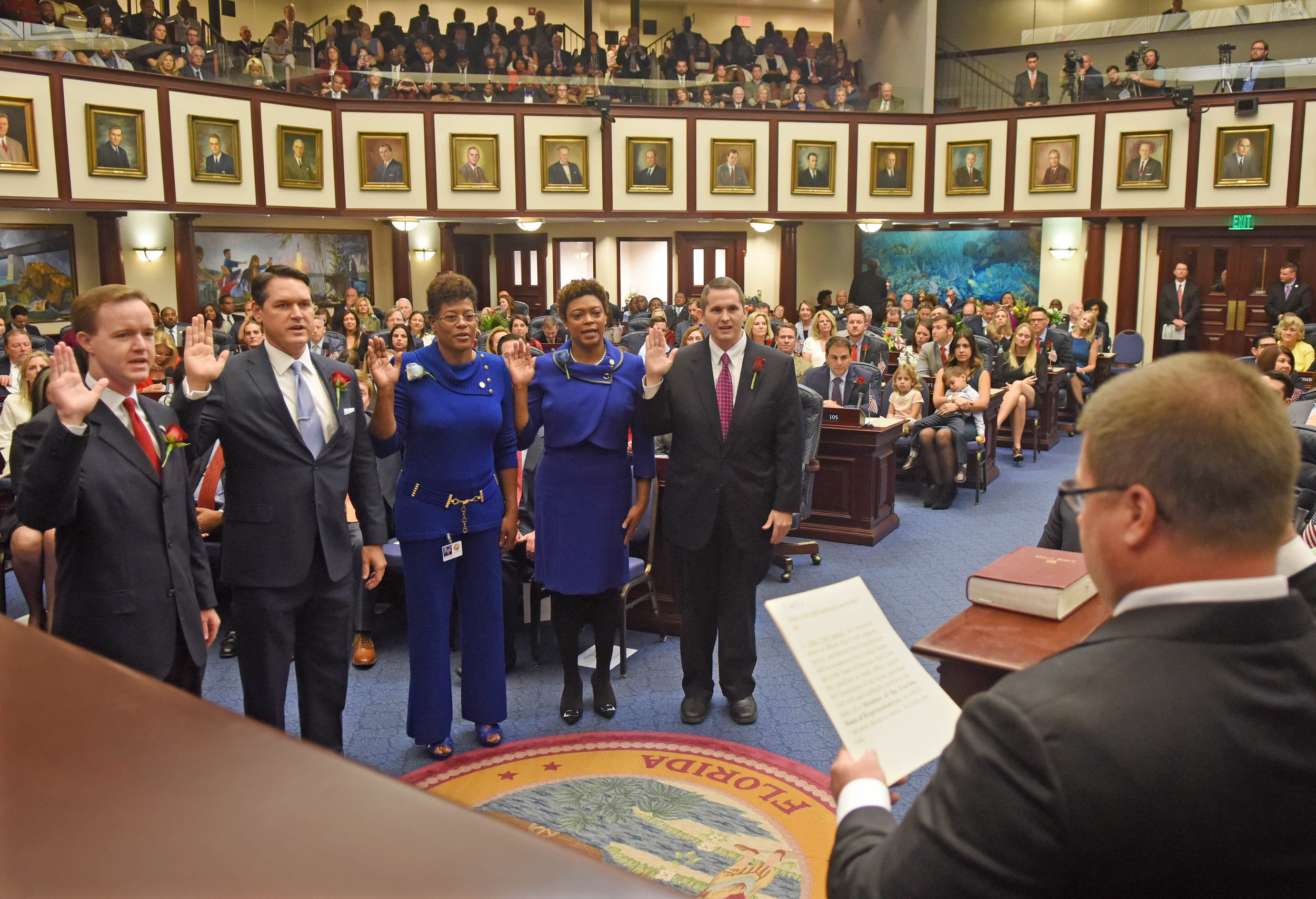 No matter: Curry's team was confident going into the event. They generally have had good luck navigating Tallahassee on wishlist items, ranging from a vote to change the city's pension system to getting state money to revamp the offramps of the Hart Bridge.
And in the green room ahead of the meeting, smiles and good vibes abounded between Curry chief of staff Brian Hughes and state Reps. Cord Byrd, Kim Daniels and Wyman Duggan.
After the delegation elected Rep. Jason Fischer as chair and Daniels as vice-chair, Curry made his pitch.
Curry noted "success even before (he) was sworn in," lauding the Hart Bridge and pension reform pieces. Success this term: priorities related to "public safety and infrastructure," with all bills tied into that "narrative."
Byrd talks bundling, guns
Rep. Cord Byrd, a Jacksonville Beach Republican in his second term, survived both a primary and a general election this year. Here's where he stands for the 2019 Legislative Session.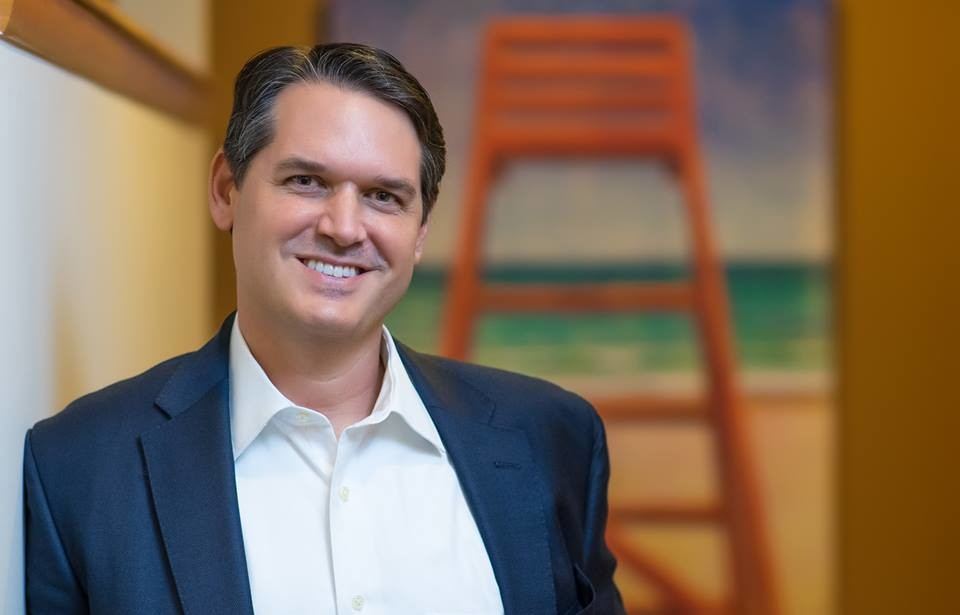 JB: What are you looking to carry this term?
CB: I've already filed one bill. That's to limit the Constitutional Revision Commission to single-subject [proposals].
Sen. Rob Bradley is carrying that on the Senate side. People are upset by what they just went through on the November ballot with logrolling and multiple amendments being combined. That's going to be my signature legislation this session.
JB: Regarding gun issues, you're a gun lawyer by trade. Do we need to tweak the Parkland bill?
CB: I'm waiting to hear what the Parkland Commission will come out with. My understanding is they'll come out with their recommendations prior to Session. I'm anxious to get that report. Security experts, law enforcement: those are the people we should be listening to. I imagine that based on their recommendations we'll either have additional legislation or tweaks to the Parkland bill from last session.
JB: Regarding proposals to move the regulation of concealed weapons permits from Ag to the FDLE, where do you stand?
CB: Right now, I think it should stay where it is. I look forward to possibly sitting down with Commissioner-elect Nikki Fried and talking to her. I'm not a fan of moving things based on politics. I don't know of anyone who opposes background checks for concealed weapons licenses. If there need to be fixes or changes, let's fix that, but I think it should stay within the agency.
Duggan 'excited' by new gig
Newly elected Rep. Duggan represents House District 15 on Jacksonville's Westside. He was elected for the first time in 2018, taking over a seat vacated by Rep. Jay Fant.
Duggan talked to about the challenges and excitement of going to Tallahassee as a state Rep. for the first time.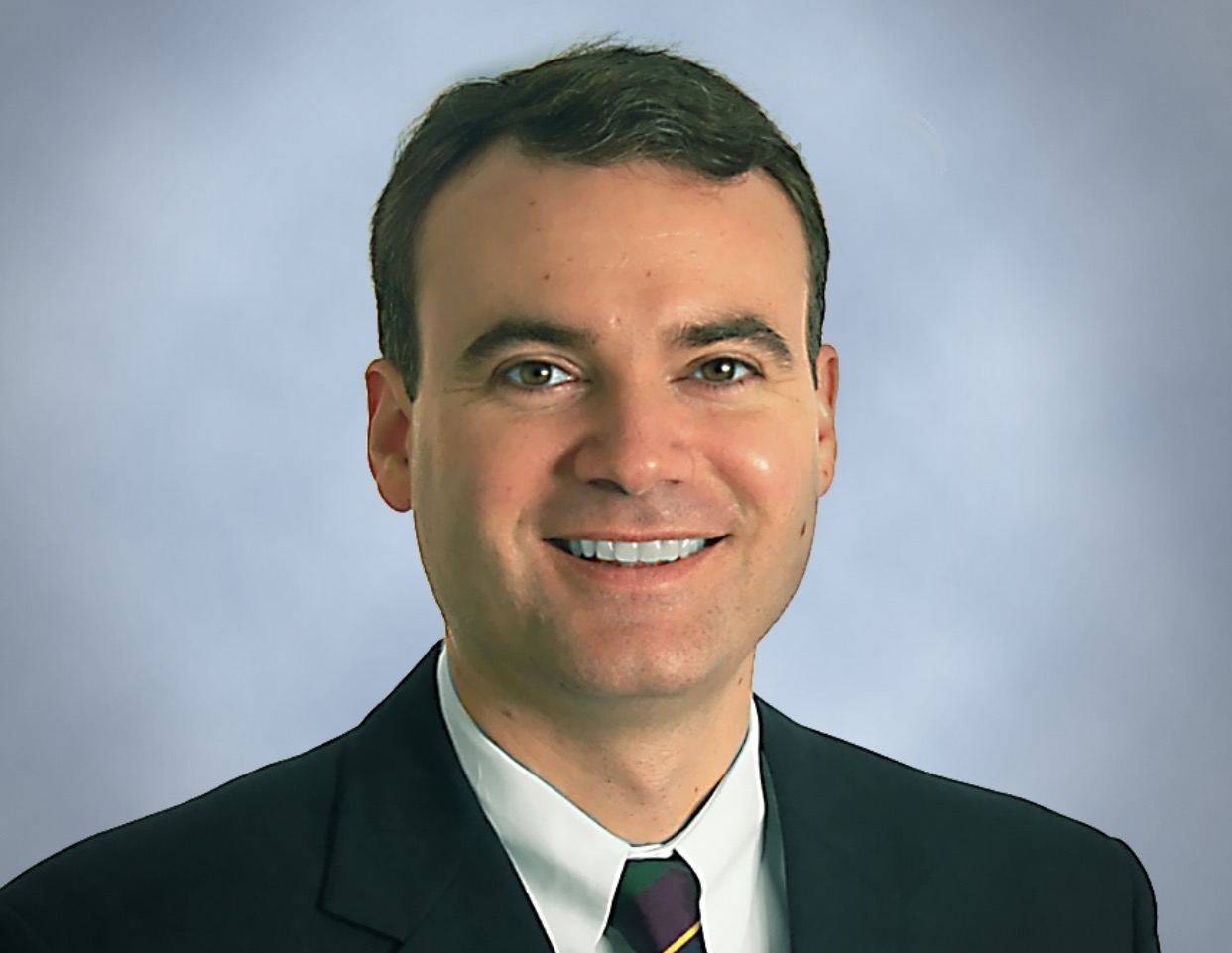 JB: How does it feel to be going to Tallahassee as a state Rep.?
WD: It feels great. Very exciting. All that hard work and preparation has culminated in this journey.
JB: What are you carrying this term?
WD: As I campaigned on, bringing more vocational training back to junior highs and high school. I have a plan to help pay for that without raising taxes.
JB: City priorities for 2019?
WD: I will certainly defer to the Mayor on that. Happy to help him on whatever he would like to see done.
I know certainly for my district … some important infrastructural needs [spotlighted by Hurricane Irma last year].
Republicans dominate 2019 fundraising
November's campaign finance reports in Duval County's 2019 races continue a familiar narrative, spotlighting divisions between the haves and have-nots.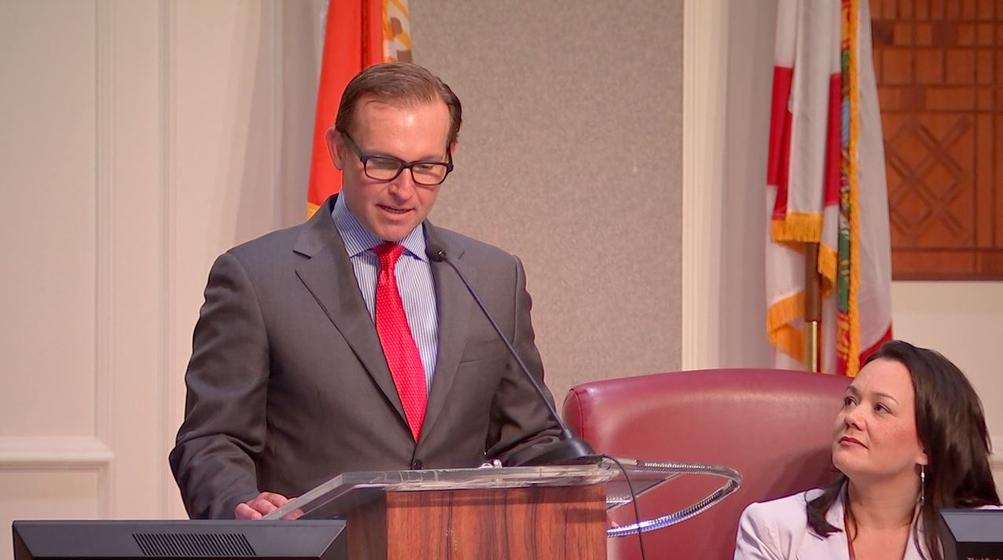 A message for those looking to change how to do business locally: Time is running out, and not much energy is emerging from dissident quarters.
Republican incumbents and City Council candidates friendly with the Mayor's Office look poised to sweep. With the qualifying deadline being Jan. 11, time is rapidly running out for those who don't want the next four years to look like the last four.
But most reading this know all that already. They also know that the March election is a functional blanket primary, with the top two finishers facing off in May (unless someone gets a simple majority in March).
As it looks now, many of these races will be over before Easter.
Chamber backs Council members
A month before qualifying, JAXBIZ (the political arm of the Jacksonville Chamber of Commerce) dropped some endorsements Wednesday in City Council races.
The most provocative pick: siding with Democrat Joyce Morgan over Republican Bill Bishop in Arlington's District 1. The Chamber aligns with Curry, and it's clear that they don't Bill-leive in Bishop.
Many of their choices (Council President Aaron Bowman, Council Vice-President Scott Wilson, Randy White and Danny Becton) have no competition filed.
The Chamber is backing Democrat Reggie Gaffney in District 7. Gaffney, a reliable vote for Chamber priorities, faces a crowded field in his race.
The group also backs Republican Sam Newby, who faces a Democrat and an NPA candidate in his at-large race.
Christmas cheer
Mayor Curry is back on television with a new ad for his re-election campaign, and it features his most effective surrogate from the 2015 campaign: Molly Curry.
The ad shows the Curry family opening Christmas gifts, with Mrs. Curry delivering narration.
To view the video, click the image below:
"Now Jacksonville is a city on the rise, with hope and opportunity in every neighborhood, but with more work to do," Mrs. Curry said in the spot.
Curry's political operation has gotten positive feedback from this spot, which thematically augurs back to the 2015 campaign, where one of the best-received spots featured Mrs. Curry and the domestic tableau.
Get your guns
It's going to be a bit easier for Duval County residents to get their concealed weapons permits.
The service, says Tax Collector Jim Overton, will be offered at the downtown office.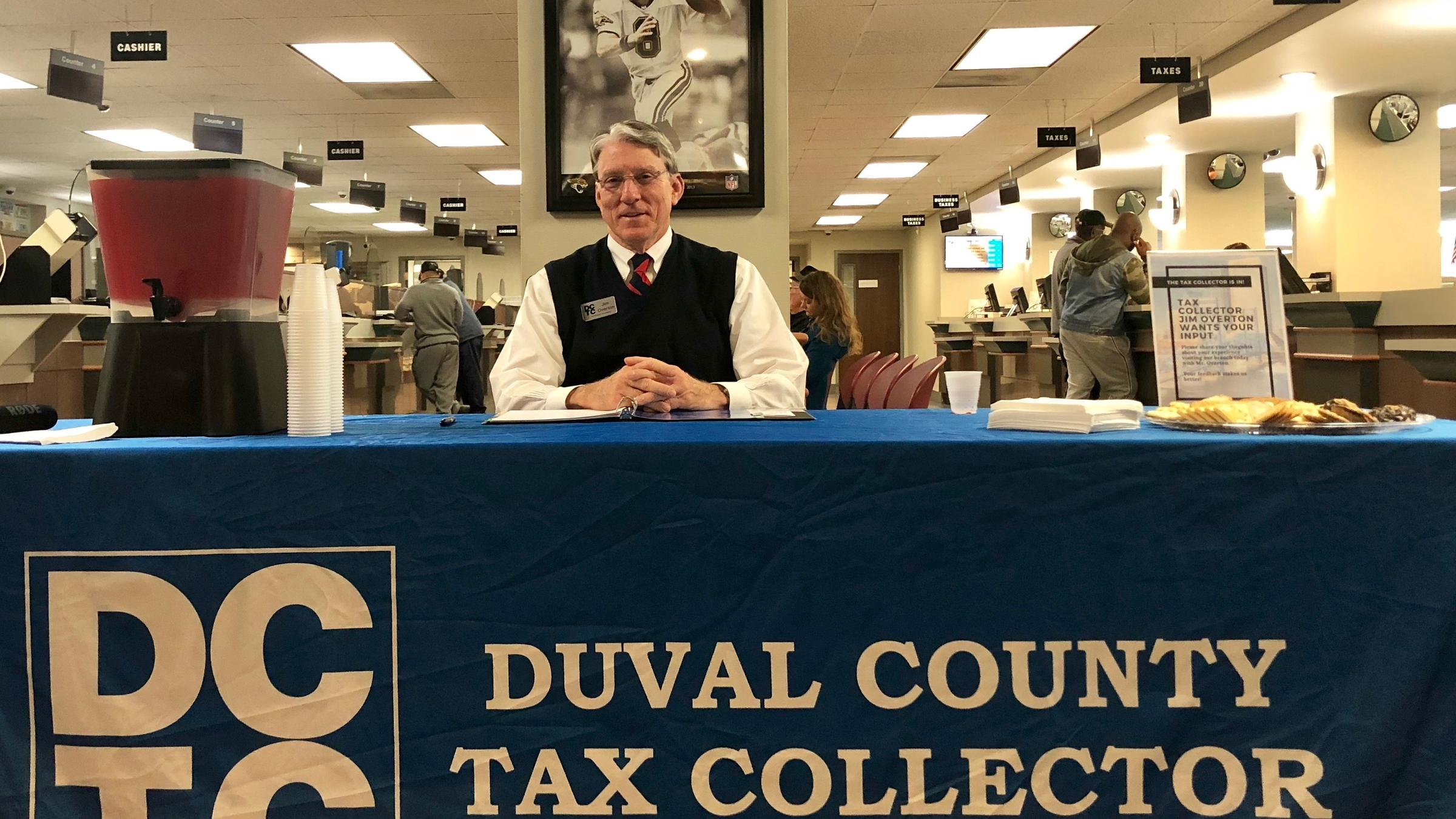 "It's been offered by 50 counties of the 67 counties in the state, so in order to stay up with the times we're going to offer this service," he told WJCT this week. "We're going to be able to offer concealed weapons here at the office."
Overton described the new offering as a "convenience" to residents.
Overton, a Republican, was elected in a special election in November. He faces voters again in 2019, and gun enthusiasts will appreciate this move.
UAE cash to stay in JAX
The saying in Jacksonville: "It's easier here."
That is unless you want to withdraw a bill, as Anna Brosche found out Tuesday in Council.
At issue: a bill the Rules Committee revamped that would have returned a $2.775 million grant from the United Arab Emirates.
City Council voted the appropriation through without a hitch in the summer, but second thoughts clouded members (and potential 2019 mayoral candidates) Republican Brosche and Democrat Garrett Dennis when they considered the UAE's execrable human rights record.
Brosche introduced a bill to return the money, but Rules (taking cues from Mayor Lenny Curry, who accepted the donation at a ceremony in October, and Council President Bowman, who framed the Brosche bill as an "attack on religious freedoms") had different ideas.
Councilman John Crescimbeni, a Democrat, proposed a substitute to turn the bill into a gesture of appreciation. That cleared without objection.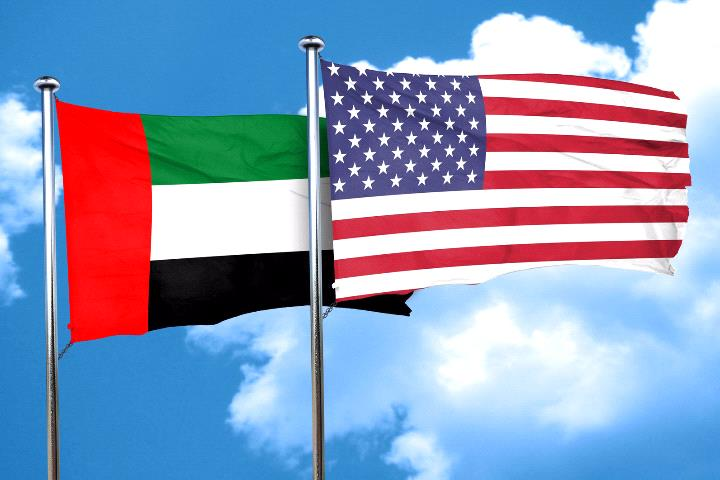 During the Jacksonville City Council meeting, Brosche moved to withdraw the changed bill, and that motion prevailed by a 14-4 vote, with Council President Bowman and Councilman Crescimbeni among the opposition.
A motion to reconsider followed, with Crescimbeni and Bowman teaming up to bring the bill back for a second try.
Brosche brought back her withdrawal motion. Some confusion ensued before conversation moved on that motion. Eventually, the bill was withdrawn again.
Given the recurrent talk that Brosche may run for Mayor (qualifying ends Jan. 11), she notes there might be a desire from political enemies to "stick it to" her once again.
Brosche is still mulling her next political move, which could be a re-election bid, a run against Curry, or nothing at all.
"All my options are on the table," she says.
JSO's '12 Days of Holiday Safety'
With less than two weeks until Christmas, the Jacksonville Sheriff's Office is reminding everyone to be extra careful, offering a few simple precautions: "The 12 Days of Holiday Safety."
— On the first day of Holiday Safety, JSO reminds you to always do the #9PMRoutine! Remove valuables and firearms from your unattended vehicles. Remember to lock your car doors.
— On the second day of Holiday Safety, JSO reminds you to plan ahead when shopping. Always make your big purchases during your last stop!
— On the third day of Holiday Safety, JSO reminds you that when using an online marketplace you can make the legal exchange at a JSO substation or JSO Headquarters in downtown Jacksonville (501 E. Bay Street)! #SaferTransaction
— On the fourth day of Holiday Safety, JSO reminds you to keep the lights on when you are not at home! Remember to use timers or leave a light on when you aren't home.
— On the fifth day of Holiday Safety, JSO reminds you to be smart about what you share on social media and when. Exercise caution with what you share on social media while you are out of town.
— On the sixth day of Holiday Safety, JSO reminds you there is safety in numbers! When possible shop with others!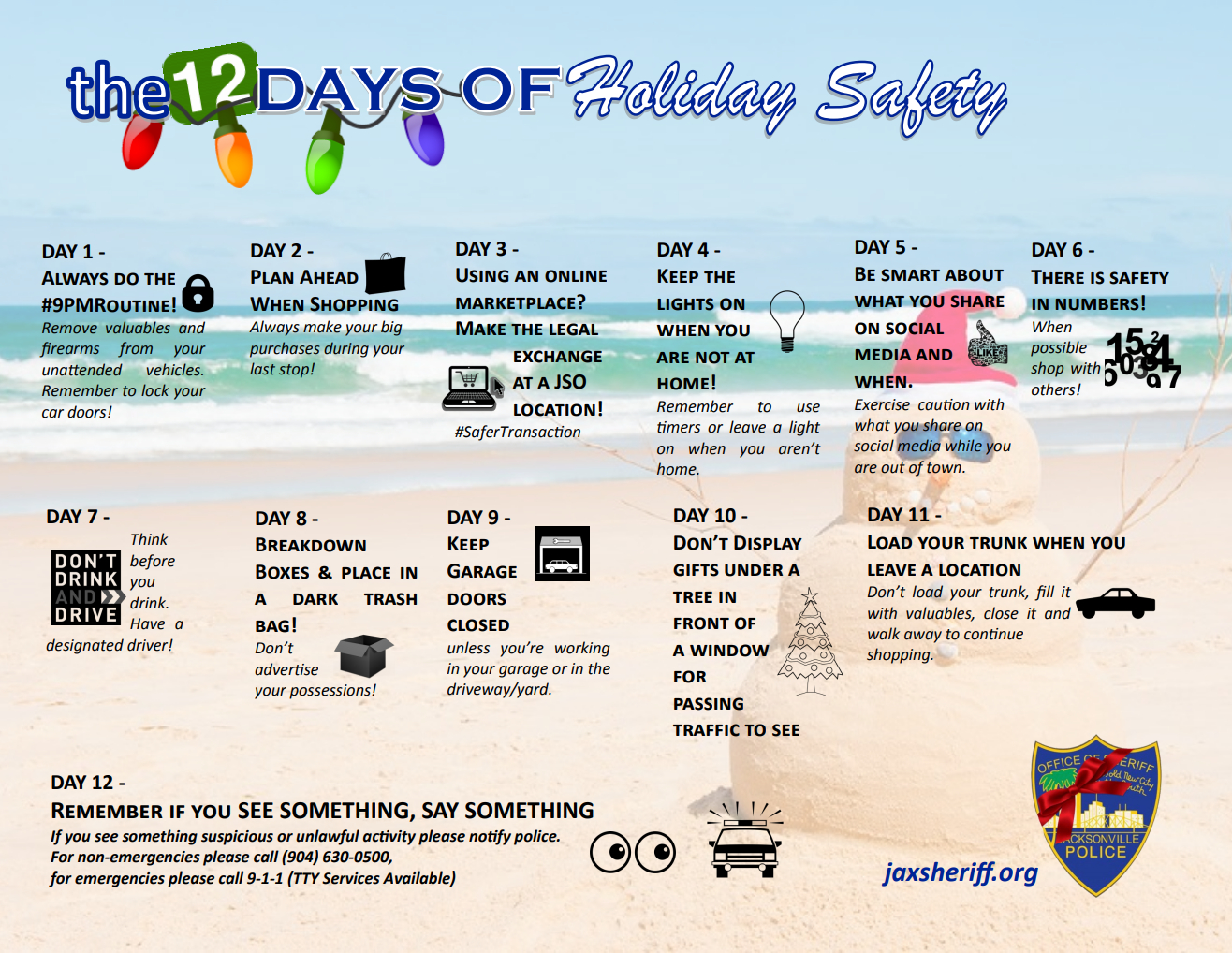 — On the seventh day of Holiday Safety, JSO reminds you to think before you drink. Don't Drink and Drive! Have a designated driver!
— On the eighth day of Holiday Safety, JSO reminds you to break down boxes and place in a dark trash bag! Don't advertise your possessions!
— On the ninth day of Holiday Safety, JSO reminds you to keep garage doors closed unless you're working in your garage or in the driveway/yard.
— On the tenth day of Holiday Safety, JSO reminds you not to display gifts under a tree in front of a window for passing traffic to see.
— On the eleventh day of Holiday Safety, JSO reminds you to load your trunk when you leave a location. Don't load your trunk, fill it with valuables, close it and walk away to continue shopping.
— On the twelfth day of Holiday Safety, JSO reminds you if you SEE SOMETHING, SAY SOMETHING. If you see something suspicious or unlawful activity, please notify the police. For nonemergencies, please call (904) 630-0500, for emergencies please call 9-1-1 (TTY Services Available).
Exec: JinkoSolar plant a 'showcase'
Despite political disagreements over climate change, everyone likes building new solar energy facilities, says Nigel Cockroft, general manager for the U.S. and Canada for JinkoSolar Holding Co. Ltd.
"In every survey, very few people find solar problematic or offensive," Cockroft told the audience of about 400 at the fourth-quarter luncheon of JAXUSA Partnership, the economic development arm of JAX Chamber.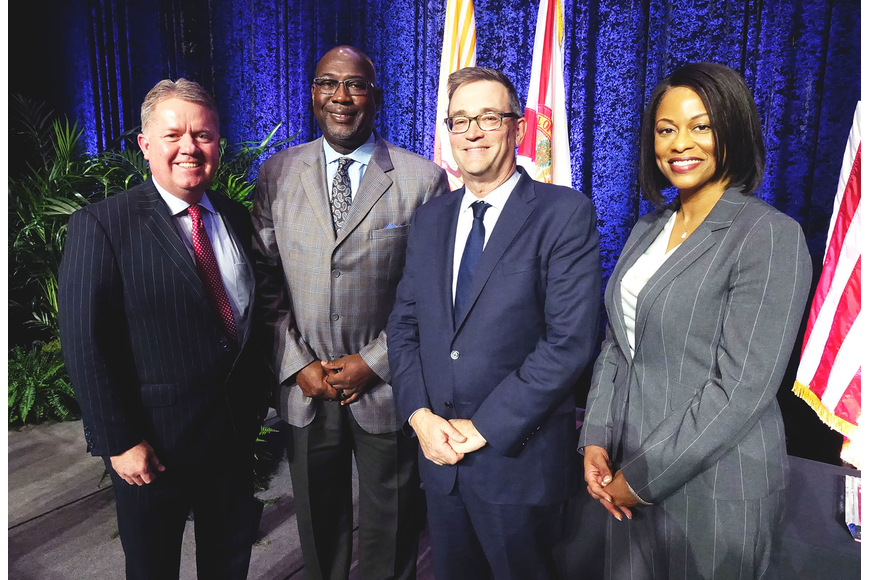 As reported by the Jacksonville Daily Record, JinkoSolar began pilot production in November at its Jacksonville solar panel plant, the China-based company's first manufacturing facility in the U.S.
The plant at AllianceFlorida in Cecil Commerce Center already has more than 100 employees, Cockroft said. Plans are to have 200 employees when it becomes fully operational in early 2019.
The Jacksonville plant will be the world's most technologically advanced solar panel facility, he said, producing 1.2 million panels a year as it operates 24 hours a day, seven days a week.
"It will be quite a showcase," Cockroft said during the event held this week at the Hyatt Regency Jacksonville Riverfront.
Jacksonville Zoo caring for rescued South Carolina manatee
Members of a SeaWorld rescue team rescued a manatee from the cold waters of South Carolina where it was suffering from 'Cold Stress.' The large male manatee, which was found in the Cooper River near Charleston, is now recuperating at the Jacksonville Zoo & Gardens.
The South Carolina Department of Natural Resources also helped remove manatee from the river.
According to First Coast News, SeaWorld has rescued 69 manatees so far in 2018 and returned 23 after successful rehabilitation.
To view a video of the rescue, click on the image below: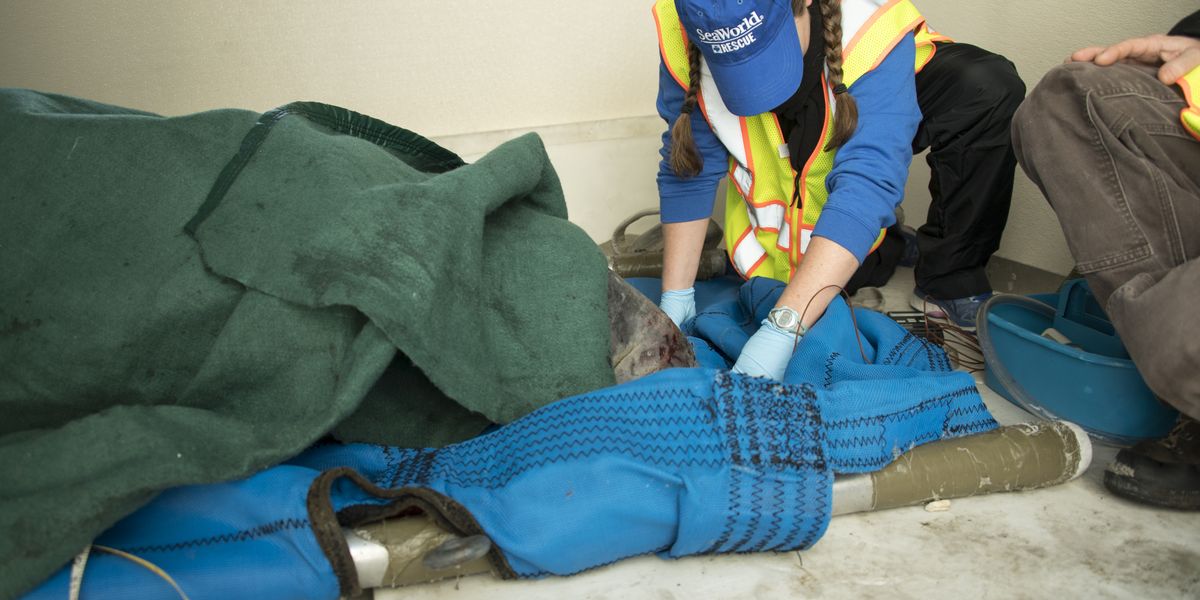 For Jaguars, 2018 can't end soon enough 
The Jacksonville Jaguars are now, without question, at rock bottom. Last Thursday's humiliating — or at least it should be — 30-9 pasting by the Tennessee Titans showed a team looking forward to the end of the season.
It was only 7-2 midway through the second quarter, and the once-proud Jaguars' defense had the Titans backed up at their own one-yard line. Then, Titans' running back Derrick Henry took the handoff and headed upfield, where he easily stiff-armed some halfhearted attempts to bring him down.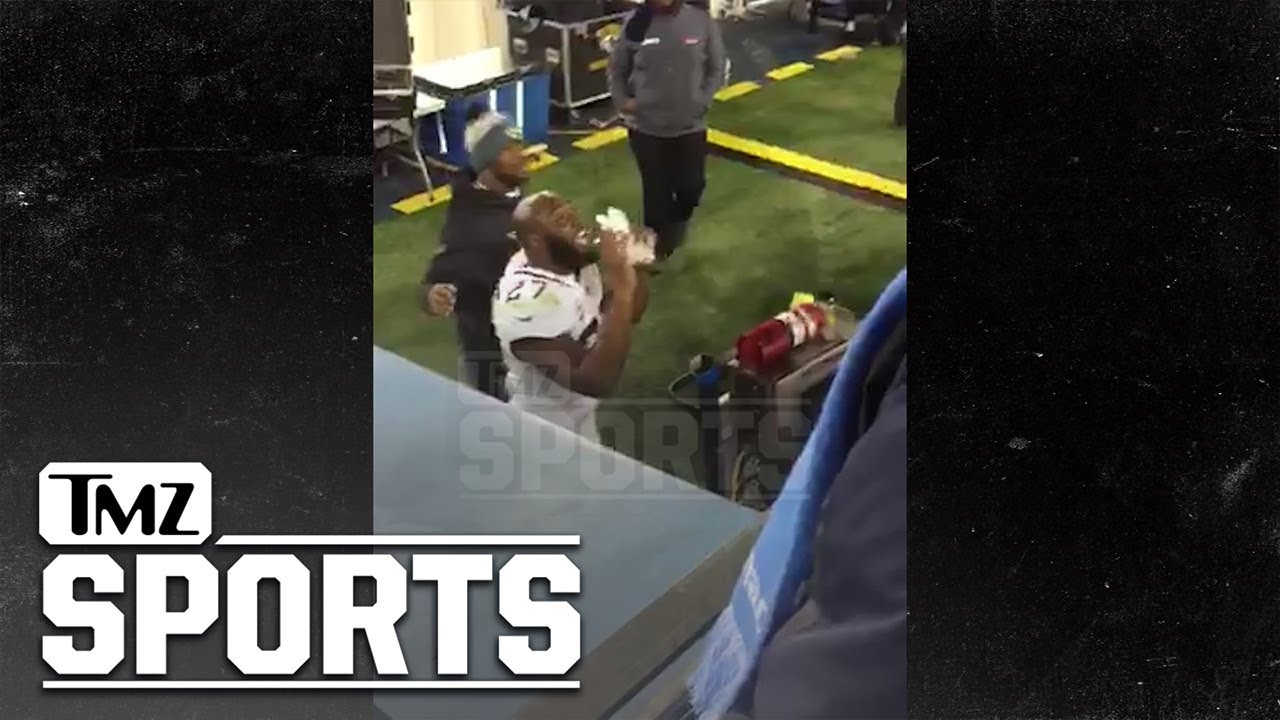 Henry's 99-yard run marked only the second time in NFL history such a feat had occurred. The lead eventually swelled to 30-2, mostly on the strength of Henry's 238 rushing yards and four touchdowns, before Cody Kessler and Dede Westbrook hooked up for a meaningless 7-yard touchdown.
On Monday, a TMZ video surfaced showing the moments where Jags' running back Leonard Fournette verbally confronted a fan near the Jaguars' sideline. While players are taught to ignore verbal taunts from fans, Fournette said he engaged with the instigators because they were using racial slurs.
"I met with Leonard," said Jaguars' Head Coach Doug Marrone. "He said there was a racial slur, so that's what was told to me."
Backup running back T.J. Yeldon also backed up Fournette's account. It was Fournette's first game back following a suspension for fighting with Buffalo's Shaq Lawson two weeks ago.
This season cannot end quickly enough. Going in, some predicted Jacksonville had what it took to make it to the Super Bowl.
After a superlative effort in shutting down the streaking Indianapolis Colts in their previous game, the ugly version returned Thursday. The Jaguars now sit as No. 27 out of 32 teams in the most recent NFL Power Rankings.
Team management can start looking at needs as they prepare to have a high draft pick in April. Fans have likely seen the last of quarterback Blake Bortles, who is unlikely to return.
The way the team has melted down this season, the future for Marrone and his staff is also not very bright. It would appear the players have tuned them out.
Many of the fans tuned all of them out weeks ago.