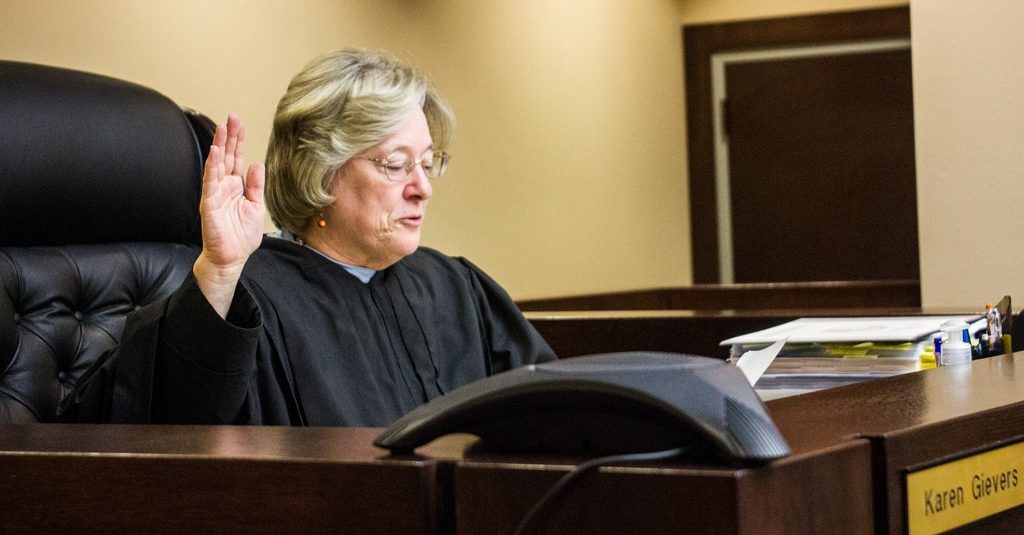 Karen Gievers, a Tallahassee-based circuit judge whose rulings often thwarted Gov. Rick Scott and the GOP-controlled Legislature, has resigned.
Her letter, dated Wednesday, was sent to Gov. Scott on the same day.
Her resignation itself, however, isn't effective until April 27, 2019, her 70th birthday. That's when she must step down because of a previously mandatory judicial retirement age of 70.
(That has since been changed to 75 under a constitutional amendment, passed by voters last month. The increase in retirement age doesn't take effect till next July.)
Gievers, who has been a Democrat, was first elected to the bench in 2010 then was returned to the bench without opposition in 2016. Circuit judges run as nonpartisans and serve six-year terms.
Her resignation means the Judicial Nominating Commission for the 2nd Judicial Circuit must convene to take applications and recommend a replacement. The appointment will fall to the next Governor, Republican Ron DeSantis.
The JNC is currently chaired by Tallahassee lawyer Fred Dudley, a Republican who spent 16 years in the Legislature. He left in 1998 when he ran unsuccessfully for Attorney General.
In the last year, Gievers ruled against lawmakers and the Scott administration in striking down the state's ban on smoking medical marijuana and ordering that Tampa strip club mogul Joe Redner can grow his own medicinal cannabis to make juice of it, to keep his lung cancer in remission. The state is appealing both decisions.
She refused to dismiss a challenge to Scott's blind trust in a case that was ultimately rejected by an appellate court.
And she invalidated what she called "facially defective" subpoenas from the Florida House under then-Speaker Richard Corcoran in his crusade against VISIT FLORIDA vendor Pat Roberts' MAT Media.
But the judge agreed with Corcoran and nixed a multimillion-dollar new equipment contract signed by the Florida Lottery, saying it went "beyond existing budget limitations." That case was later settled on appeal.
She also ordered a constitutional amendment to ban betting on live dog racing off the November ballot, but was reversed by the Florida Supreme Court. Amendment 13 later was approved by 69 percent of voters.
Gievers, who got her law degree from the University of Miami Law School in 1978, worked in private practice, including at her own firm, according to her Ballotpedia profile.
She moved from Miami to Tallahassee in 1999, then left practice upon her 2010 election.
Gievers was the first woman president of the Academy of Florida Trial Lawyers, now known as the Florida Justice Association.
In 1994, she ran for Insurance Commissioner, losing to Democrat Bill Nelson, and later lost to Republican Katherine Harris in a run for Secretary of State. Both offices are now appointed.
A copy of her resignation letter is below.