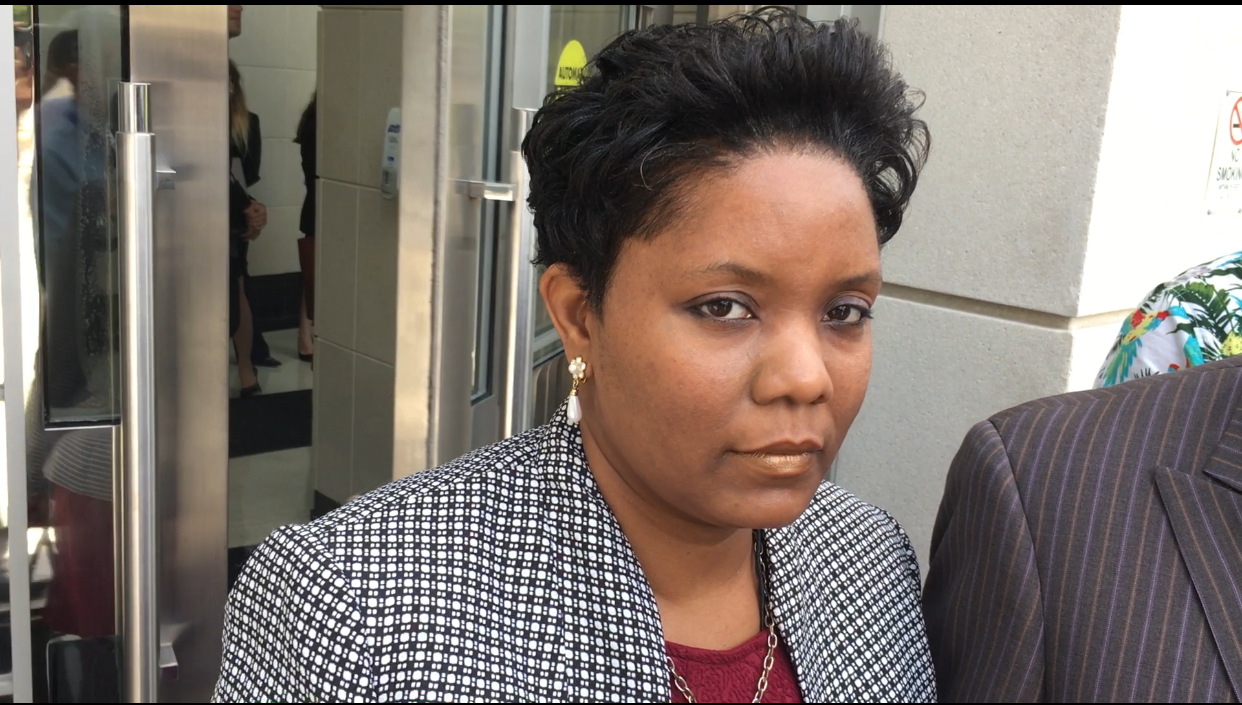 The run-up to the federal trial of suspended Jacksonville City Councilwoman Katrina Brown continued Thursday afternoon, with her lawyer looking to exit the case.
That request was granted.
Katrina and fellow suspended Councilor Reggie Brown, who are unrelated, are accused of a 38-count conspiracy to defraud, say federal prosecutors. The pair is accused of extracting hundreds of thousands of dollars for personal use from a Small Business Administration-backed loan provided for Katrina Brown's family's barbecue sauce plant.
The total list of charges: 13 counts of wire fraud, another 13 of mail fraud, five counts of money laundering, and charges of attempted bank fraud for Ms. Brown and failure to file a 1040 from Mr. Brown.
Citing "irreconcilable differences," attorney Darcy Galnor said she could not provide "effective representation" to Katrina Brown, who is battling dozens of charges related to fraud in an economic incentive deal gone wrong.
Galnor was just appointed to the Jacksonville Ethics Commission last month, a nominee of State Attorney Melissa Nelson. She was a court-appointed attorney, an option chosen in June after Ms. Brown initially presented with Jacksonville barrister Curtis Fallgatter.
As multiple sources, including the Florida Times-Union, reported Friday, Brown has filed a complaint with the Florida Bar suggesting that Galnor wanted her to plea out, and that Brown was to "help state prosecutors investigating [alleged] City Council Sunshine Law violations."
Targeted, per reports: critics of the Mayor's Office, Anna Brosche and Garrett Dennis.
The feds opposed the motion. Federal attorney Tysen Duva wondered if "the relationship could be revived" pending information about the "irreconcilable differences."
Galnor sought an ex parte hearing, invoking attorney-client privilege. That hearing and recess sprawled out for two and a half hours.
As the Bar complaint made clear, that would have been a riveting spectacle.
Judge James Klindt said there was "good cause" to grant Brown new counsel, and expects that in the "next day or so."
A status conference is slated for Jan. 17 at 4 p.m., Klindt said.
The timing couldn't be worse for a withdrawal: Katrina Brown and Reggie Brown face a federal trial in February.
____
A second motion was not considered: The defendants last fall moved to sever their cases, a motion federal prosecutors oppose.
"Severing Katrina Brown and Reginald Brown would waste judicial time and resources. The Court would be forced to try the same case twice," the motion weeks back read.
Brown, though suspended from Council, is still a filed candidate for re-election. With $8,200 in the bank, she can afford the qualifying fee, and it is theoretically possible she may be fighting the feds and political challengers at the same time.
"You'll know next week," the Councilwoman said when we asked her during a court recess.