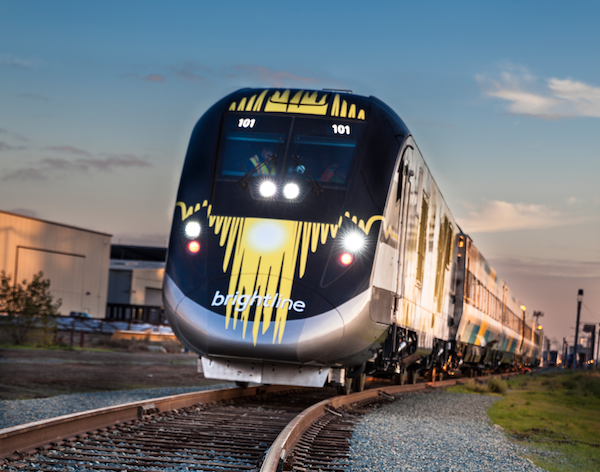 A federal judge has thrown out a lawsuit from Indian River County, clearing the way for Brightline to consider its next steps in building a higher-speed passenger railroad that could connect West Palm Beach and Orlando.
"The court's decision adds momentum to our efforts of connecting Orlando to South Florida," Brightline spokeswoman Ali Soule said in a written statement. "We remain focused on exploring locations for a Brightline station in the Treasure Coast and are encouraged by the tremendous amounts of support we have received in the region. We appreciate Judge Cooper's well-reasoned ruling."
It is the tenth lawsuit won by the railroad against opponents trying to derail its plans to build and run a rail line through the Treasure and Space coasts that could carry 110-mph trains, a prospect that had many local officials raising concerns about safety and what local governments would be on the hook to spend long-term.
There is no more pending litigation, though Brightline's response stopped short of declaring its tracks are now clear.
In recent presentations, Brightline officials indicated they hope to begin construction as soon as March 2019 of the $1.15 billion line that would connect the company's current South Florida higher-speed passenger train service with Orlando. officials also indicated that they envision that the first trains could roll into Orlando by late 2021 or early 2022.
Indian River County, which last month effectively became the last major opposition to the privately owned and operated passenger train plan when two other opponents settled, may not be stepping off the tracks quite yet. Officials are pondering if they have their own next steps.
"I think the county is going to look at its options," Assistant Indian River County Attorney Kate Pingolt Cotner said Wednesday. "We do have people in the community who have already started talking about an appeal. We don't know what the Board [of County Commissioners] will decide."
Cotner later told The Bond Buyer that the county is "discussing with outside counsel our options on how we move forward."
They are reacting to a judgment Monday by U.S. District Judge Christopher Cooper granting a summary judgment to Brightline, formerly known as All Aboard Florida and eventually to be known as Virgin Trains USA. He dismissed Indian River County's lawsuit that had alleged that the U.S. Department of Transportation wrongly granted permission for the company to use private activity bonds to finance the project. Indian River County also challenged the validity of the environmental impact statement the U.S. Department of Transportation conducted. Cooper threw out that challenge too.
Cooper wrote that federal Transportation Secretary Elaine Chao's approval, in part, met "statutory requirements and was a reasonable exercise of her discretion."
Chao's latest extension approval — the bonds were first approved in December 2017 with a May 31 deadline — appears to come with a warning that there won't be another.
Derek Kan, an undersecretary of transportation, advised Brightline that "any amount of unused bond allocation following an initial bond issuance will automatically return to U.S. DOT's remaining aggregate amount of private activity bonds, and thus be available for other eligible applicants."
Following that victory, Brightline did not offer any clear timetables. Instead, the company said its next step will be to conduct a new ridership study.
Brightline also has recently toured potential station sites in Stuart and Fort Pierce, as the company opens the possibility of at least one and possibly more stops along the Treasure Coast for its West Palm Beach to Orlando route.
Last Friday, Brightline also received another positive decision, as the U.S. Department of Transportation granted an extension for the company to sell the $1.75 billion worth of private activity bonds to finance the construction, double-tracking the FECR line from West Palm Beach to Cocoa, and building a whole new railroad from Cocoa to the Orlando International Airport.
The company also is using $600 million from those bonds to finish financing the line from Miami to Fort Lauderdale and West Palm Beach, which began offering passenger service last winter. Brightline now has until June 30, 2019, to sell the bonds.
Among the options, Cotner said, were that Indian River County might consider is a challenge of the legal status of the century-plus-old crossing agreements. The county may determine its next move at a Jan. 8 meeting.
Those agreements were signed by the county and the train company's corporate ancestors back when there was just a railroad built by Henry Flagler and a bunch of settlements emerging along it. There are 31 such crossing agreements in Indian River County, though only about 21 of them are controlled by the county. They were drawn up each time a local government builds a road that crossed the existing railroad. They made maintenance of the crossing permanently the government's responsibility.
Indian River County has objected to being assigned the long-term maintenance of what will be significantly upgraded higher-speed railroad crossings for a company, Brightline, which county officials argue is not the same company the county signed with so long ago.
The railroad also still has some powerful political opposition, particularly from Republican U.S. Rep. Brian Mast and Republican state Sen. Debbie Mayfield, whose districts include the Treasure Coast.
It also has some powerful political support, including that of Republican U.S. Rep. Mario Diaz-Balart, who chairs the House Transportation Appropriations Subcommittee, at least until next month.
"I thank the Secretary for her quick action on this matter. She and the Department continue to recognize the importance of Brightline and the positive impact its expanded service would have in Florida," Diaz-Balart said following the bonds decision. "I share in the secretary's support of transformative passenger rail projects such as Brightline, and will continue to work with her to move it forward."
Armed with an Oct. 31 report from the state Legislature's Office of Program Policy Analysis and Government Accountability that backed financial and safety concerns expressed by Brightline critics, Treasure Coast lawmakers are again expected to pursue more state oversight of passenger rail service during the 2019 legislative session.
The report noted the state Department of Transportation hasn't used its authority to regulate rail service at Brightline's expected speeds of between 81 mph and 125 mph.
___
The News Service of Florida contributed to this post.