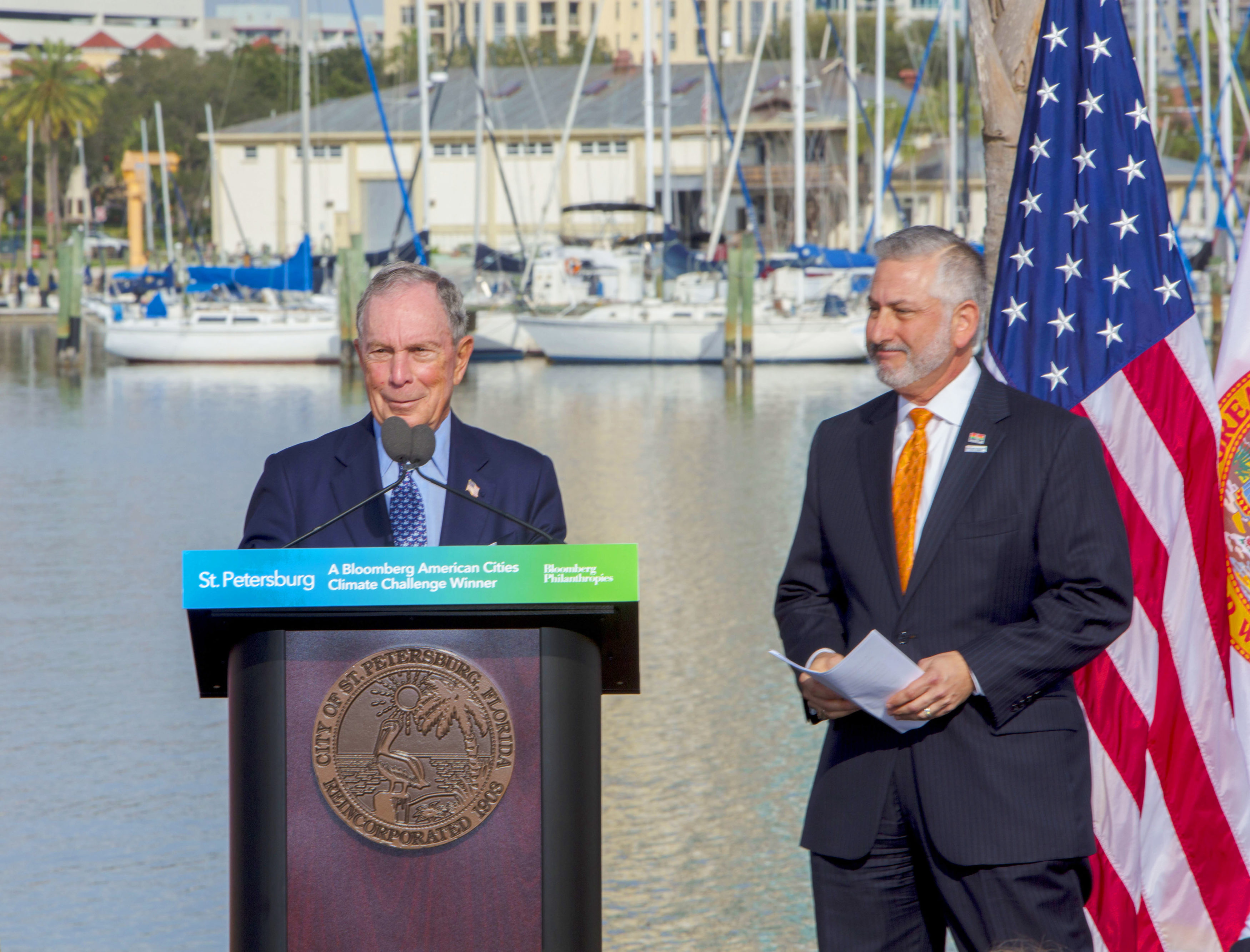 On Thursday, former New York City Mayor Michael Bloomberg announced he would award $2.5 million to the city of St. Petersburg to help combat climate change.
Nevertheless, his organization, Bloomberg Philanthropies, didn't fully explain one significant question.
Why St. Pete?
Kelly Shultz, Bloomberg Philanthropies Climate Challenge project lead, said the Sunshine City met a number of the organization's benchmarks.
"We looked at the nation's largest cities combating climate change," Shultz said. "It wasn't about setting new targets or big new goals, but improving on existing action."
The foundation opened the competition to 100 larger-sized cities and chose 25 of those for up to $2.5 million in assets related to combating climate change.
St. Pete and other winning cities are not getting $2.5 million directly, rather Bloomberg Philanthropies is providing up to $2.5 million in assets and services including a dedicated staff member to assist with climate goals and access to professional researchers and planners.
The foundation evaluated three key components when choosing winners. They considered a city's commitment to reaching climate goals, the level of ambition with meeting goals and whether or not the city's action plans were attainable.
St. Pete met all three of those benchmarks, Shultz said.
"We were really struck with the city's commitment. It's clear that leadership is really coming from Mayor Rick Kriseman," Shultz said. "We were also impressed with the technical abilities of staff. We visited every finalist city, and we were thrilled to see that the mayor stood up in June and said we are still in [the Paris climate agreement] making it clear that climate change was a priority."
The city of Tampa was also eligible to submit proposals in Bloomberg Philanthropies' competition, but the city did not apply.
"We looked at it, and we weren't quite in the position," said Tom Snelling, the city of Tampa's director for planning and development.
The city takes a broad look at what it means to be sustainable, Snelling said. The city is working on reducing greenhouse gasses within the town, increasing social equity, sea level rise resiliency and clean water.
Snelling said the city is going to continue furthering its efforts, including finalizing its Sustainable Tampa document and strategy that defines five areas of sustainability.