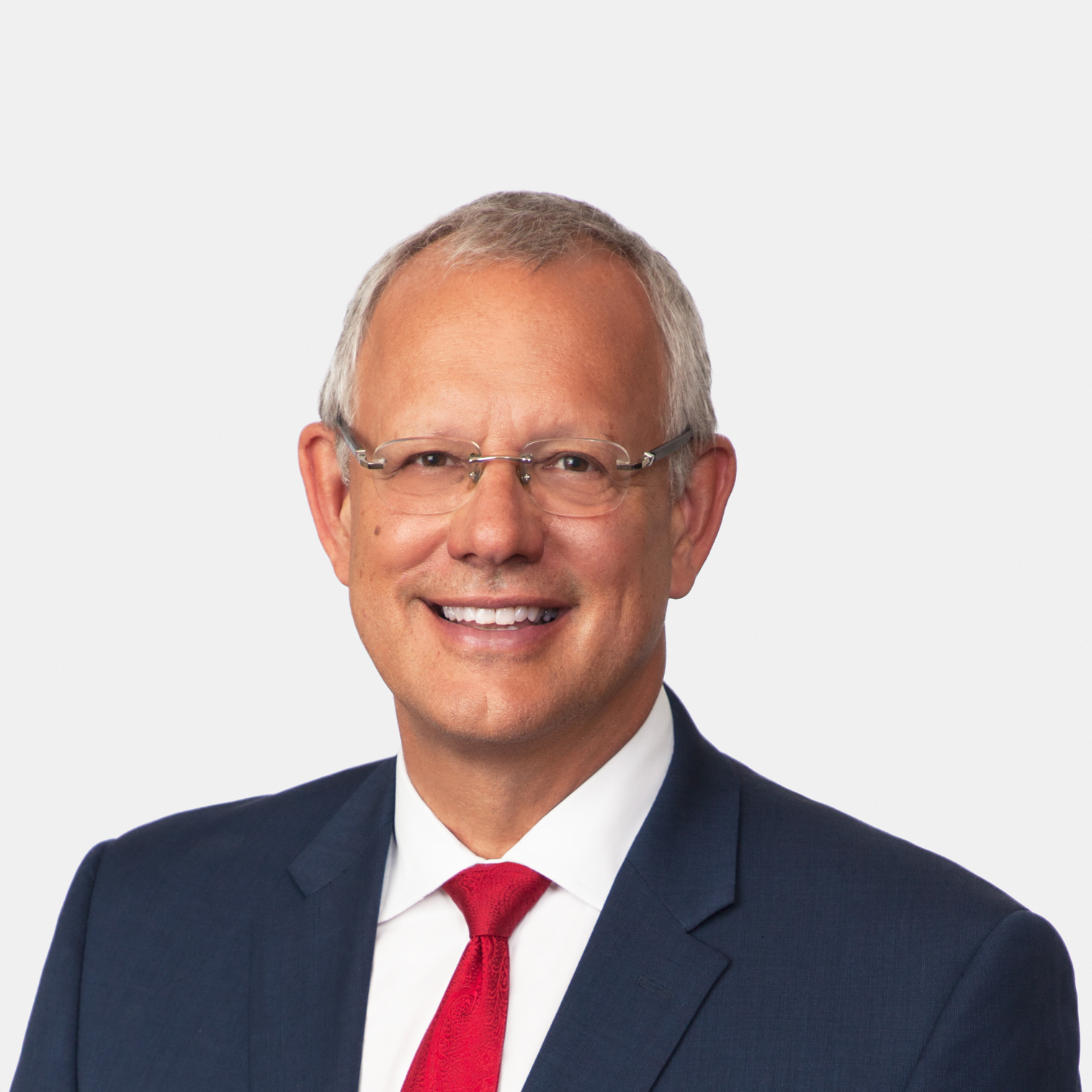 Tampa mayoral candidate Ed Turanchik unveiled his "Go Plan" for transit improvements within the city Monday.
In all, Turanchik's plan includes 44 miles of exclusive transit and bikeway corridors, 72 miles of new transit, 63 miles of water transit and 107 total miles of congestion-proof land and water transit.
The proposed routes focus on dense work centers including downtown Tampa, Westshore and the University area. The routes connect to and from areas where the most amount of workforce lives.
"Let's build transit where the people are rather than sound bite politics driving transit investments," Turanchik told Florida Politics ahead of his official announcement Monday evening. "We should be looking at where people live, where they work and how they get between to the two. We need solutions in multiple corridors. We don't need a line; we need a system. If we build a line, it will fail."
Turanchik created five "building blocks" to create a proposed transit network including local live-work corridors, congestion proof routes, affordability, convenience and "best fit" technology. The combination of routes would utilize electric buses, "next generation" transit technology like semi-autonomous trams, water ferries and existing CSX rail.
His plan also includes personal mobility options like bikes and scooters.
The only regional connection he proposes is an expanded version of the seasonal Cross Bay Ferry that would run year-round and connect to St. Petersburg from Westshore.
"More than 90 percent of all trips that start in Hillsborough County end in Hillsborough County," Turanchik said. "Our mobility needs are local, not regional."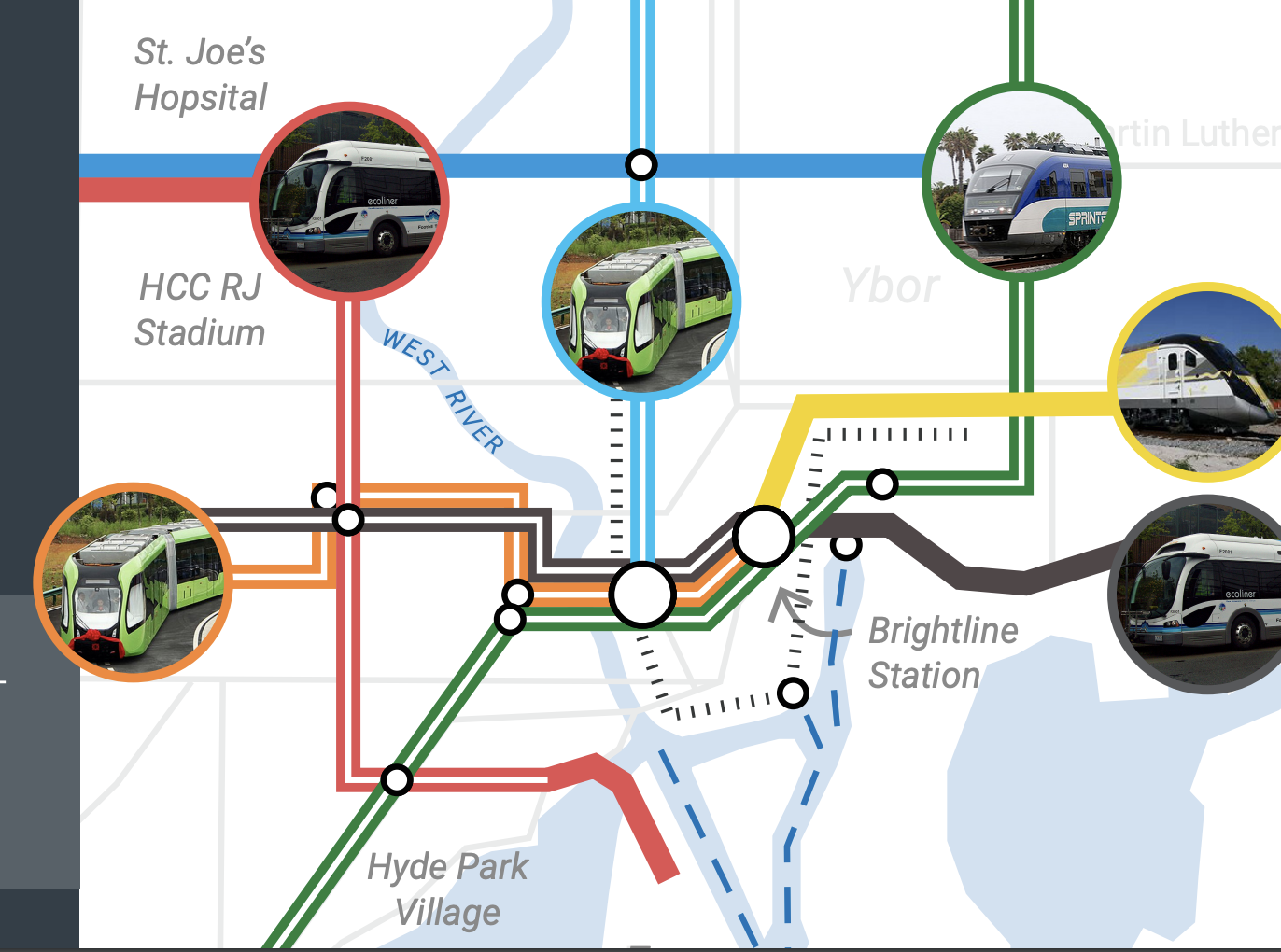 Turanchik's "Green Line" would utilize existing CSX tracks to connect the University area north to New Tampa and south to downtown Tampa and South Tampa. Portions of the route would also use tram-like technology that could ultimately use autonomous vehicles.
A proposed "Heights Line" would utilize "next generation" transit in dedicated lanes along Tampa Street and Florida Avenue connecting USF through Seminole Heights and Tampa Heights to downtown Tampa.
The "Midtown Line" would connect downtown Tampa to Westshore using next-generation trams in dedicated corridors.
Turanchik's plan also includes a "Health Line" connecting Tampa General Hospital to Hillsborough Community College, St. Joseph's Hospital, Raymond James Stadium and Tampa International Airport using electric buses in a mix of dedicated and non-dedicated lanes.
Another route along Martin Luther King Jr. Boulevard would follow a more traditional transit corridor without dedicated lanes using electric buses and would overlap with some of the "Health Line."
The "Crosstown Express" would use electric buses in mostly dedicated lanes to connect Brandon to downtown, Westshore and the airport. It would utilize the Interstate 275 median for dedicated lanes.
Turanchik's plan would also convert Polk Street in downtown to a major transitway with space for all routes and modes to meet as well as dedicated bike lanes and rights of ways for cars to access parking garages.
Turanchik also wants to implement water transit including the stalled MacDill Ferry project Hillsborough County Commission has been working on for years, an expanded Cross Bay Ferry connecting downtown Tampa and Westshore to St. Pete and potential other connections to land-transit.
Turanchik recognizes he'll need partners. If elected, he plans to undertake robust community engagement efforts to build consensus for his plan and to work with necessary partners like the Hillsborough Area Regional Transit Authority, Hillsborough County and the Florida Department of Transportation. His proposal includes updating land use policies to accommodate and encourage transit and to build affordable housing along the proposed corridors to increase density.
Turanchik claims the water transit projects could be implemented in just four years and all of his proposed routes are low in capital costs.
Turanchik estimates the rail portions of his plan would cost about $10 million per mile not including right of way acquisition.
"And they must be frequent and convenient with a headway time of at least once every ten minutes during rush hour," Turanchik said.
Turanchik said the biggest obstacle to implementing his plan has already been tackled by voters who approved a 1 percent sales surtax to fund transportation and transit improvements. That tax is currently being challenged in Hillsborough County court, but, despite having spoken critically of the referendum previously. Turanchik said he would defend the will of voters.
"I'm so tired of not going," Turanchik said. " we have so wrapped ourselves around consultants and lobbyists that we don't get anything done."
That'll change if he's Mayor, Turanchik said.
His first step would be to send his proposed projects out for procurement to allow private companies to bid on solutions. He referenced the project formerly known as Brightline that will eventually connect downtown Tampa to Orlando along a high-speed rail corridor along Interstate 4. There a private company is taking the financial risk assuming a return on investment from the transit-oriented development opportunities the route will create.
"We don't have the institutional capacity to do all of this in-house," Turanchik said.
Turanchik is running in a competitive and crowded race to replace outgoing Mayor Bob Buckhorn that includes former Tampa Police Chief Jane Castor, Tampa City Council members Harry Cohen and Mike Suarez, philanthropist David Straz, small business consultant Topher Morrison and community activist LaVaughn King.
The election is March 5 with a runoff, if necessary, April 23.