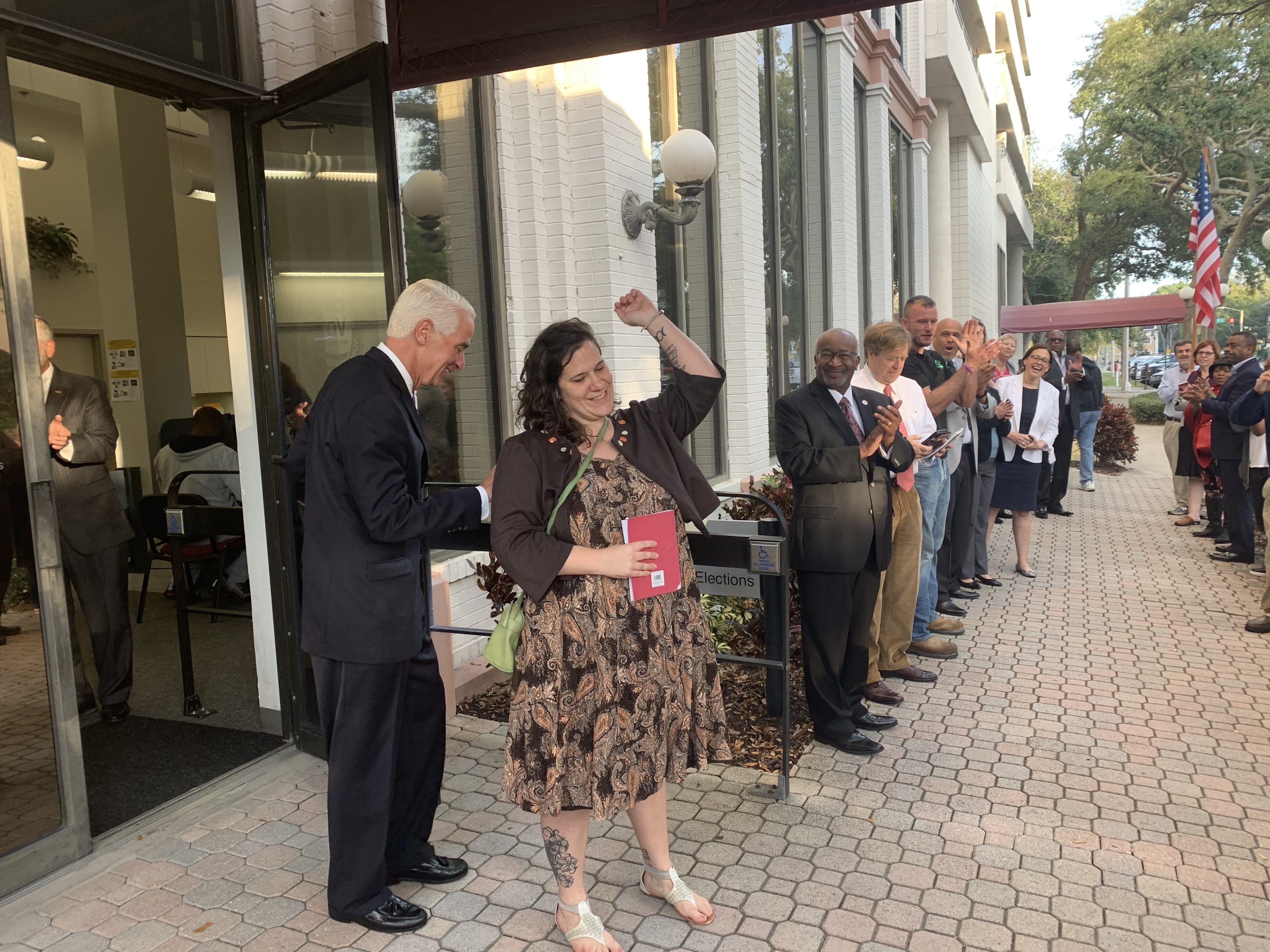 Congressman Charlie Crist joined several ex-felons to register to vote Tuesday morning at the downtown St. Petersburg Supervisor of Elections office opened.
It was the first day qualifying former offenders could register.
Florida voters overwhelmingly approved Amendment 4 last November, which automatically restores nonviolent ex-felons' right to vote as long as they have fully paid their dues to society. It applies to about 1.4 million Floridians.
During his time as Florida Governor, Crist, whose Congressional District includes parts of Pinellas County and St. Petersburg, restored the rights of 155,000 ex-felons through the state's clemency process, but that action came to a grinding halt under the Rick Scott administration, which restored fewer than 5,000 in half the time.
"I am heartened to know the work I did as governor will once again be taken up not from an edict from a small and unaccountable board, but as a mandate from the people of Florida," Crist said on the steps of St. Pete City Hall Monday morning before walking with ex-felons to the elections office.
While Supervisors of Elections statewide are accepting and processing voter registrations from ex-felons now that Amendment 4 is officially implemented, some who might be eligible to have their rights restored are still sitting on the bench.
Many Republicans in the Florida Legislature and new Gov. Ron DeSantis say there are too many questions about the amendment language. They argue it's not clear whether people who still have outstanding restitution owed are eligible and what crimes, besides murder and other violent offenses, will continue to disqualify an adult resident from voting.
They want clarification from the Legislature before moving forward. Those questions leave some would-be voters playing it safe and waiting for clarification sometime in March after the 2019 Legislative Session.
"While some will continue trying to stall, it is time to end this dark chapter in Florida history once and for all," Crist said rejecting the questions stemming from conservative lawmakers.
"It is our job as elected officials to listen to the will of the people not to subvert it. Nothing, not any Florida statute or executive action, should keep convicted former felons … from legally registering to vote."
Melanie Paine was one of several in St. Pete to assume the voter-approved amendment would prevail over potential legislative stall tactics. She pleaded guilty to a felony when she was in college and was put on probation. She has been done with the requirements for her sentence for years and doesn't owe any court or restitution fees, she said.
"I have remained stripped of my ability to exercise democracy," Paine said. "I look forward to seeing the polls this year and knowing that my input is included."
Greg Foster is another ex-felon looking forward to soon being able to vote.
"I paid my debt to society, went through everything to better my life and move forward, but I always felt like there was something holding me back," Foster said. "I started seeing myself as less than. Because of those decisions, I couldn't have the life that maybe I could have once had. This shows us that we're not less than."
Unlike Paine, Foster has to wait about three months before he can register to vote, but he's OK with that. He knows his time is coming. Foster was convicted of felony DUI because it wasn't his first. He's still finalizing the terms of his conviction.
But he says he has turned his life around. He's now a supervisor for Second Chance Tiny Homes, a construction company that provides affordable housing to veterans. They employ young people, many of whom fall under what the city considers "hard to hire" because of past criminal convictions, and teaches them a trade so they can enter the workforce earning a living wage. They continue supporting workers as they move into other positions.
Two other supervisors from that program also registered to vote Tuesday.
"This has the potential to impact Florida politics forever," said St. Pete Mayor Rick Kriseman. "The more people that vote the better off we are."
Amendment 4 implementation comes just a few months after HBO Last Week Tonight host John Oliver skewered Florida for its civil rights restoration policies.
A Palm Beach Post report following Oliver's Florida roast highlighted a staggering disparity among who on Florida has earned their voting rights back under Scott and his all-Republican cabinet.
The report found that Scott's clemency board restored the rights of twice as many white offenders as black. Among just men, that disparity is three to one. The same report found Scott restored rights to more Republicans and fewer Democrats than any of his predecessors since 1971, a stat Scott detractors point to as evidence the voting policies were an attempt by a conservative Tallahassee to disproportionately disenfranchise Democratic voters.
"We know that it was politically motivated to keep people from getting their right to vote restored," said Lewis Murphy, a black pastor in St. Pete who advocated for Amendment 4. "We need to continue to not only vote, but advocate for good laws."