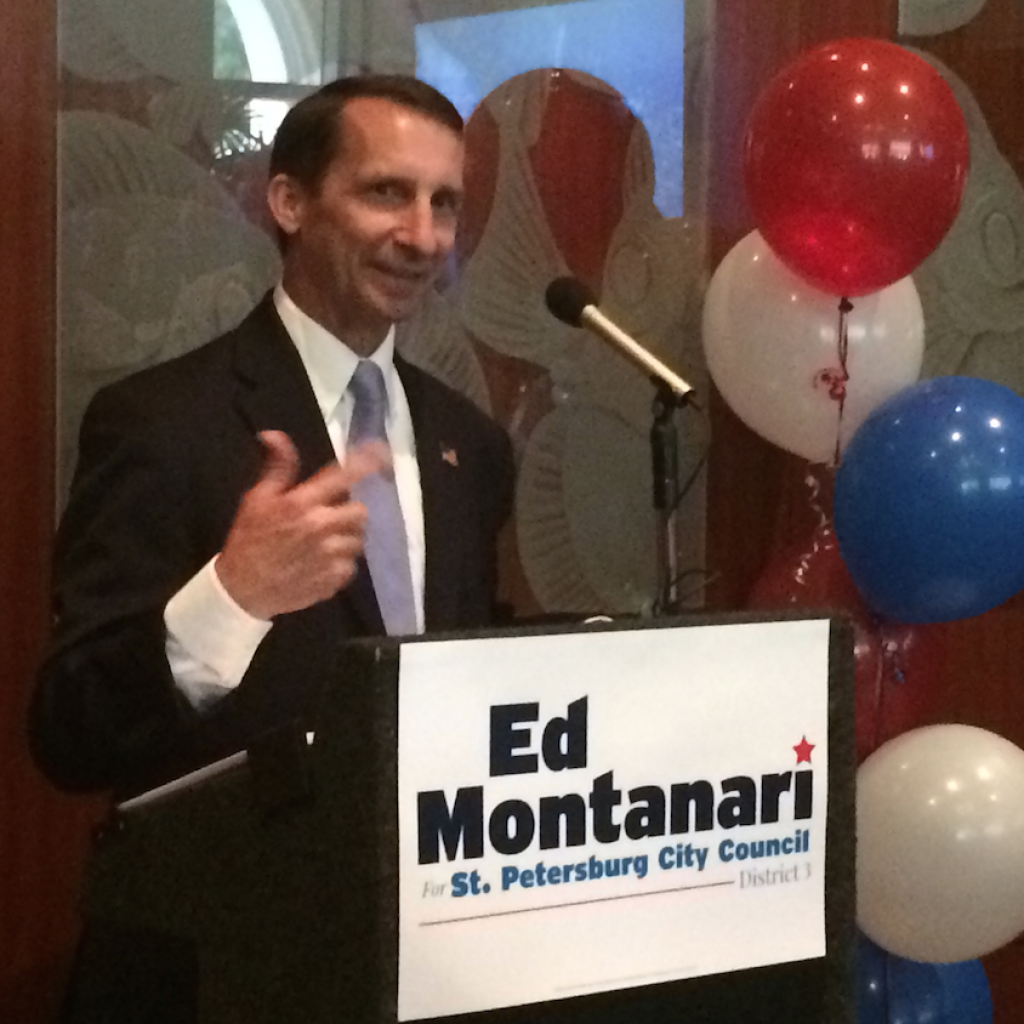 With much of the local media's political focus right now on Tampa's hyper-competitive mayoral race, it's easy to forget there's another municipal race this year that could have implications both locally and regionally.
Four St. Petersburg City Council races are on the ballot this August and of those, two are for open seats. That means St. Pete political policy could shift.
Incumbents Ed Montanari and Lisa Wheeler-Bowman are up for re-election. Neither have attracted a challenger yet, but in the world of local politics, it's still early.
Wheeler-Bowman has gained broad popularity as an outspoken voice for her community despite controversies that arose during her first bid, and she will likely have an easy re-election campaign.
Montanari is a formidable campaigner with huge support in his district. But as the only Republican on council, he could face a challenge even though City Council races are technically non-partisan.
The bigger question will arise over who will succeed Charlie Gerdes, this year's council chair, and Steve Kornell.
Kornell has often served as a contrarian on council. He questions Mayor Rick Kriseman's administration on the regular and was the only Democrat on the council to not recommend Kriseman for re-election, though he didn't endorse Kriseman's opponent, Rick Baker.
One of Kornell's top issues over the past couple of years has been tackling the city's storm and wastewater woes and challenging staff's actions to fix the problem.
The Kriseman administration might say, though not publicly, he's been a thorn in their side.
But a lot of residents see Kornell as a unique voice for them and someone they can count on to not be a rubber stamp for Kriseman's policies.
There are already two names in the hat to replace Kornell — Anthony Cates III and Deborah Figgs-Sanders.
Cates challenged Kriseman in his 2017 re-election meaning he could give Kriseman some pushback during his final two years of his administration.
Meanwhile, Figgs-Sanders is a Kriseman ally. She's part of the team running the once-controversial Callaloo restaurant in the Manhattan Casino. Some members of the black community opposed Callaloo taking over the historic space arguing the city was "giving away" part of the community's cultural history in a space that once hosted famous African-American musicians.
Gerdes has for seven years been something of a swing vote on council, carefully weighing all the pragmatism of the attorney he is with a bold vision for the city, though he often sides with the Mayor.
He lined up behind Kriseman on a $1.5 million art installation at the new St. Pete Pier when environmental activists challenged its proposed location. The council initially voted to cancel the project before resurrecting it again in a new location.
Both Gerdes and Kriseman have already endorsed the only candidate to enter the race to replace Gerdes, St. Pete attorney Scott Orsini.
Gerdes' district covers most of west St. Petersburg. Kornell represents parts of the Southside including Maximo and Greater Pinellas Point.
The primary elections for all four council seats will be held Aug. 27. The general election will follow Nov. 5.